Mister Standman Music Stands & Book Stands

Click photo above to enter main web site for
Mister Standman Music Stands
or
Stay here to see the
Music Stand Dimensions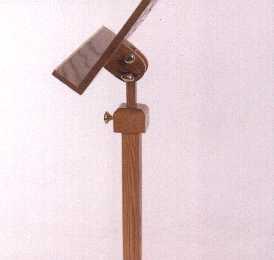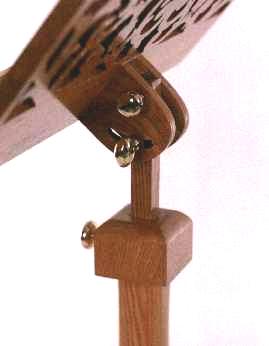 Music Tray - 2 1/4 " Tilt Adjustment
(Standard Height & frame dimensions)
Music Frame: 12 1/2 " x 21 - 22 " depending on frame style
Height : can be adjusted from 30" - 50"
( measurement from the floor to the bottom of the music tray )
We can make the height to go as low as 19"-- just ask....
Music tray : 2 1/2 inches
Full Adjustable tilt
Weight : 9 - 13 LBS (depending on wood choice )
Mister Standman's custom handmade music stands are made with the
best woods available. Mister Standman is happy to meet requirements
of the individual customer. For example: A tall vocalist may want the
stand to adjust higher than average, or a person playing the lap harp sitting
on the floor may want a lower music stand. Since each stand is handmade
Mister Standman can change any dimension when handcrafting your stand.
Contact Mister Standman if your needs are different from the dimensions
listed below.
The usual dimensions on the music stands are 30" - 50"
That is the dimension from the floor to the music tray.........
But.....if you need to go lower..see info below.....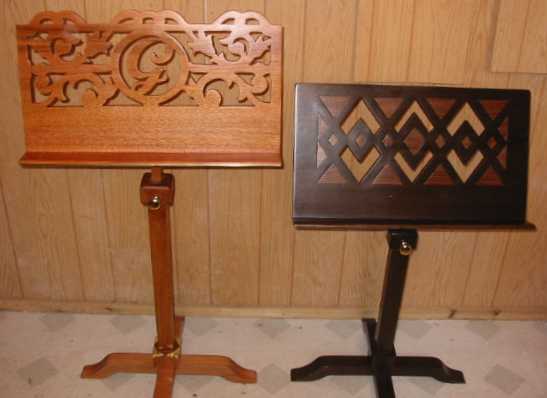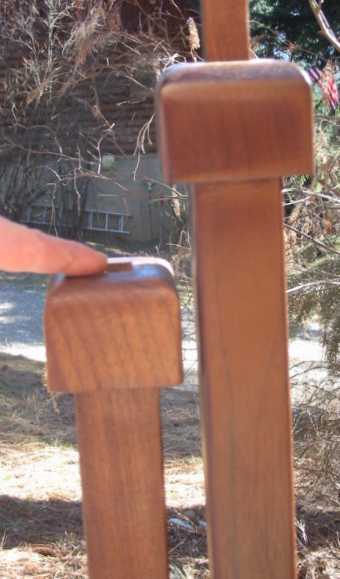 The Tulip Lyre with Initial "G" on the left is the regular
height of 30". The Diamond Jim on the right is made to go as low
as 24". Lots of Classical guitar and cello players like the stand
to go to that 24 " height. Its pretty low though..almost to your knees...
Let Mister Standman know on the order from if you would like a height
lower than the standard 30" height because I would need to cut off
the middle section 6 or 7 inches to do make it go lower.
Again ...you can order the stand in
any height from as low as 20"... The lower you go though the less
the maxim height will go...so... a 24" lowest setting will only raise up to
around 38". The height adjustment poles are made out of wood like the
stand and wood does not do the telescoping bit that another stands do..
There is no charge for making the height lower or higher......

......Height for Choir directors and Vocalists......
Both choir directors and vocalists always use the stand with the height
adjustment in the higher range so Mister Standman will usually make
the center section that holds the height adjustment pole taller.... so that
you have only a few inches of pole sticking out rather than the normal almost
full extended pole you would normally see. It makes the stand look more
uniform by not seeing that long extended pole but does means the height
adjustment will start at 38" to 40" . The stand can not be used
for sitting musicians if you choose this option though. (Sorry..you won't be
able to adjust it lower than 38") Choir directors and vocalists however almost
never sit so this option is great for them...... There is no extra charge for this option....

Please let Mister Standman know on the order form
if you want a height adjustment lower than the 30" size.
There is no extra charge for any different height requirements.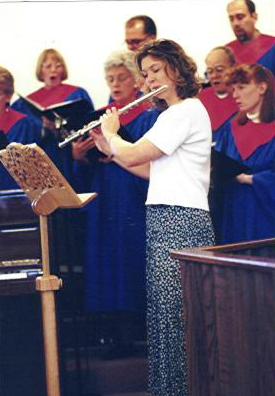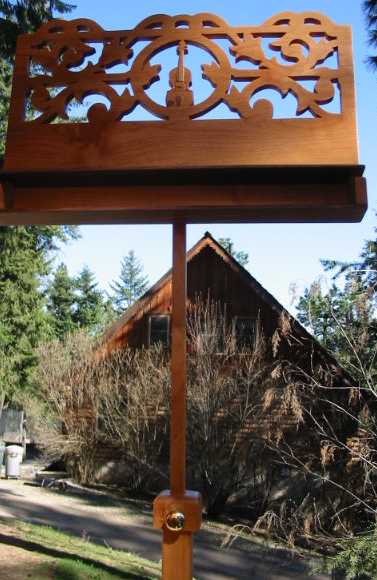 The Victorian Lyre Stand on the left adjusted to a height of 42 ". The stand
has more adjustment if needed. This is the usual height for flute, violin,
vocalists and others.
Need a larger music tray because you got
to much music in that book....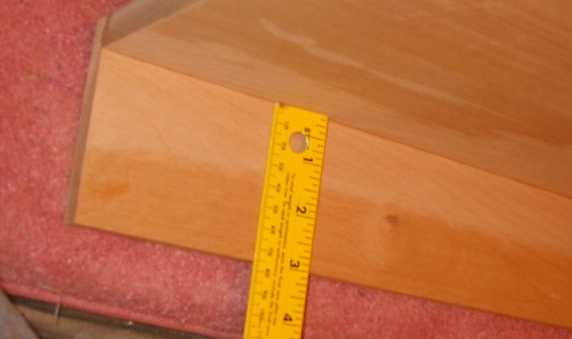 The normal size of music shelf or tray is 2 1/4 ".
The 2 1/4 inches is plenty of room though since most
music stands have a shelf of only 1 " or less..........
Mister Standman can make the tray longer if needed
like the 3 " tray pictured above made for a book stand
that had a 3 " book when closed.......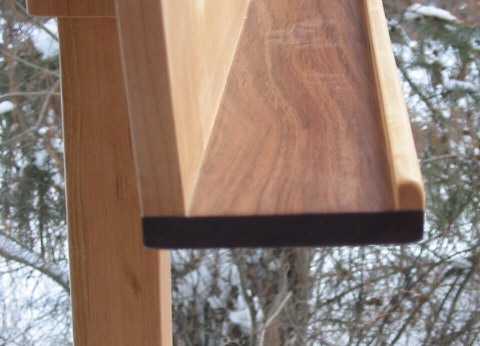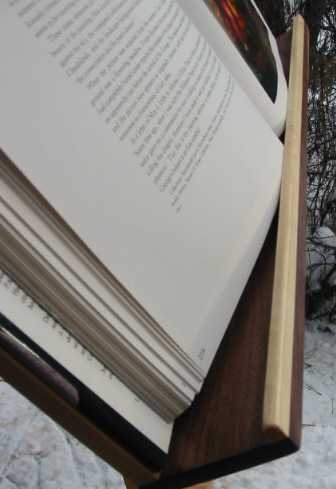 A lip could also be added to help keep the pages of a book from
flopping closed.....The only problem with this is that you would
have to lift the book up to turn the pages since they could
not go past the lip...This is probably fine for a book stand
but not to good for music since pages have to be turned when
you playing and there is no time to lift the book up, turn the page
and set it back down all while your bowing your violin.....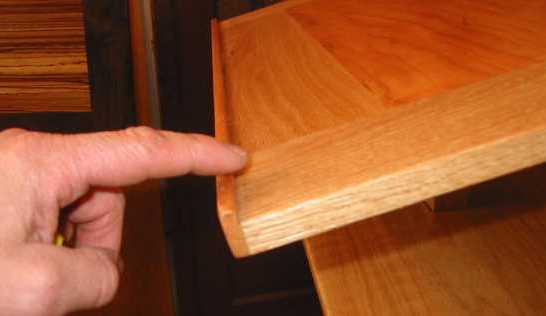 Many times conductors want small lips on the music frames so that is more
easy to turn pages..... We can do that.....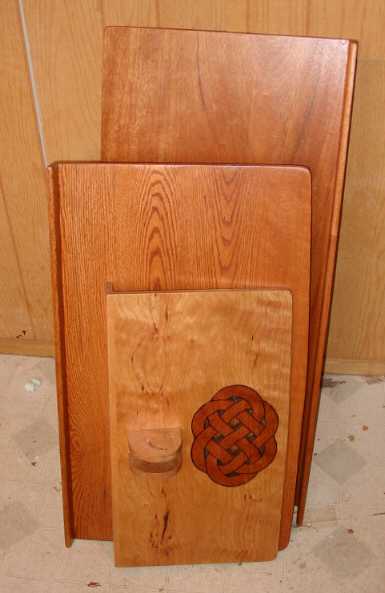 How big can we make it ???
The biggest one in the back is 17" x 38" length
The middle on is 18" x 30" length
The small celtic knot one is the regular size frame of 12 1/2 " x 22"
If you go larger than the 25 inch size I can't do any of the fancy
lyre patterns since the design is really only for the 25' or smaller size frame..
So you have to get just the plain soild back design......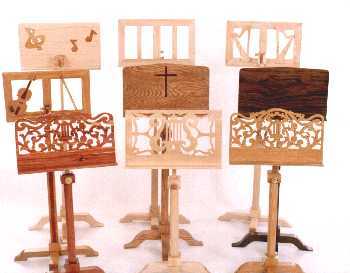 Home Page
Back to See All the Stands
Or
Since 1989
Proudly Handcrafted
And
Made in Idaho
Need a color brochure ???
click here for a online brochure
Mister Standman Music Stands
6692 E French Gulch Rd.
Coeur d' Alene, Id. 83814
208-664-4321
misterstandman@earthlink.net
About Mister Standman The Stands
Wood Colors Order Form Questions & Answers
Tilt Adjustment Height Adjustment Brass Highlights
Brass Plaques Music Lights Page Holders
Extra Storage Tray Customer Comments How to Order
Color brochure
Mister Standman Music Stands manufactures
fine handmade music stand, handcrafted wooden music stand
wood music stands, conductor stands, music stands,
Dictionary stands, dictionary holder stands, book stand
book stands, desk stands, sheet music storage stands
choir conductor stand, music director stand, church stands,
Bible stands, book stands, bible holders, book stand holders
dictionary stands & bible stands, desk top book stand,
harp music stand, guitar music stands and benches, harp benches
music furniture, book holder stand, sheet music holders
harp stand, library book stand, piano desk, piano music stand,
piano rack, sheet music rack, Display stands, bookstands , bookstand and
restaurant menu holder stands, desk top book standsm, atlas stands, .......