Mister Standman Music Stands & Book Stands

Click photo above to enter main web site for
Mister Standman Music Stands
or
Stay here to see the
Woods and Stain Colors
Here are a few examples of both natural wood (no stain) and wood with
stain. In most cases the natural wood shows the beauty of the particular wood.
Mister Standman uses a polyurethane/tung oil finish on all natural music stands and a
lacquer finish on stands with stain added. You can also see a stain color chart
and woods. ( click here to see ) One of the main reasons Mister Standman's
Music stands are so beautiful is that he uses the real wood versus some
fake wood stained to make it look like walnut or mahogany or other woods
as other music stand manufactures do. If you order a stand in Walnut,
I use the real walnut wood. Yes, it does cost a lot more to use the real wood
versus using some less expensive wood stained to look like that wood, but that
is what makes Mister Standman stands "stand" out from the others.
Mister Standman can also match a stain to a particular piece of furniture
you have. Just send along a picture of the furniture you want matched and
I can usually get very close to the color or send a picture from my web site
that you like the best.....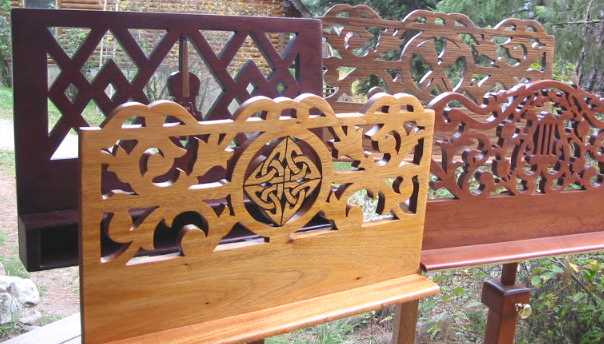 Colors of woods vary from light to dark.......
Since Red mahogany color gets the most questions here are a few
examples first........Red mahogany color can be stained red on three
different woods..Cherry, mahogany and walnut like the examples below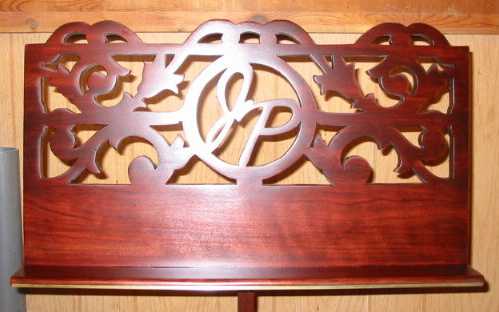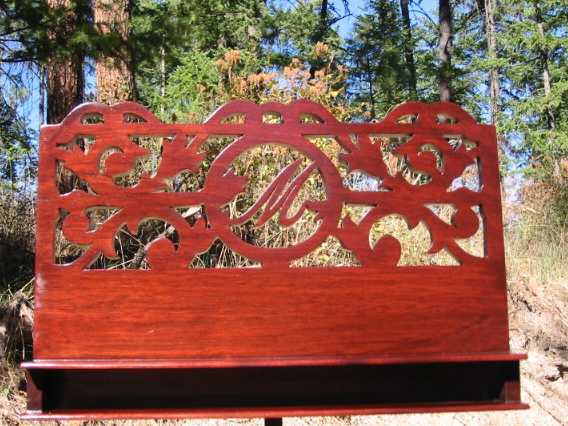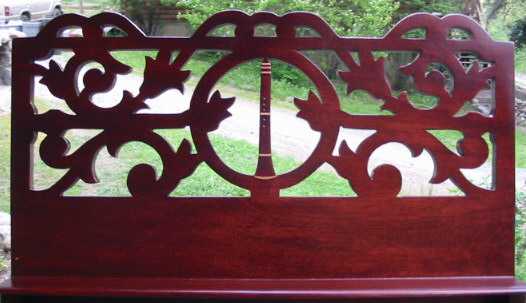 Cherry Mahogany Walnut
Cherry wood music stand
Cherry or alder with red mahogany stain has a little more gain to be seen.
Red mahogany stain on mahogany wood usually does not show the grain as well.
Walnut with red mahogany stain looks dark like red wine.......The problem is
though that the colors don't always look like these examples. It depends
on the piece of wood I use that day if it is light or dark might make the
color lighter or darker....I hope this makes sense.......
The Woods......
Walnut: Walnut is a beautiful darker wood that looks good with or without
stain. It can come in the natural wood in both a darker or lighter
versions . Both the examples below are of the darker version of
wood. Walnut also looks great mixed with Mahogany. It also looks
beautiful with a red oak stain that gives it that reddish tint to it. If you
want walnut you have to add $ 20.00 to the price of the stand.
Walnut has gone up so much in price its almost triple in cost
of cherry , oak, maple or alder..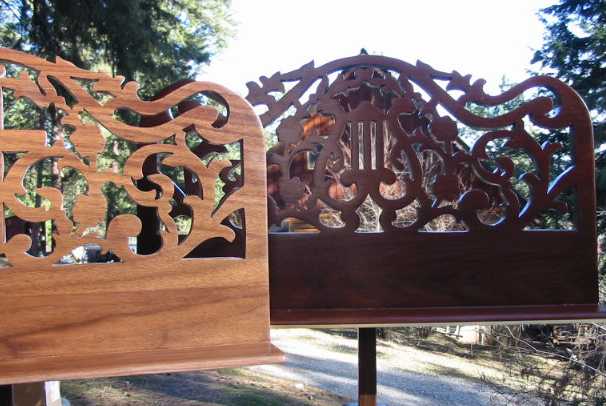 Natural walnut Dark Peruvian walnut
Natural Walnut means walnut wood with just a clear finish..no stain is added just the
natural beauty of the solid walnut wood......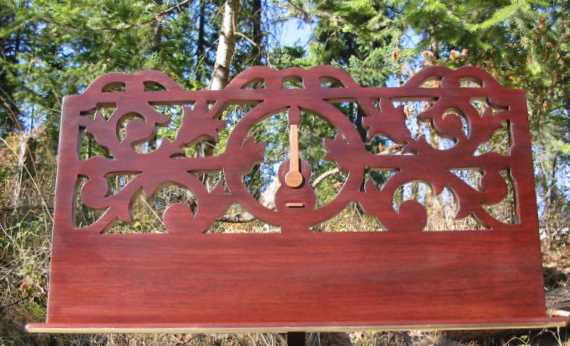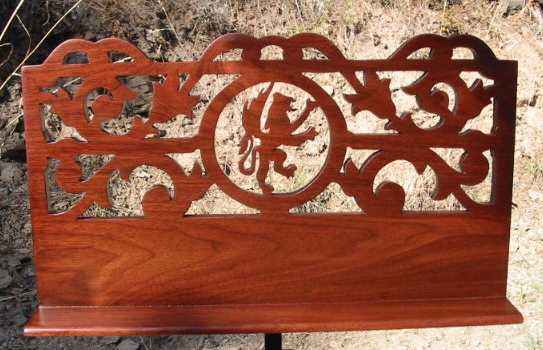 Walnut with Red Mahogany Stain Walnut with Red Oak stain
Tulip Lyre with Guitar Tulip Lyre with Lion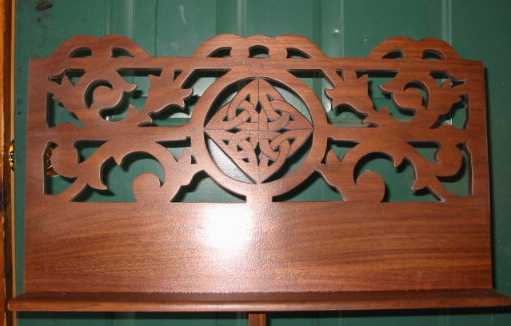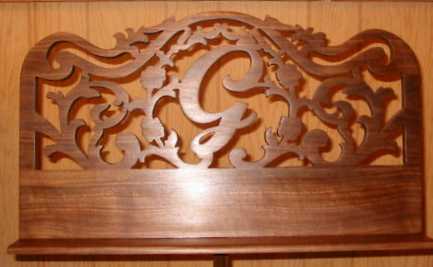 Tulip Lyre with Celtic Knot and Victorian Lyre with " G " - Natural Walnut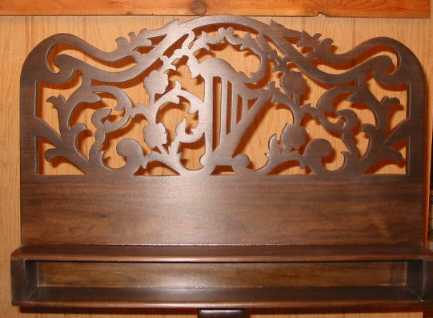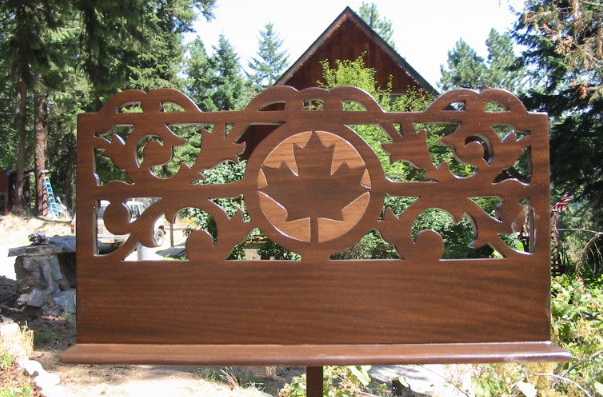 Victorian lyre with harp - walnut with dark walnut stain Maple Leaf - Natural walnut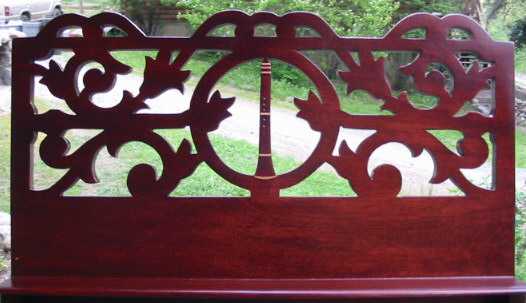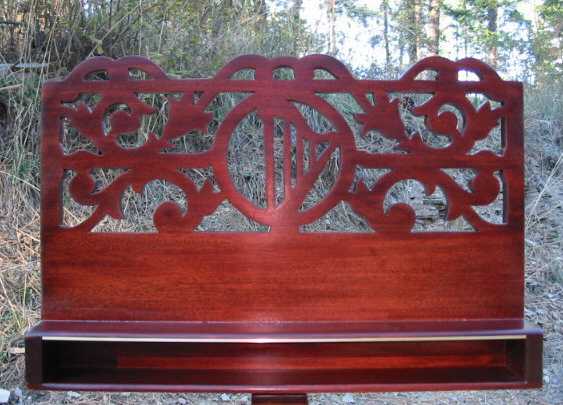 Walnut wood stained red mahogany Mahogany wood stained red mahogany
Walnut stained with red mahogany makes a deep red like red wine..........
versus the lighter color of red mahogany stained on mahogany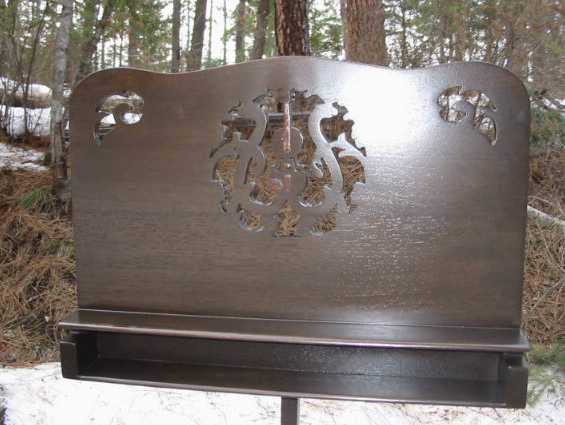 Walnut with a Dark walnut stain Walnut with almost Espresso color Stain
Walnut Burl
Yes,, I can do stands in a walnut burl , but its not cheap !!
It will add $ 55 - 95.00 more depending on what I have at
the time.. Realize that most walnut burl is made into
Veneer and not a solid board.. Out of a 3/4 inch solid board
like what I buy you could get 15 veneers so why would a
wood mill sell a solid board to me when he cane get 15 times
the money by slicing it into a veneer !! I do come across
it sometimes,, The solid back board below I had to buy
a 8 foot walnut burl board that was so full of knots that
I got two frames out of it like the one pictured below..
That 8 foot board cost $ 275.. meaning that one solid
board below was over $ 100 just for the frame.. That's
what I'm talking about when I say walnut burl is pricey.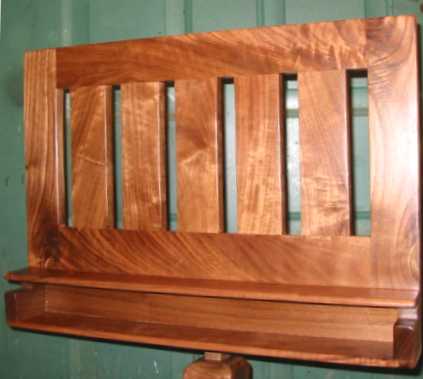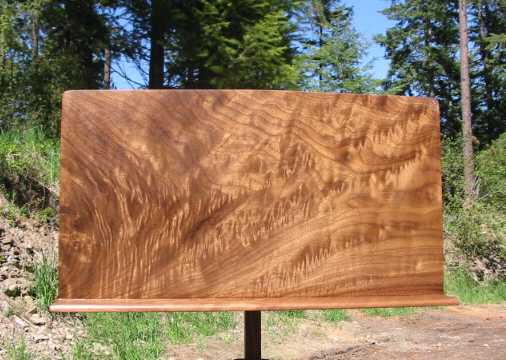 Modern mission classic with walnut burl Full solid Back $ 100 board !!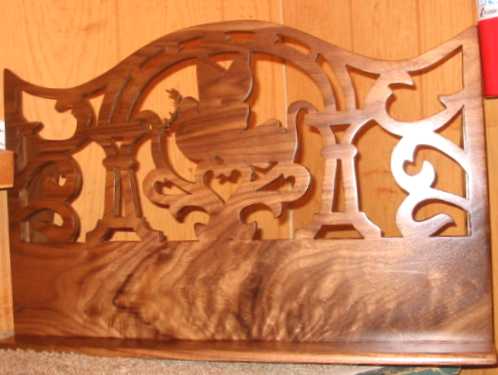 Birds of Paradise with walnut burl at bottom
---
Mahogany: Although most customers assume mahogany is a dark
reddish color, mahogany is really a lighter brown when done in the natural
finish without stain. Like the walnut, mahogany without any
stain can be a lighter or more " Orange in Color " like the Violin stand.
It can also be very pretty with the " Red Mahogany Stain "
Mahogany wood music and book stand.......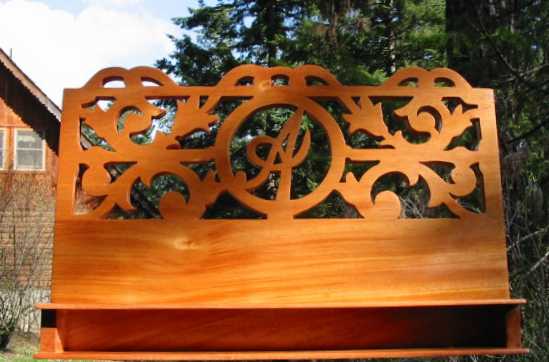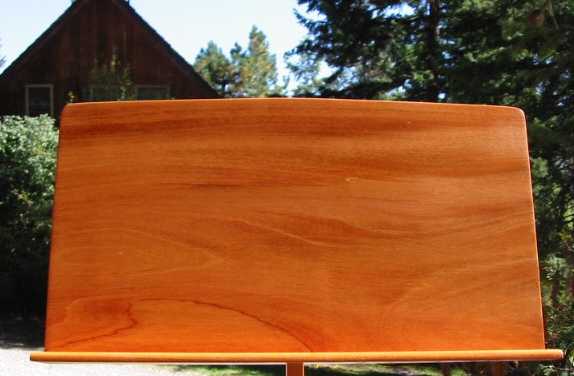 Natural Mahogany - no stain Natural Mahogany - No Stain
Tulip Lyre with Initial " A " Solid Back Stand
Natural Mahogany means mahogany wood with just a clear finish..no stain is added just the
natural beauty of the wood......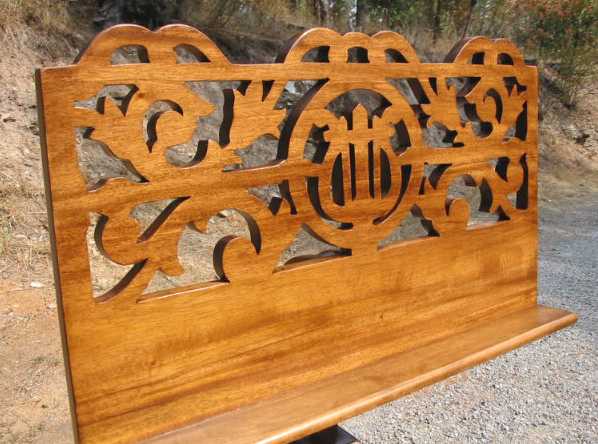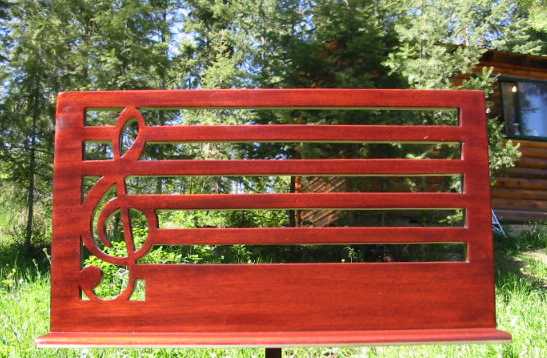 Mahogany with Early American Stain Red Mahogany Stain
Special Design Stand Staffer in Red Mahogany

Mahogany with early american stain gives it a more antique look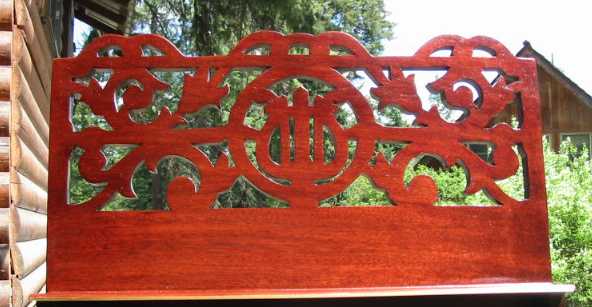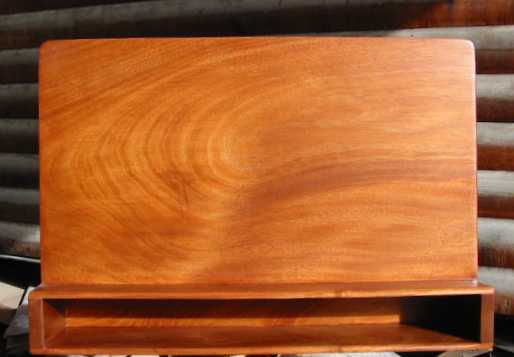 Mahogany with Red Mahogany Stain Natural Mahogany with wild grain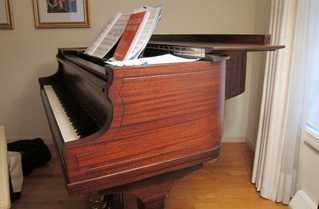 Looking to match a Piano ?? This is mahogany with red mahogany stain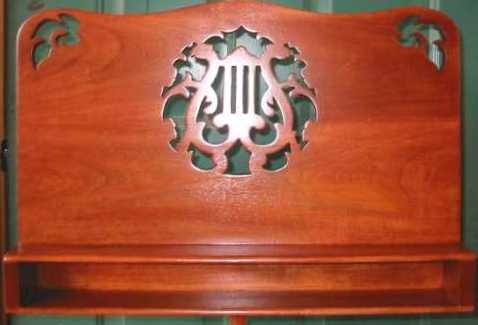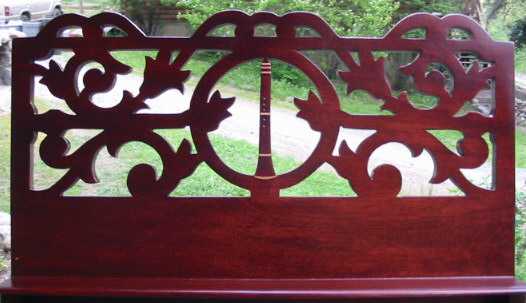 Mahogany with Cherry Stain If you want really dark like red wine then
go with walnut with red mahogany stain
T Tulip Lyre with Clarinet - Dark red Mahogany
---
Cherry: Just like mahogany, cherry is really not a dark red color when done
in the " Natural " finish. It is very light in appearance as seen below.
Cherry will however, darken over the years to be the darker cherry color most
customers associate with Cherry... If your looking to keep the appearance of the
natural cherry without it aging darker in color... you can order the stand in
Alder wood ( see Alder wood below )

Here is a really good shot of the 3 different colors of the
most requested cherry stains. We can also add a little stain her a and a little stain
there in the mix to make it more red or more brown or less brown -
you get the picture......
Left - cherry with aged teak stain
Middle - cherry with natural cherry stain
Right - cherry with a brown stain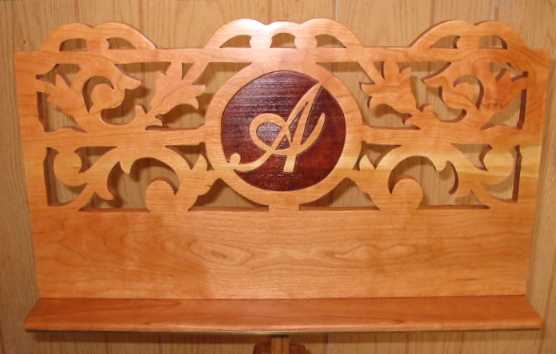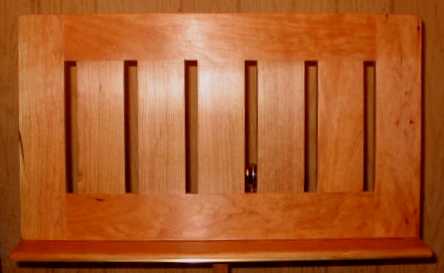 Tulip Lyre with " A " Natural Cherry Modern Classic Column - Natural Cherry
Natural cherry is more in color like the Tulip Lyre with " A " pictured on the
left versus the darker color of the Modern Mission Classic on the right.......
Remember......Cherry will age and get darker in brown color over time
It will never however get to what most people think of cherry
that red cherry color of a bing cherry..you would need to stain
it that color to get there.....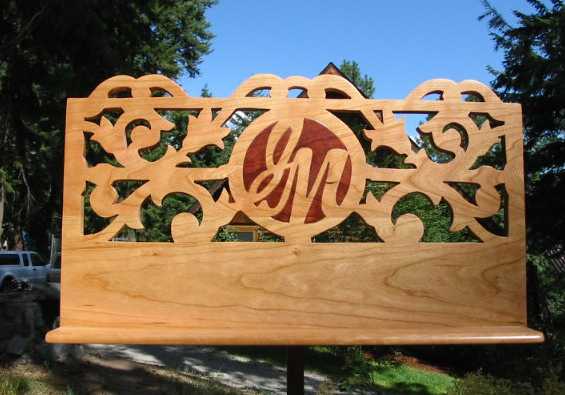 Natural cherry - no stain just a clear coat finish
Aged Cherry Look
Lots of customers think that cherry is red like red wine.
Some customers think that cherry is the color of a old
violin. Some know that cherry in the natural form is a
light as pine.. Natural Cherry will age to that orange/red color
over time... In about 250 years....Which color do you want ???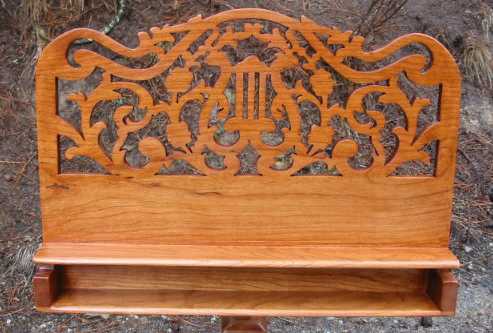 cherry wood with aged cherry stain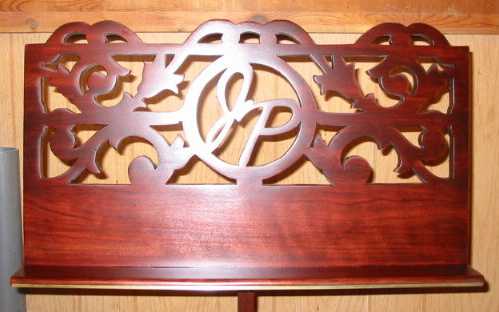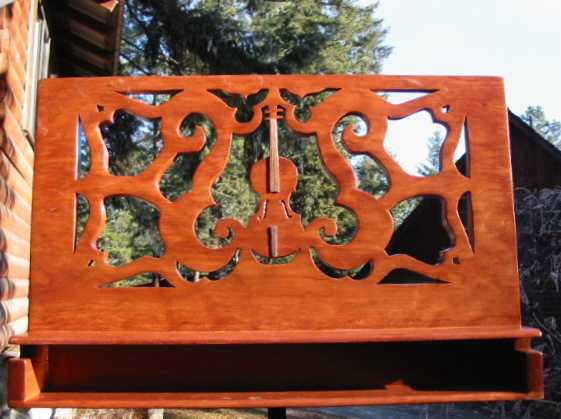 Alder with Red mahogany stain will give Alder with Cherry stain looks more like aged
of aged cherry with a reddish tone cherry with a brownish tone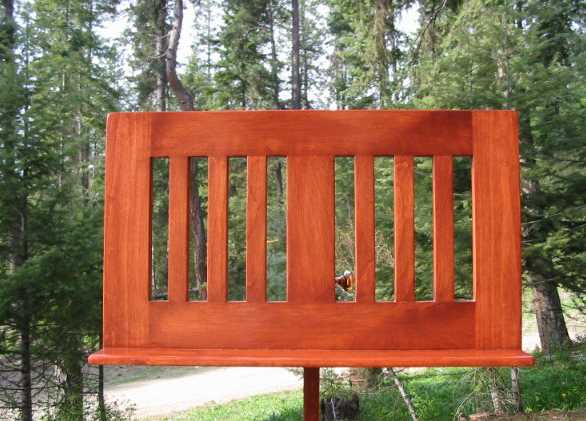 Cherry will look about this color when its
been aged. This is alder with a cherry stain added.....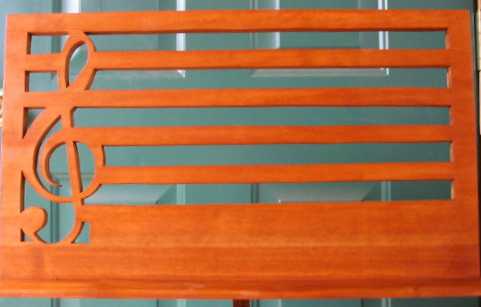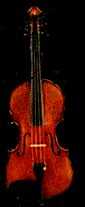 Alder with a cherry dye stain will give the appearance
of aged cherry like that of aged violin....... Ask for this
if this is the color your looking for....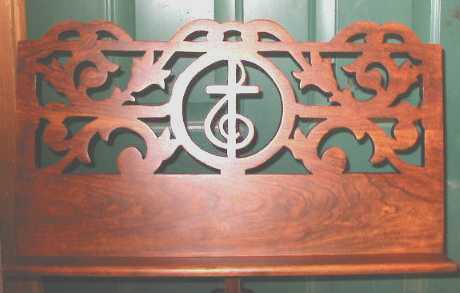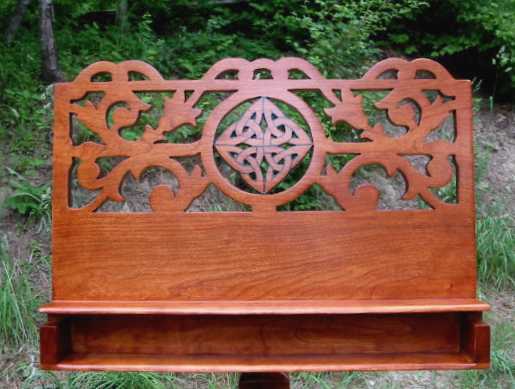 Cherry with a aged teak stain
basically aged cherry stain with a little red mixed in !!!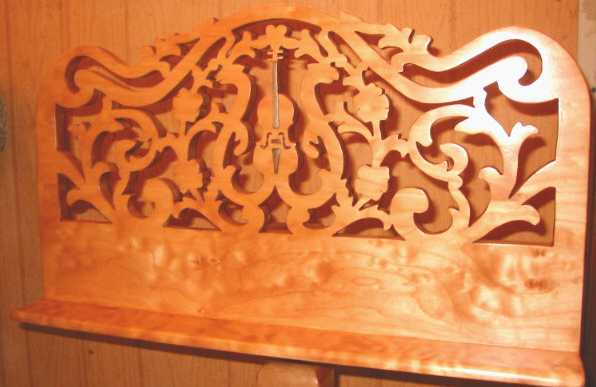 Curley Cherry - Extra charge $ 50 - 75.00


Maple wood book or music stand
Maple: Maple is the lightest of woods that Mister Standman uses. Maple
& Birch is a very hard wood that will with give aged yellowish finish over
time. We prefer not to stain maple as it tends to stain blotchy......
Please look at the walnut and mahogany samples if you
prefer darker colors. Birdseye Maple is also available
but does cost $ 45.00 extra........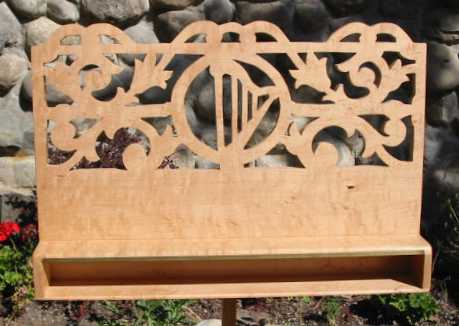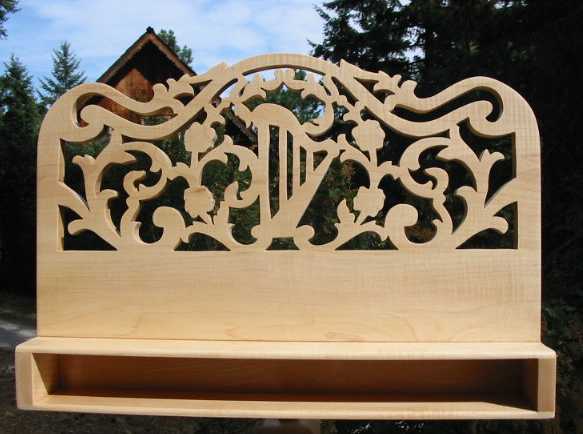 Tulip Lyre with Harp Victorian Lyre with Harp
Natural Maple Natural Maple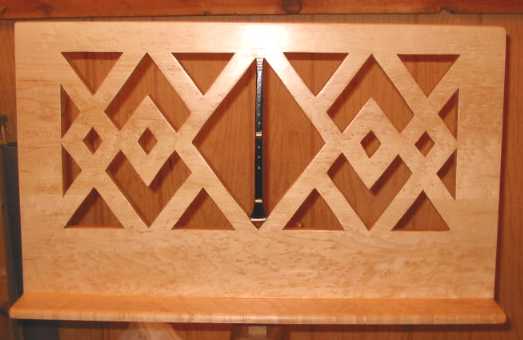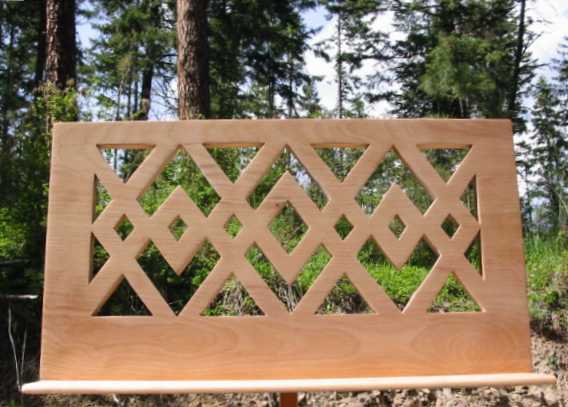 Diamond Jim Clarinet in Birdseye Maple Diamond Jim in Birch
Oak: Oak is a very popular wood and goes well with any furniture at home or
in your church. Oak also stains very well and can be stained in many colors.
Oak also looks very nice done in the natural color. Golden Oak and Natural
oak are the same in color. The oak will turn yellow or golden when a clear
finish is applied.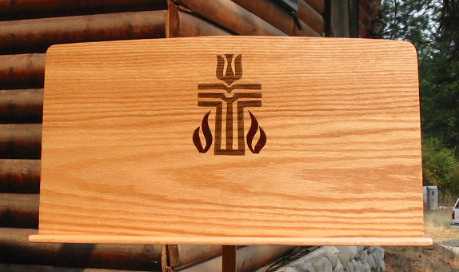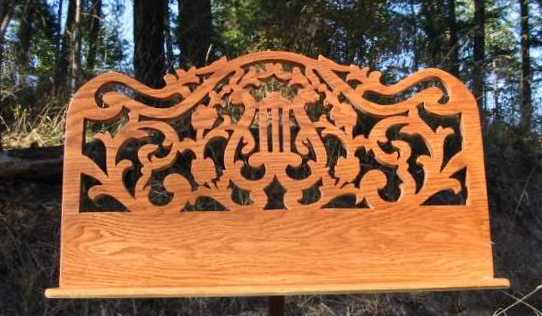 Presbyterian logo stand in Natural Oak Natural Oak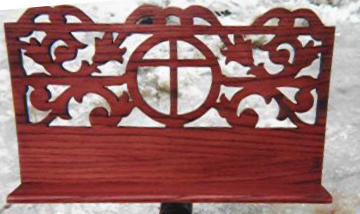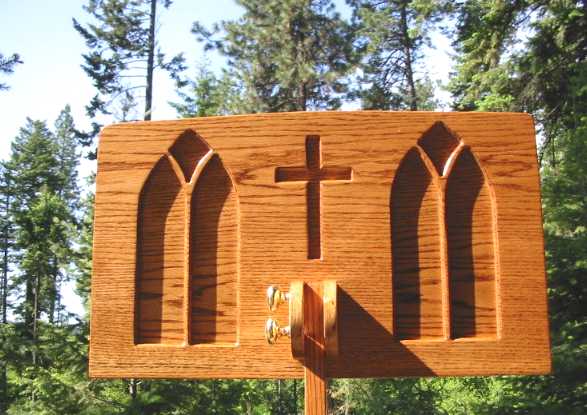 Oak with Red Oak Stain Golden Oak stain added
Tulip Lyre with Cross Arches


Oak with Dark Walnut stain Oak with Early American stain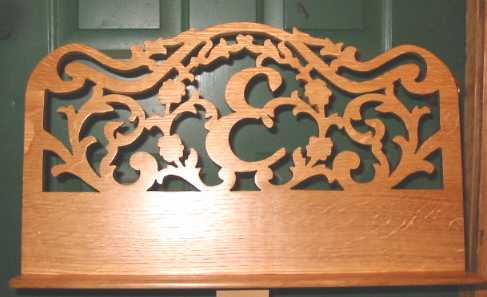 Quarter Sewn Oak
---
Alder: Alder is a beautiful Pacific Northwest hardwood that not many
customers know about. Alder's appearance is close to natural cherry
and it stains well to almost any color. Alder is very beautiful without
stain. It will unlike cherry stay the same color in appearance without turning
darker over time like cherry wood. It is one of Mister Standman's favorite
choice of wood.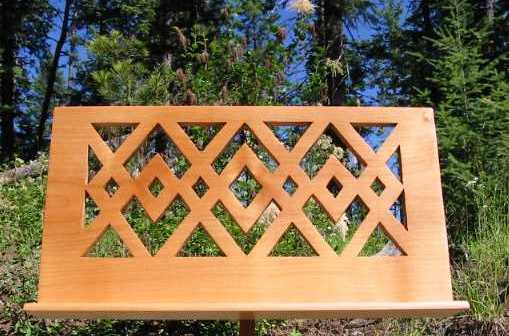 Alder - Natural No Stain - Diamond Jim Natural Alder - Column Stand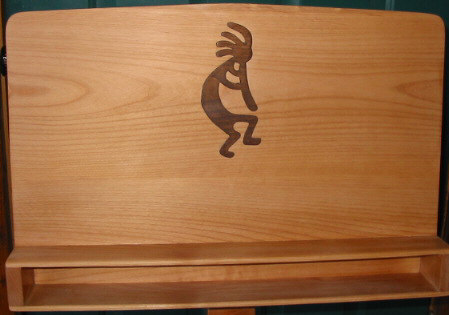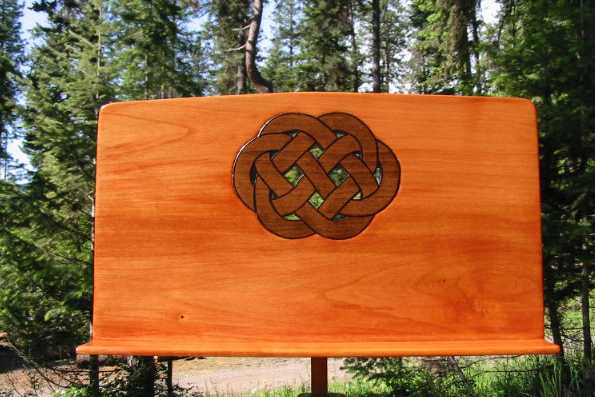 KoKopelli Inlay in Natural Alder Alder with Cherry Stain
Kokopelli Celtic Wedding Knot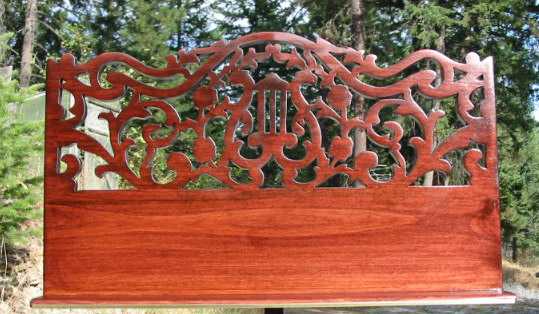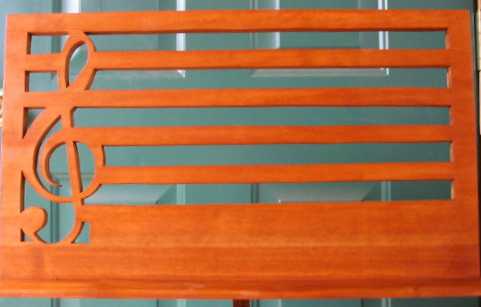 Alder with Red Mahogany Stain Alder with cherry dye stain
( looks like aged red cherry ) Looks like aged cherry
Victorian Lyre - Conductor Size Staffer

---

Other Woods Available : You can also order any of the music stands
in the more exotic woods like KOA, Birdseye Maple, Lacewood
Purple Heart and others. Just check with Mister Standman on
any extra wood charges....Usually around $ 35.00 extra
See Modern Classic web page to see more exotic woods available.........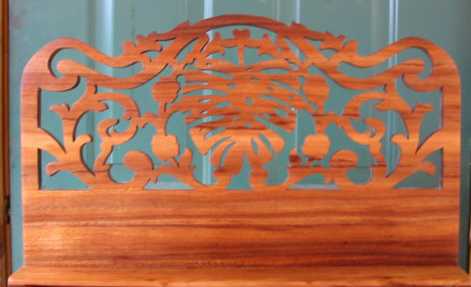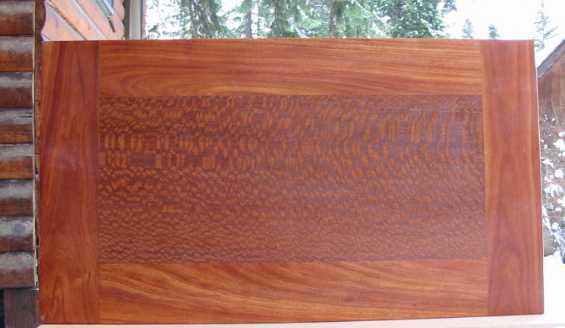 Victorian Lyre with Monstra fern leaf Mahogany frame with Lacewood center
Special Design - KOA wood Modern Classic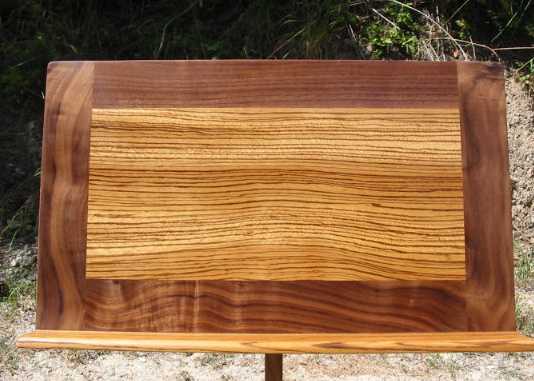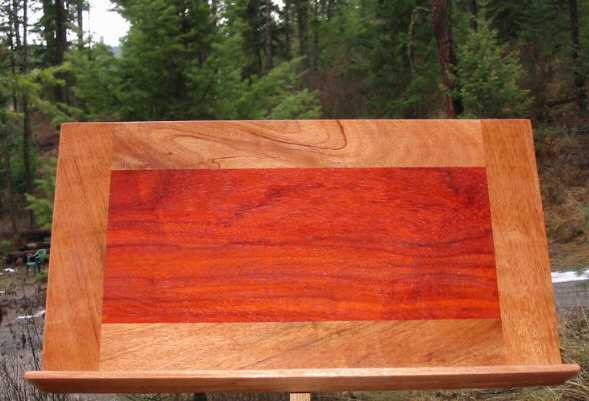 Walnut frame with Zebra Wood Center Mahogany Frame with Paduk Center
Modern Classic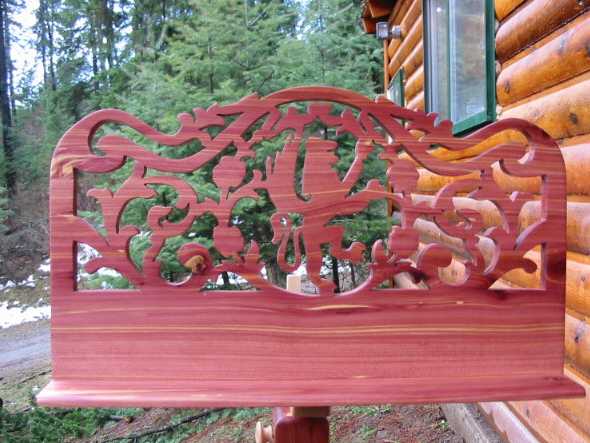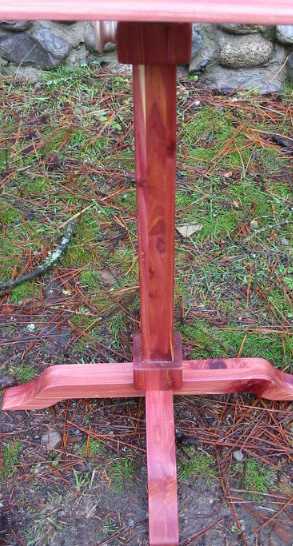 Aromatic Cedar ( Cedar chest )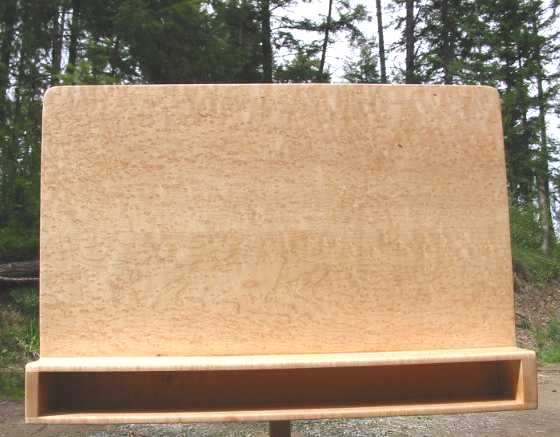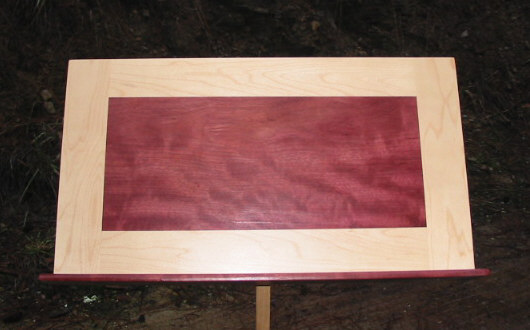 Birdseye Maple Purple Heart with Maple trim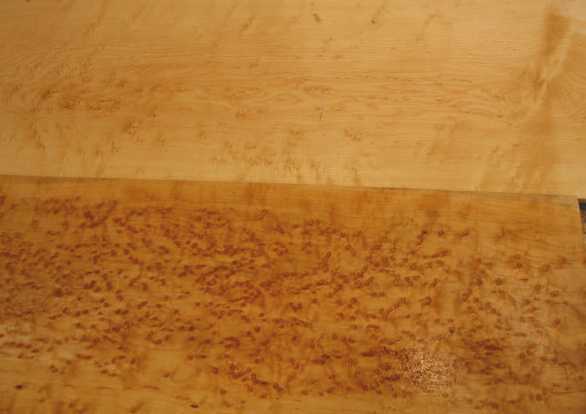 Birdseye maple can come in many different shades as shown
here......For you harpists I use the lighter shade above to match the harp...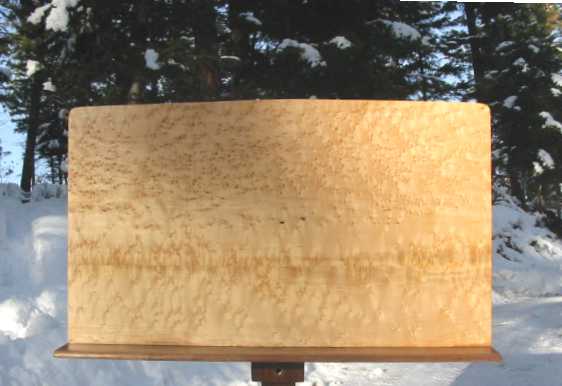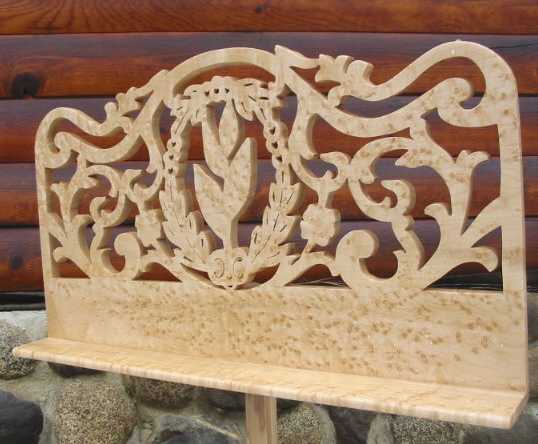 Not all the birdseye looks like this.....These are very good examples
and if you want something this nice than you might have to add
about $ 50-75.00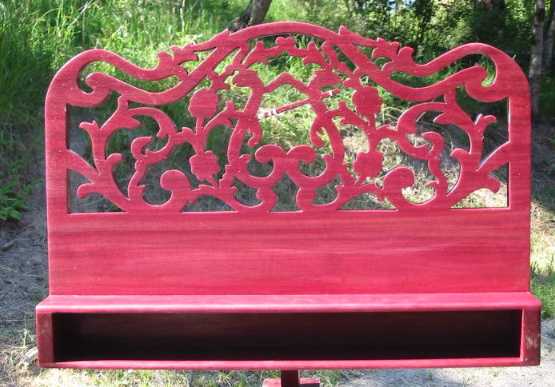 Purple Heart Victorian Lyre with flute


Wenge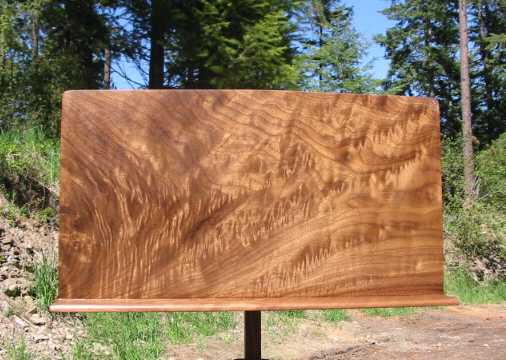 Walnut burl - 1 of a kind - sometimes I have some
most of the time I don't....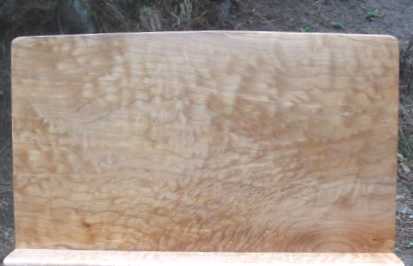 Solid Back curly figured maple - this was 1 solid board
that was 13 " x 22" .. I paid almost $ 375.00 for
a 8 foot board meaning just the frame alone cost
almost $ 95.00 so it added $ 125.00 to the price of
the stand !!! Something like this is really a one of a kind !!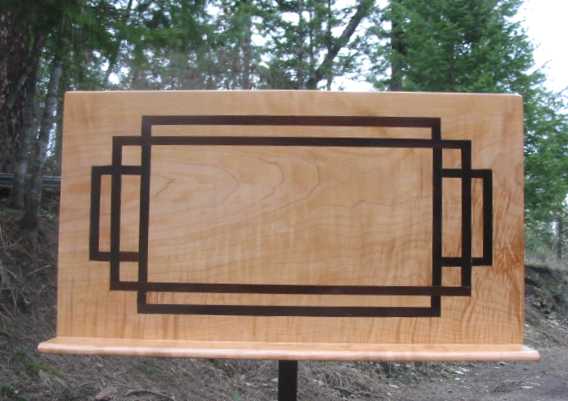 This is what most of the curley maple I get looks like !!

---

Mix the Woods............

You can also mix the woods together such as Mahogany and Paduk
or Walnut and Mahogany, Maple and Mahogany, Maple and Cherry
or just about any combo. Ask Mister Standman about what looks
nice mixed together........There is usually no extra charge to mix
the woods. When mixing the woods we usually will make
the frame one wood such as alder and make the tray and
trim pieces on the center section another wood like walnut.
See examples below........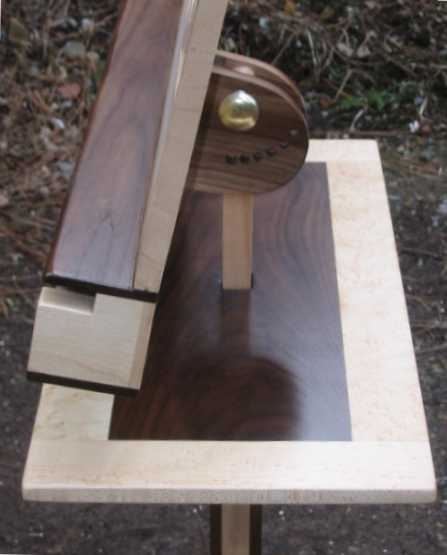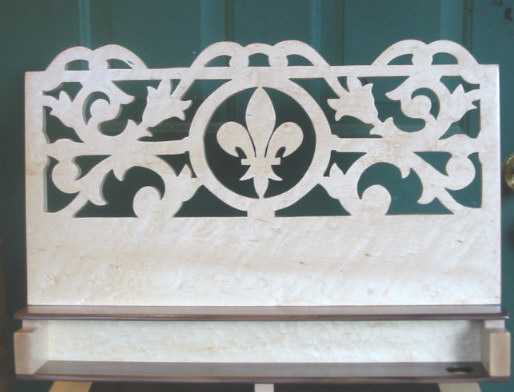 Mixed woods of birdseye maple with a walnut extra shelf and a matching
mixed woods sheet music shelf of birdseye maple and walnut center........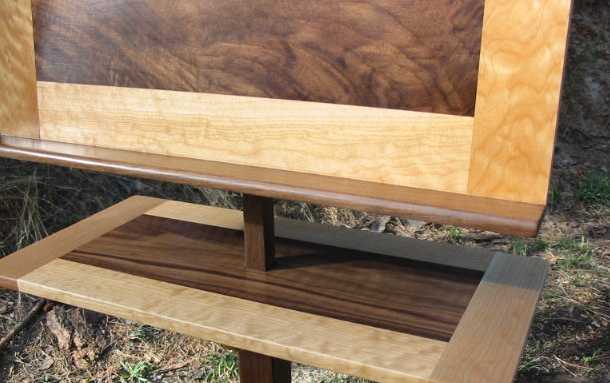 \
Curly cherry with a walnut burl center mixed woods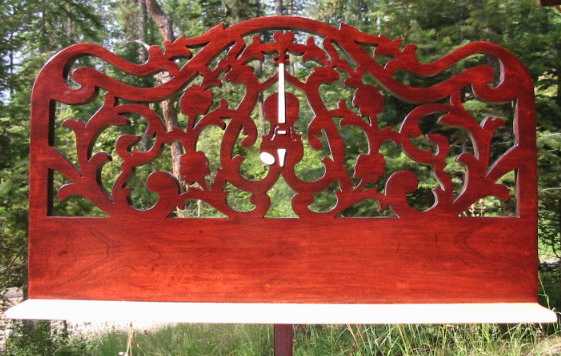 Birdseye Maple mixed with Cherry with Red Mahogany stain
Victorian Lyre with Violin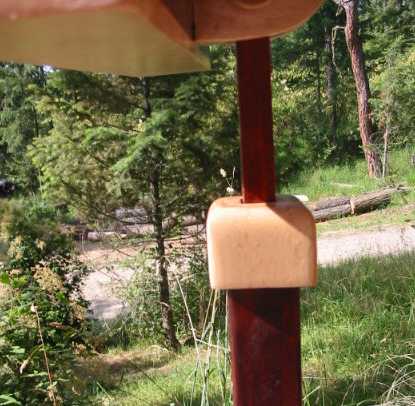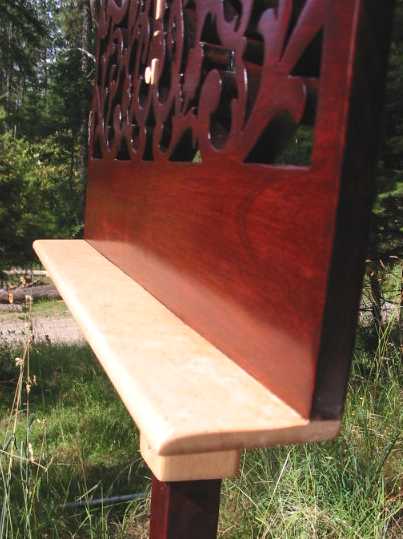 Center Section pieces are different wood Tray is also a different wood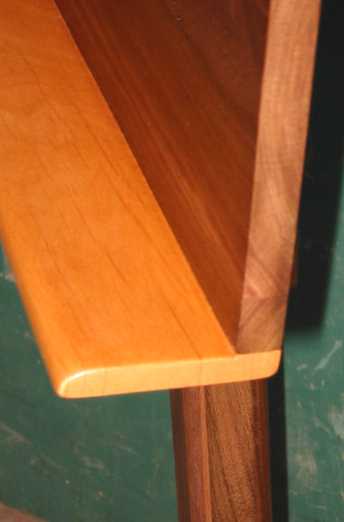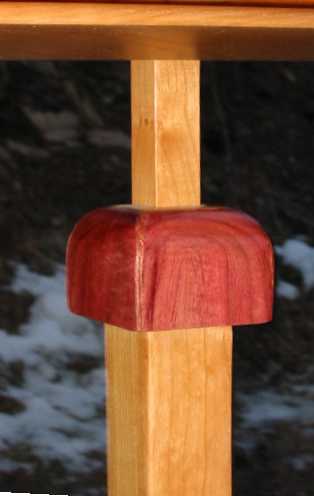 Alder tray with walnut frame Purple heart and cherry mixed on center post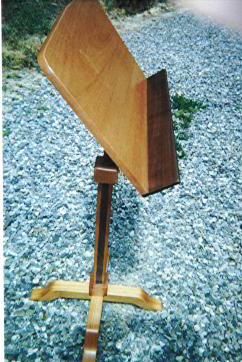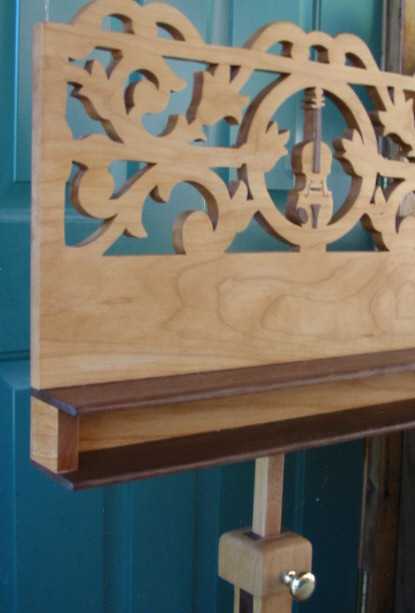 Cherry with walnut mix Alder with walnut Inlay
Music tray and middle of
center post has walnut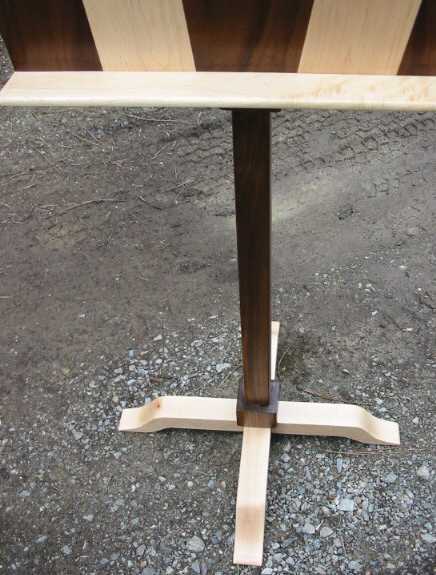 I made Maple Feet with the walnut middle section to
match theArt Deco frame.. Of course I can mix an dmatchany
woods as mentioned . This might not look good on all
stands .. ask Mister Standman for his artistic opion


I can also just basically edge band the wood like this Purple Heart
I did around the batural oak.. In this example I only edged
the top and used a purple heart tray and not this sides.. I just felt
that by doing the sides as well it was just to much artistcally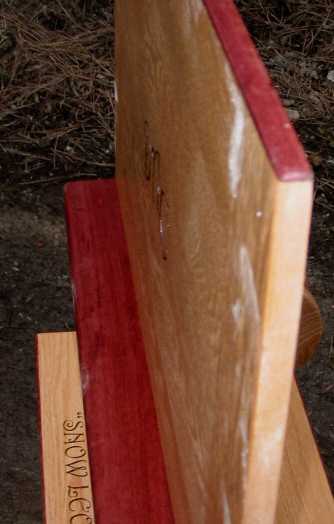 It's hard to see but the sheet music shelf below
had the purple heart edge banding as well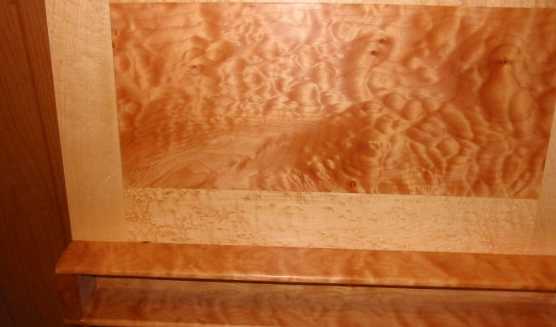 Music tray is same wood here as the center of this modern classic
in curley cherry mixed with birdseye maple........
Click picture to see more examples of mix woods with tulip lyre violin
__________________________________________________
Inlay Stands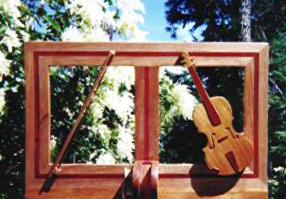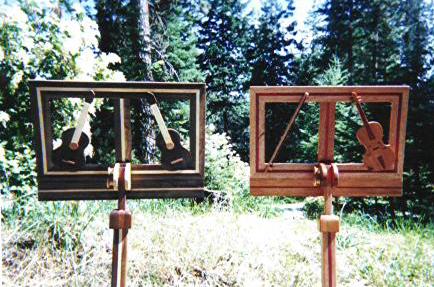 Violin Inlay Stand Guitar Inlay Stand Violin Inlay Stand
Mahogany/Paduk inlay Walnut with Maple Inlay Mahogany with Paduk Inlay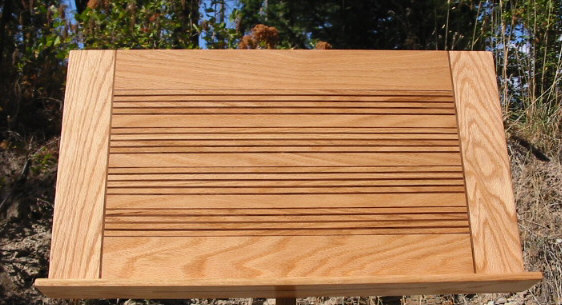 Special Inlay staff lines - Conductor frame
Oak with Walnut Inlay staff lines

---

Ebony Stands
Black Lacquer music stand or book stand
Mister Standman does get requested once in a while to produce the stand
in the black lacquer color like a " fine grand piano". Mister Standman
can produce the stand with ebony black lacquer paint color as shown below.
Our black lacquer finishes are a satin finish so its not going to be that
incredible shiny finish you see in a steinway...........
If you do order the stand with black lacquer finish
The ebony stands need the brass accents to break up the solid black color
of the whole sand...There is also a $ 20.00 extra charge for ebony finish.
( Believe me, there is about 2 - 3 extra hours of work to do the stand in ebony !! )
A bit of a warning about the black lacquer finish. The finishes
are nice but..........if you are expecting the look of a $ 50,000 Steinway
grand with that incredible 27 coats of hand rubbed beautiful see yourself image
well.....its not going to look like that......It would take Mister Standman
weeks and weeks of applying 27 + coats of hand rubbed lacquer to
achieve this. I guessing I would have probably 50 hours into
getting that finish. If you want to pay me $ 1500.00 for the stand then
I can do it.......Most customers balk at paying $ 1500.00 for a stand
so you will get the best finish I can do for the $ 300.00 stand....
I hope this makes sense........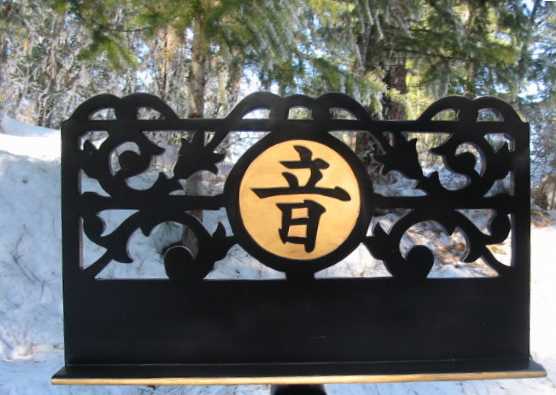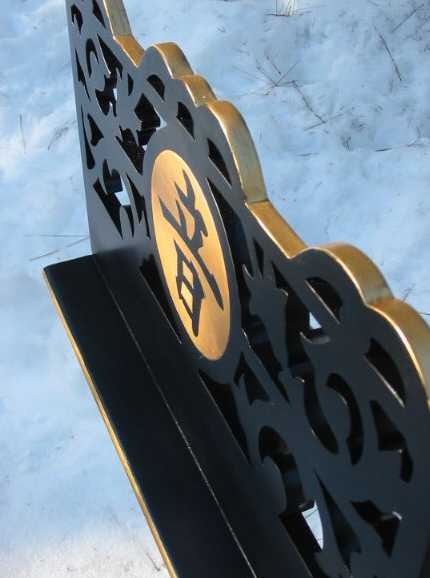 Japanese lettering - black lacquer with gold trim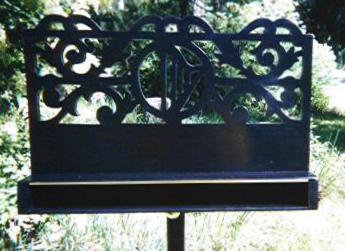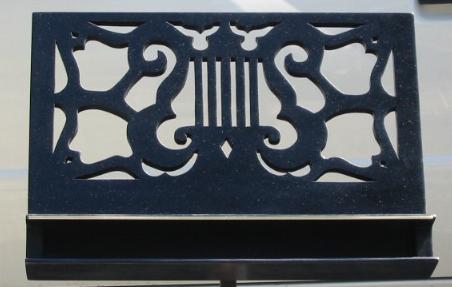 Tulip Lyre with Harp - Black lacquer Classical Lyre - Black lacquer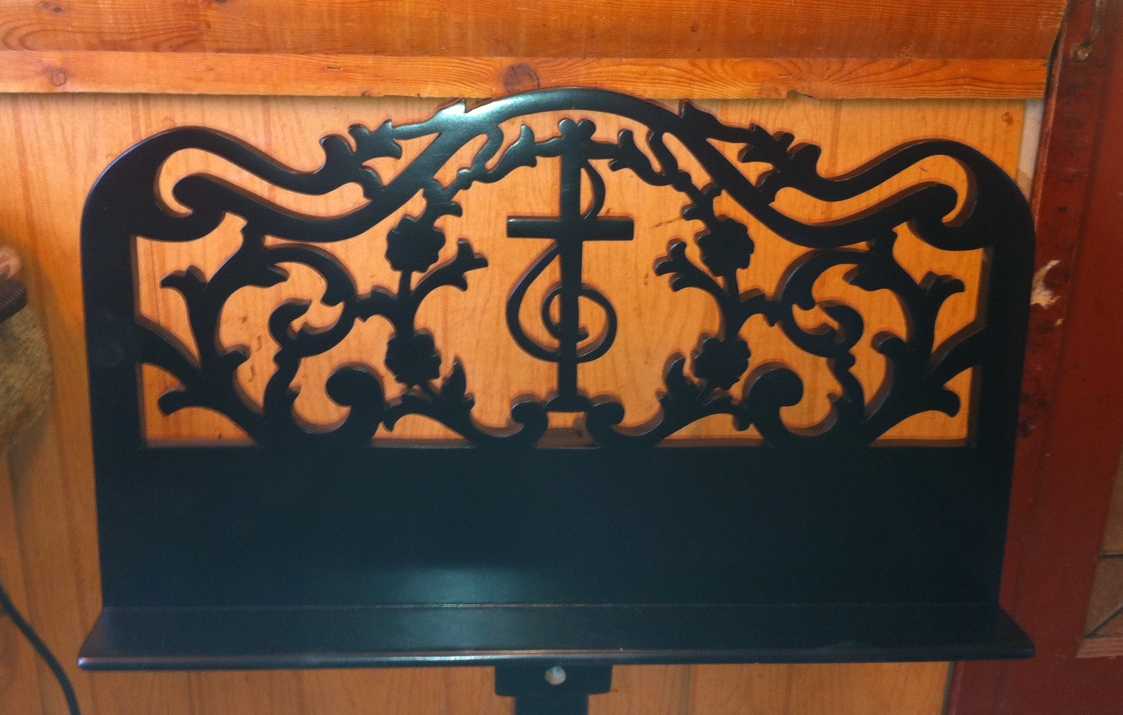 _____________________________________________
The Extra Storage shelf sits below the music tray and is
a great idea for storing tuners, metronomes, business cards,
pencils, rosin, bows and other items. You can also order the extra
shelf with a knotched end in the tray as shown to hold your bow. The extra
shelf can be added to any of the designs of Mister Standman. The
Brass Highlights or brass knobs to the left adds a touch of elegance to the stand...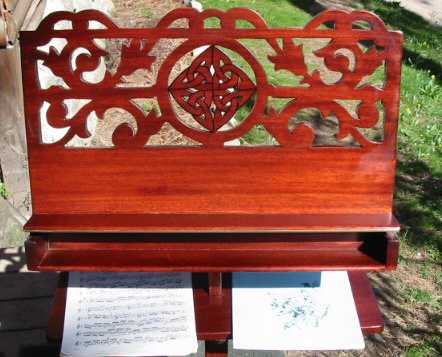 The extra sheet music storage tray helps in
giving you a place to put your extra sheet music
and pieces your currently working on......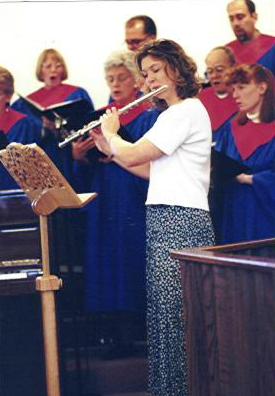 Do you have a special height requirement for your stand
Click picture to find out more.....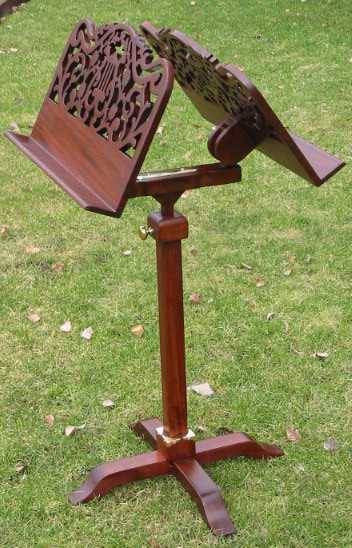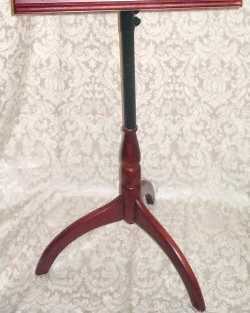 Mister Standman Music stands uses the Four feet Pattern as shown on all
of his music stands. The four feet which are almost 2 inches wide is the
main reason his stands are so stable. All other Music stands from other companies
use those tiny skinny three feet pattern which are about 1/2" wide
No wonder those other wooden stands are so rocky and unstable...........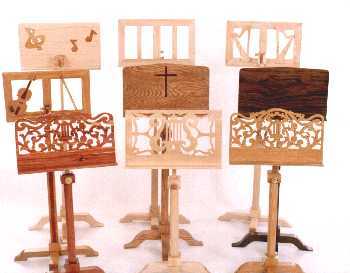 Home Page
Back to See All the Stands
Since 1989
Proudly Handcrafted &
Made in Idaho - USA
Need a color brochure ??
Click here for Online Brochure
____________
Mister Standman Music Stands
6692 E. French Gulch Rd.
Coeur d' Alene, Id. 83814
208-664-4321
misterstandman@earthlink.net
For Questions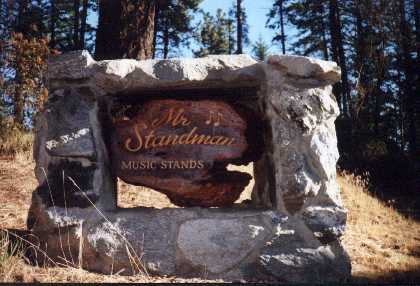 Click Picture for more "How To Contact" Information
Glossary
Or Click here for index of Mister Standman's products and information
About Mister Standman The Stands
Wood Colors Order Form Questions & Answers
Tilt Adjustment Height Adjustment Brass Highlights
Brass Plaques Music Lights Page Holders
Extra Storage Tray Customer Comments How to Order
Color brochure Contact Mister Standman