Mister Standman Music Stands & Book Stands

Click photo above to enter main web site for
Mister Standman Music Stands
or
Stay here to see the
Extra Storage Shelf Info Page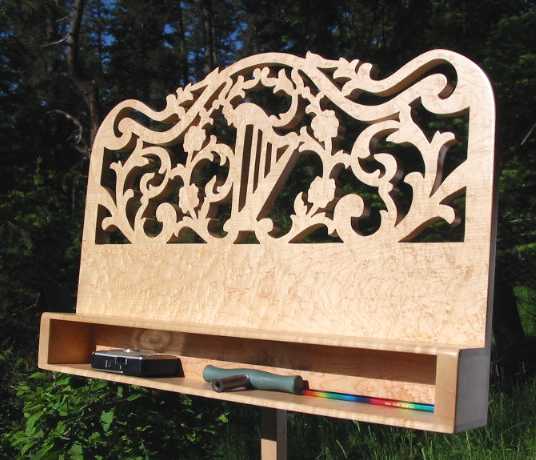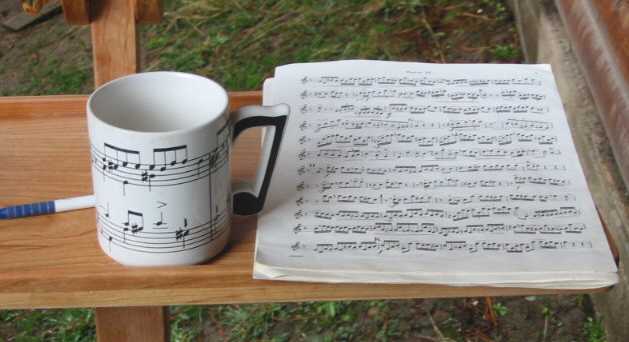 Victorian Lyre with Extra storage shelf Sheet music shelf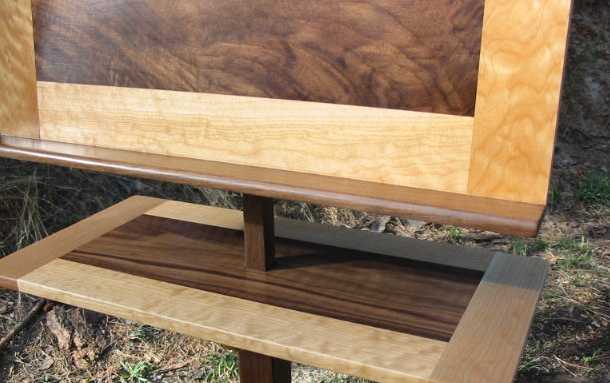 Curley Cherry frame with walnut burl center
Modern Classic Design with matching sheet music shelf
This matching shelf is $ 115.00 versus the regular sheet
music price of $ 85.00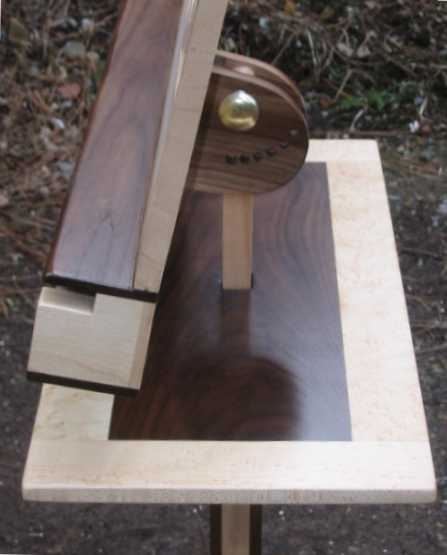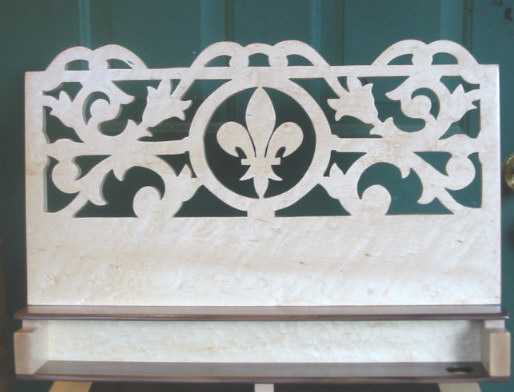 Mixed woods of birdseye maple with a walnut extra shelf and a matching
mixed woods sheet music shelf of Birdseye maple and walnut center........

book stands, music stands, dictionary stands,
Any of Mister Standman music stands can be ordered with
the extra storage shelf as pictured above. This extra shelf is
great way to store your tuner, metronome, rosin, bow, pencils,
guitar capos or other items like business cards you might
give out during gigs. You can order the extra tray without or
with the notched ends as shown in the pictures below for you
to store your bow. The knotched part also allows room below
the bow for you to store items like bow rosin.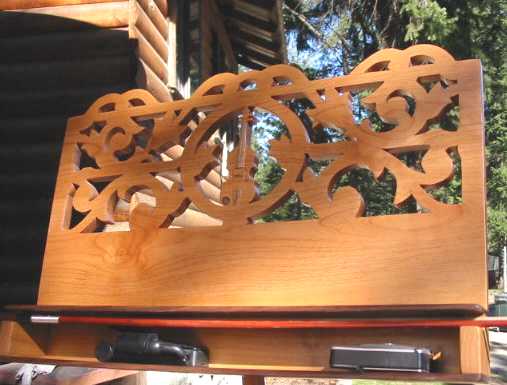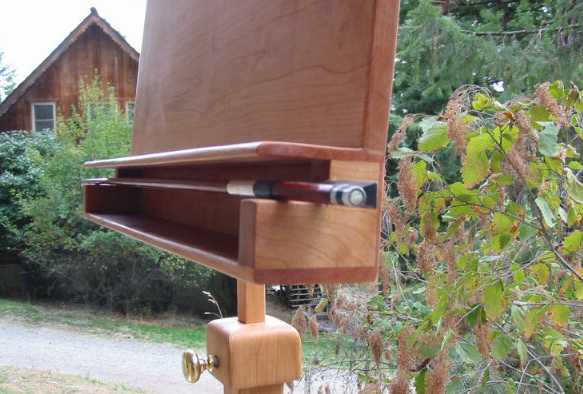 We supply felt for you to line the inside of the tray if you
choose. The extra tray has 2 1/4 " width and is
about 2 1/2 " deep. There is a additional charge of $ 65.00
for the extra tray. If you want the ultimate in storing
capabilities order the sheet music shelf pictured below along
with the extra storage shelf pictured above.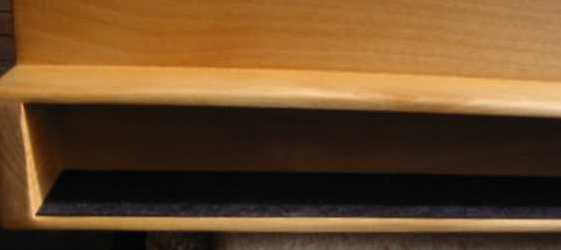 The extra shelf is lined with felt......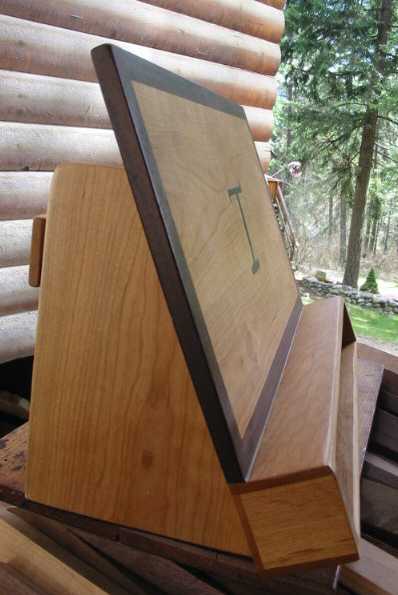 Yes,, we can attach the extra shelf to the adjustable and
stationary desk stand as show here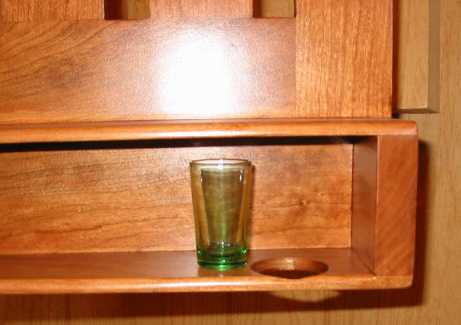 For you reed instruments like clarinet, oboe, sax, bassoon
we can drill a hole for you to put a small cup to store your soaked reeds in
the bottom half of the extra shelf. I would need to know the hole size
of the top of the cup and how tall the glass is - the hole for this cup at the top
was 1 1/2" and the glass was 2 1/2 "tall. I drilled the hold at 1 1/4" so it
just slides through the hole but does not go all the way through..
You would need to use a tapered glass cup though like a shot glass...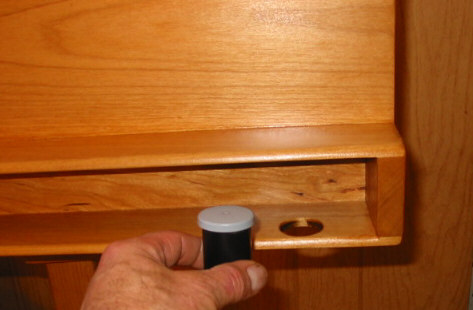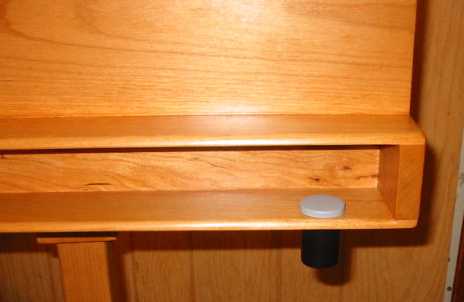 Using a regular film container to store reeds... we can make it that size as well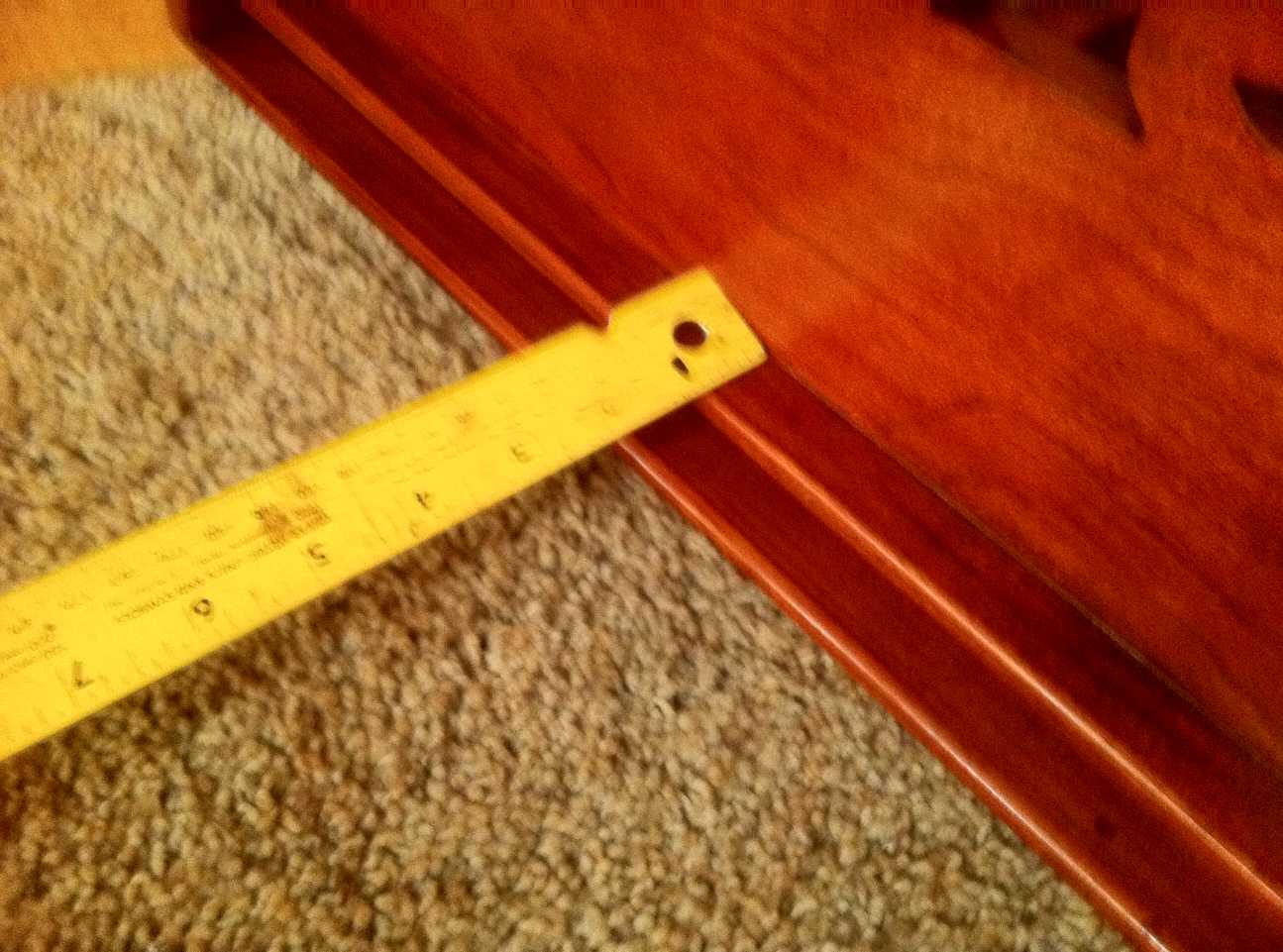 A little tiny shelf can be added to a conductor version
to store a conductors wand.. shelf pictured is 3/4 "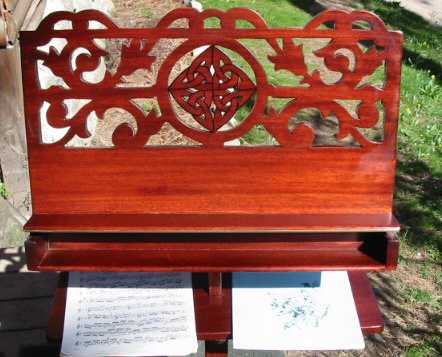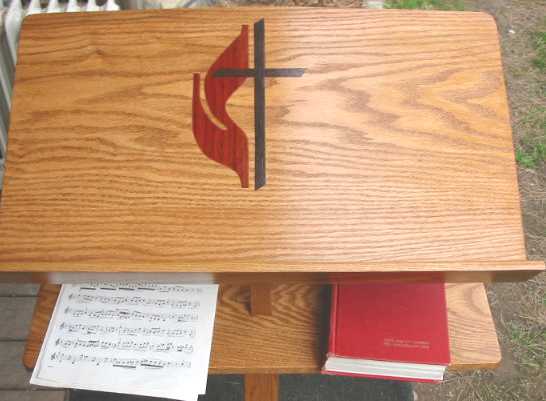 Sheet music storage shelf is $ 75.00
The sheet music shelf allows you to put sheet music and
other items on the shelf that you might be using during
that gig or just practicing at home. The sheet music shelf
is also very popular with wife's that are tired of seeing
sheet music laying around all over the floor near the
music stand. If you need lots of storage and really want to
make your wife happy order the double back stand .
The double back music stand allows you to store sheet music
in between the two frames of the music stand(see picture below)
You can get the extra storage shelf and the sheet music shelf
with the double back for what I call the ultimate storing
machine.... Getting you organized and out of trouble
with your other half.....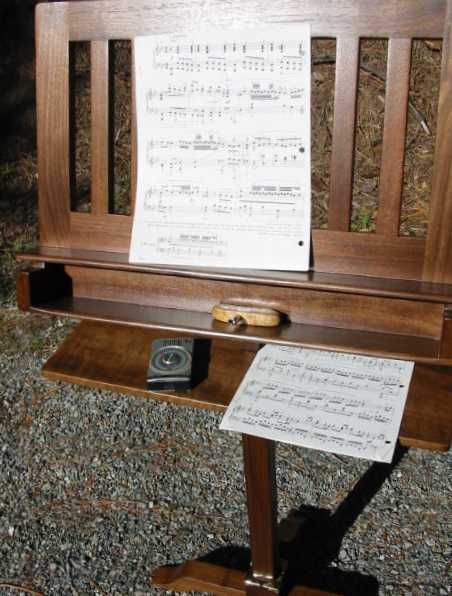 Extra sheet music shelf and extra shelf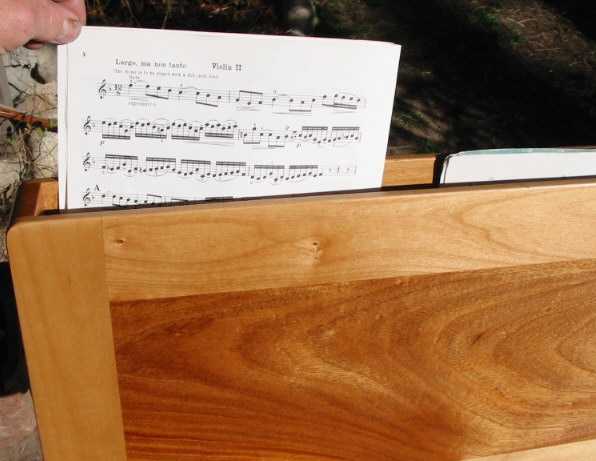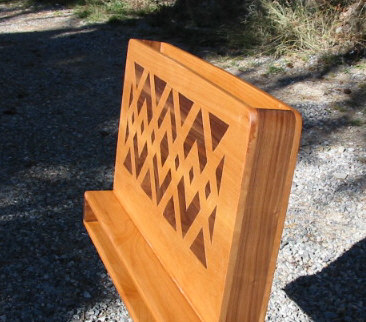 Double Back Stand sheet music storage stand
Allows you to store sheet music between the two frames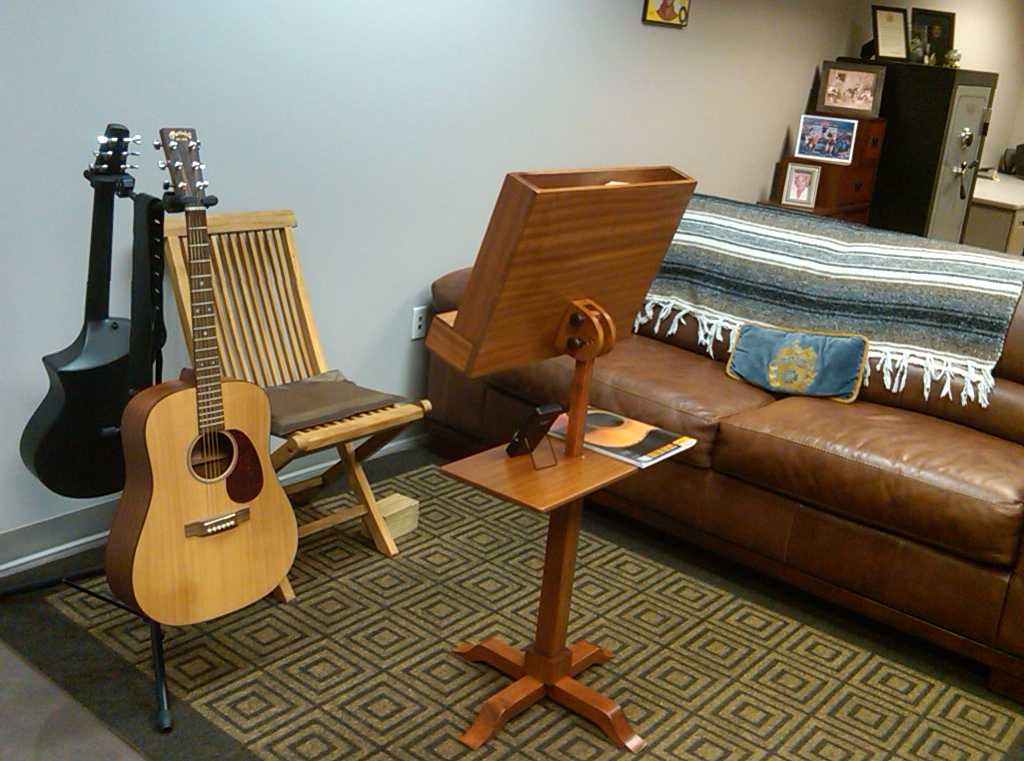 Double Back stand with extra shelf and sheet music shelf in
a customers Studio - You can see his metronome / tuner sitting
on the sheet music shelf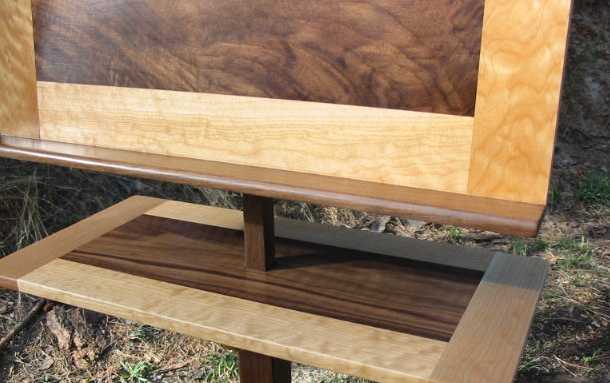 We can also do the extra sheet music shelf to match the Modern Classic design
Sheet music shelf to match $ 100.00
Examples........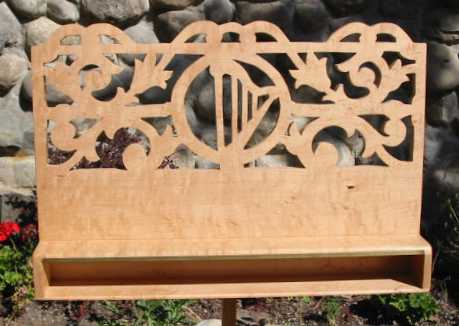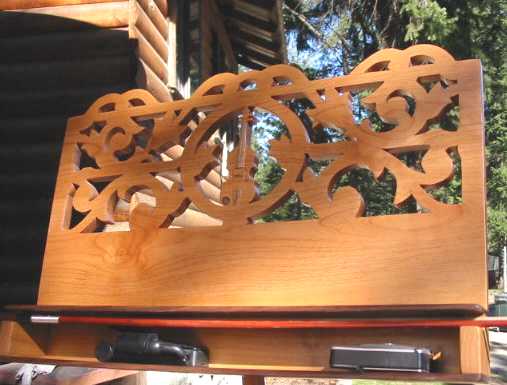 Tulip Lyre with Harp with extra shelf Tulip Lyre with extra shelf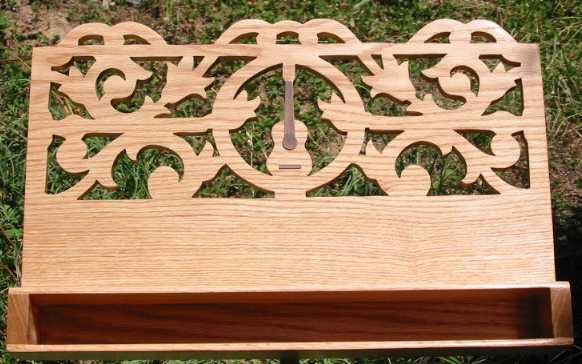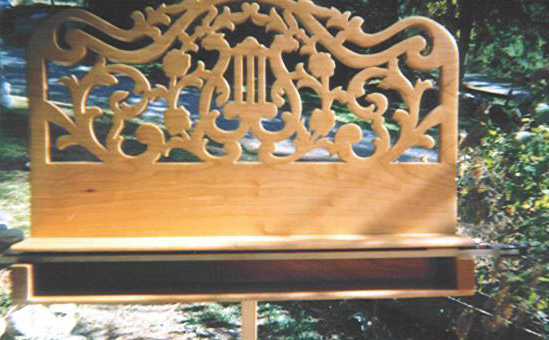 Tulip Lyre with Guitar - Natural Oak Knotched ends for bow storage
__________________________________________________
Extra Sheet Music Storage Tray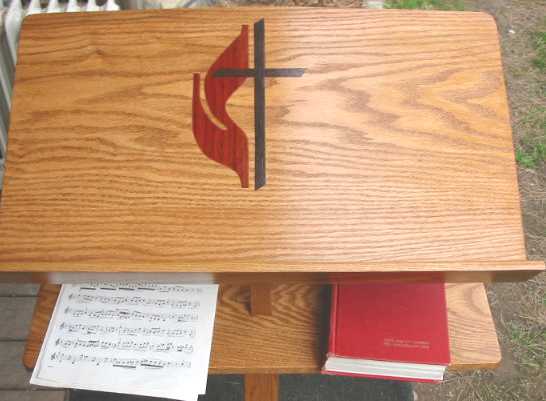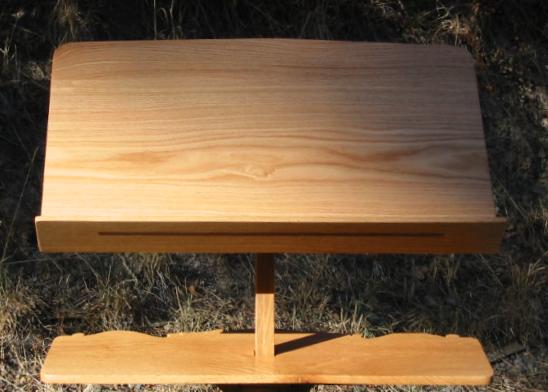 The Extra Sheet music Storage Tray is usually ordered by Choir,
Church music directors and pastors to hold their sheet music, bible, ect....
but has also become popular with teachers and musicians to store extra music.
The tray is 22 " x 9 " and is made to be able to fit over the adjusting pole.
This allows you to be able to remove the tray and use it only when you need it.
Sheet music storage tray - $ 75.00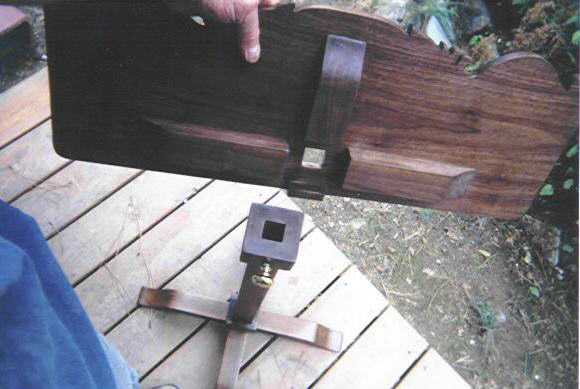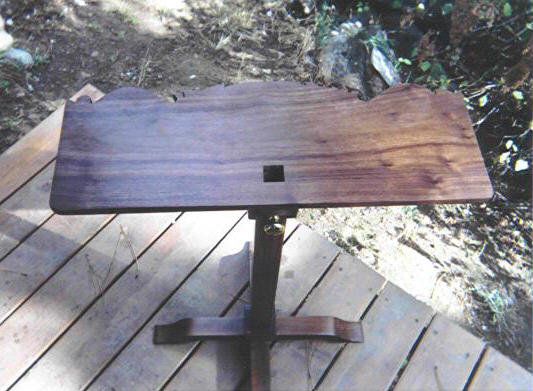 Sheet music shelf is removable Shelf size is 9" x 22"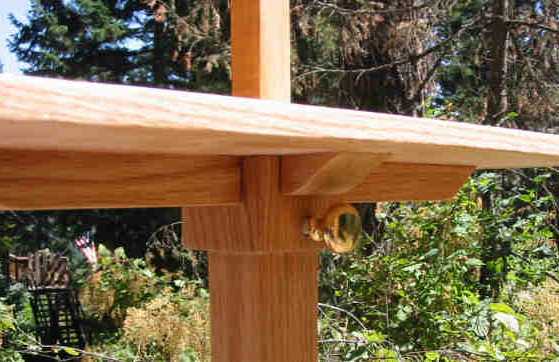 Sheet music shelf fits around the center section but leaves room for
height adjustment knob......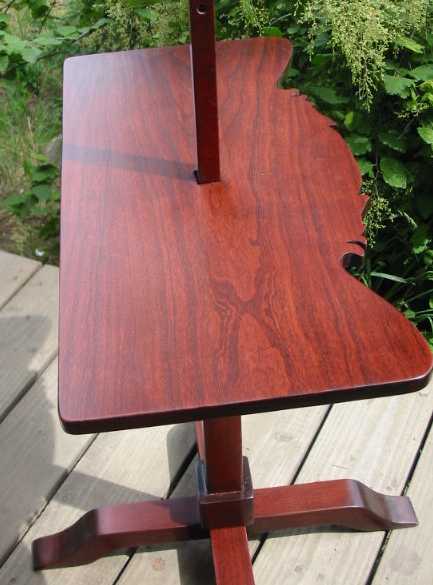 The top of the sheet music shelf can be fancy like the one above
that matches the Victorian Lyre design or it can be just slightly
tapered as the example below........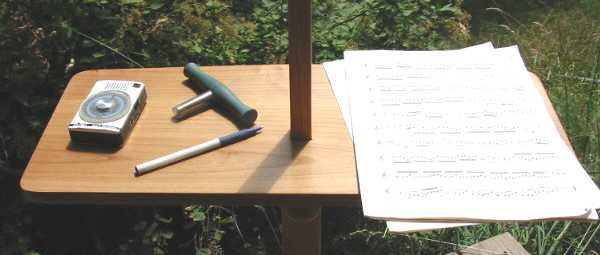 You can also use the sheet music shelf to store the tuner, pencils and
other items on one side and sheet music on the other side.....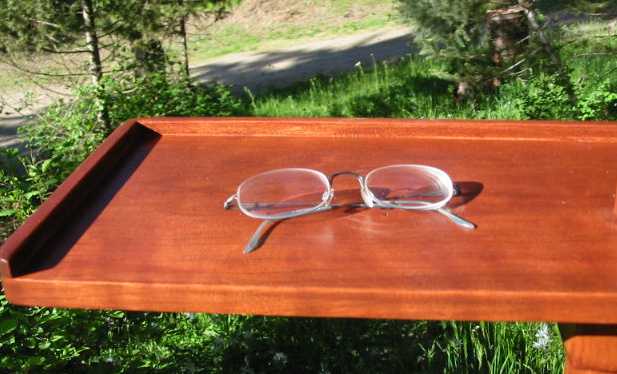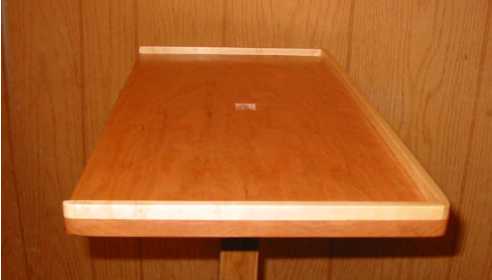 A lip around the extra sheet music shelf
can be done for use as a book stand to hold
needed objects like glasses....such as this
example that was used for a dictionary stand
and held his glasses to look up the words in the dictionary..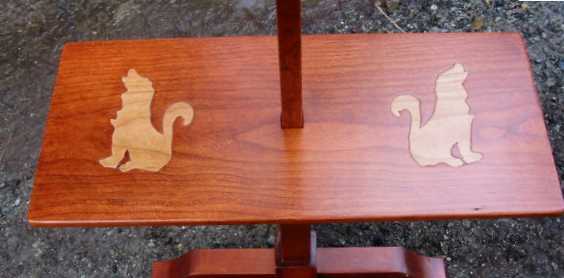 Can we inlay stuff in the sheet music shelf ?
Yes We Can !!
This was done for a customer that had Husky Dogs like my dogs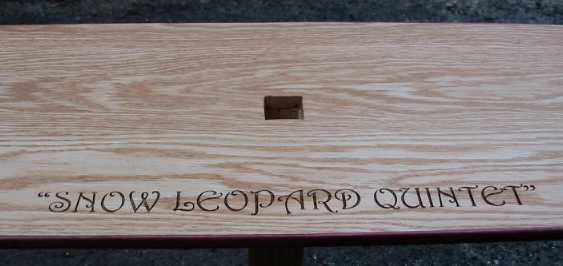 Or we can laser burn your quintet's name into t or any other lettering
see laser burning info - adds about $ 45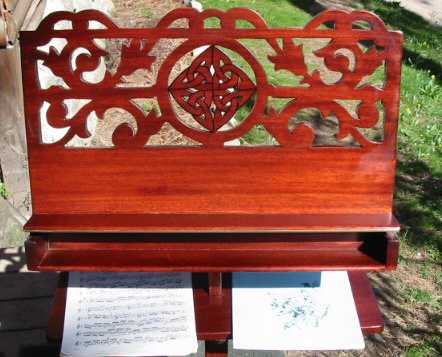 Tulip Lyre with Celtic Knot with sheet music tray
and extra storage shelf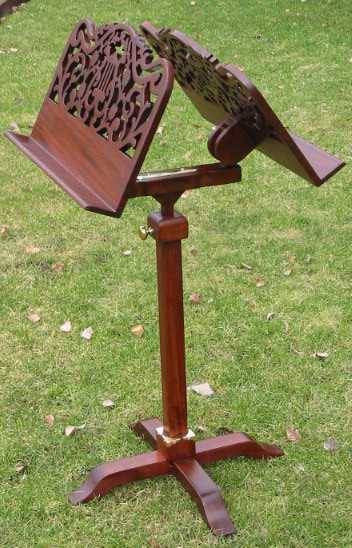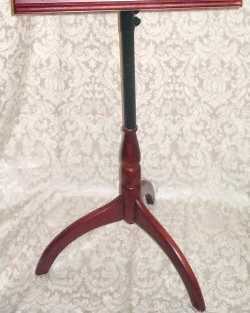 Mister Standman Music stands uses the Four feet Pattern as shown on all
of his music stands. The four feet which are almost 2 inches wide is the
main reason his stands are so stable. All other Music stands from other companies
use those tiny skinny three feet pattern which are about 1/2" wide
No wonder those other wooden stands are so rocky and unstable.........
See picture to the right..........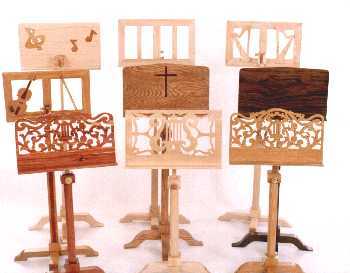 Home Page
Back to See All the Stands
Or
How to Order
or
Wood and stain colors
Since 1989
Proudly Handcrafted &
Made in Idaho - USA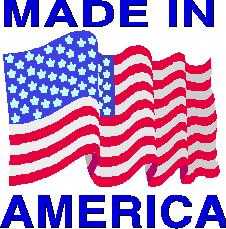 Mister Standman Music Stands
6692 E. French Gulch Rd.
Coeur d' Alene, Idaho 83814
208-664-4321
misterstandman@earthlink.net
For Questions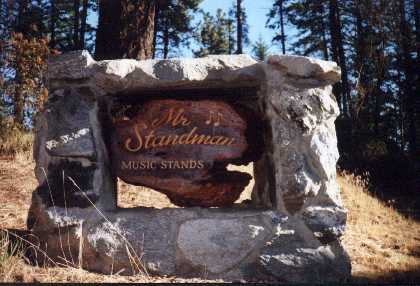 Click Picture for more "How To Contact" Information
Need a color Brochure ??
Click here to print a online brochure
You can also just press " print " on your web
browser to print out this web page your looking at ......
Glossary
Or Click here for index of Mister Standman's products and information
About Mister Standman The Stands
Wood Colors Order Form Questions & Answers
Tilt Adjustment Height Adjustment Brass Highlights
Brass Plaques Music Lights Page Holders
Extra Storage Tray Customer Comments How to Order
Color Brochure Gift Certificates Contact Info:
Mister Standman Music Stands manufactures
fine handmade music stand, handcrafted wooden music stand
wood music stands, conductor stands, music stands,
Dictionary stands, dictionary holder stands, book stand
book stands, desk stands, sheet music storage stands
choir conductor stand, music director stand, church stands,
Bible stands, book stands, bible holders, book stand holders
dictionary stands & bible stands, desk top book stand,
harp music stand, guitar music stands and benches, harp benches
music furniture, book holder stand, sheet music holders
harp stand, library book stand, piano desk, piano music stand,
piano rack, sheet music rack, Display stands, bookstands , bookstand and
restaurant menu holder stands, desk top book stands, atlas stands, .......