Mister Standman Music Stands
Since 1989
Proudly Handcrafted &
Made in Idaho - USA
Special customized lettering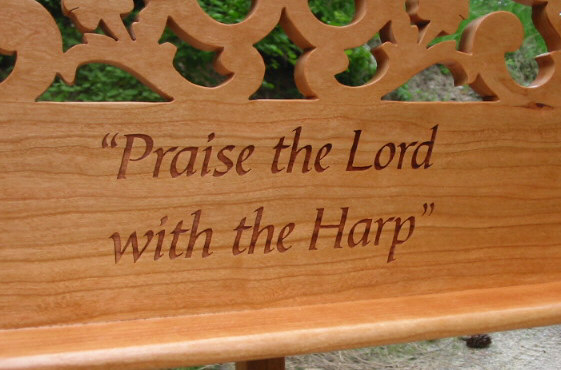 This lettering was laser burned into the frame so its just on
the from side.. The laser can control how dark the
lettering can be from dark almost burnt black to
this more lighter brown color. The wording can be done
large or small . The cost varies on how much wording
but this particular lettering above was $ 35.00
There really is a lot you can do with the laser
engraving including company logs, graphics and other stuff.
If you have a JPG of a image it can usually be done.
By the way... this laser burning looks far better on lighter
stands ... It won't look good on dark walnut cause you won't
be able to see it !!!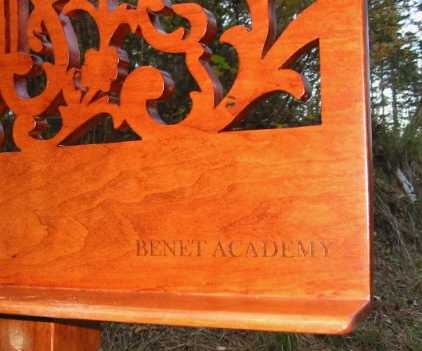 Bennett Academy laser burned off to the right side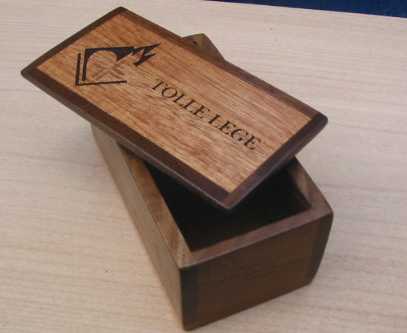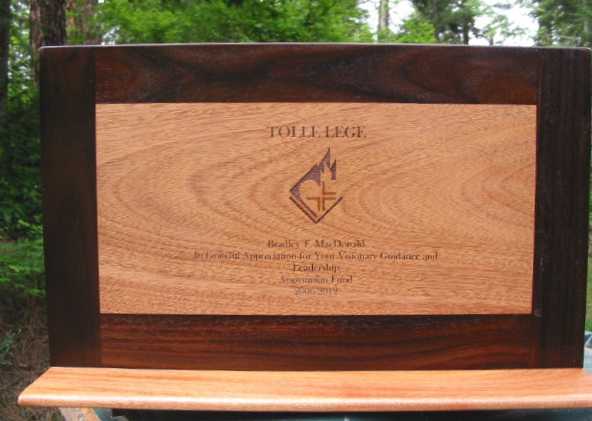 Yes,, I do make boxes with the scrap wood
from music stands.. This was part of a desk stand
and matching gift box given out as gifts to missionaries
who were retiring .. see more info here on gift box ideas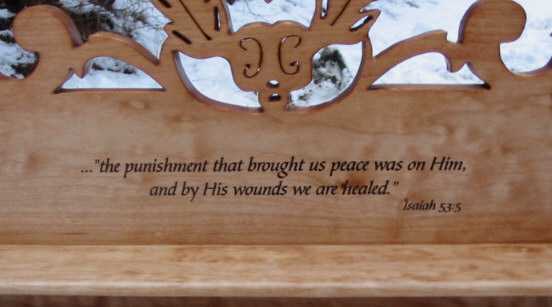 Bible Verse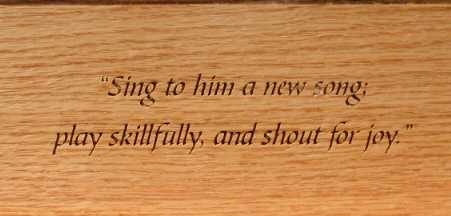 Bible versus are a nice addition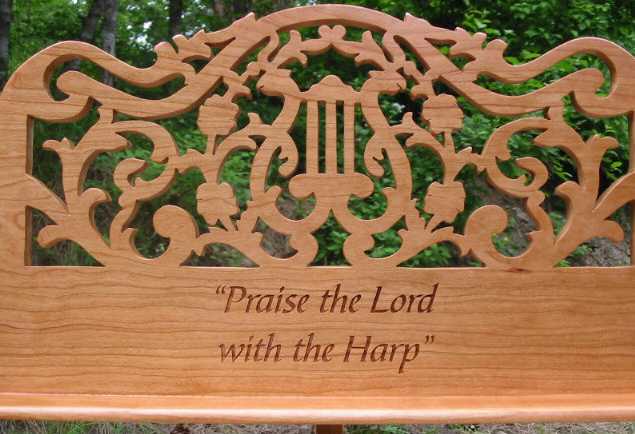 You can see how this was centered into the frame
not to big but not to small ......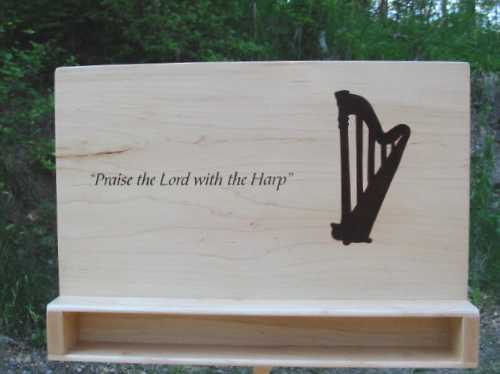 The lettering can be put anywhere on the frame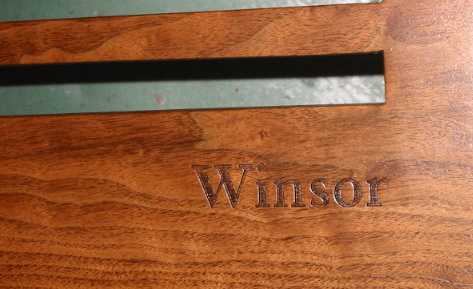 Walnut wood we darken the lettering a little more
so you can see it in the darker wood.. This is about as
dark of wood you can go before the lettering just blends in
with the dark wood ..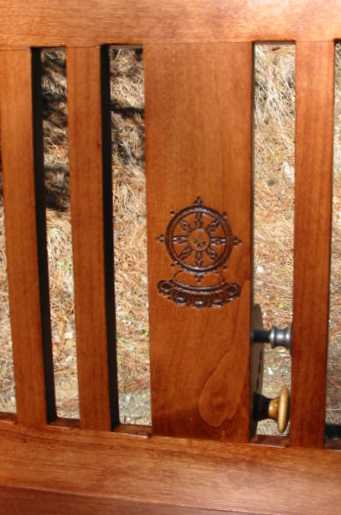 Can also laser burn in images like this Dharma Wheel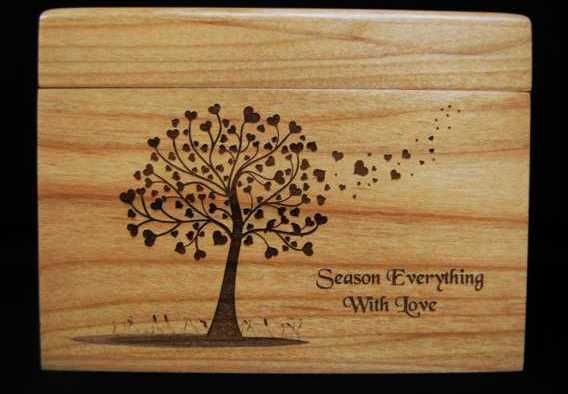 images like this love tree can also be done - $ 50.00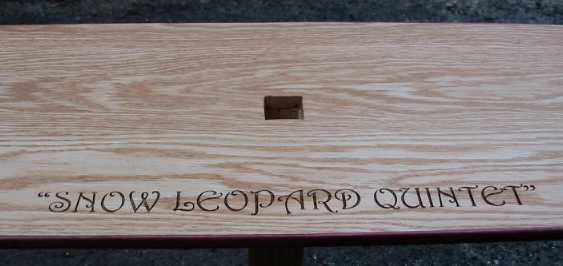 This was done on the sheet music shelf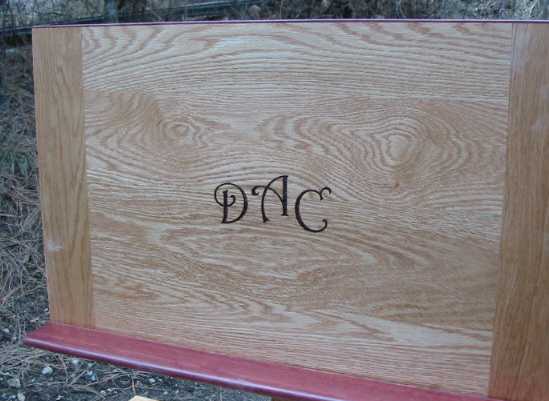 This customers wanted his initials on just the front side
which we usually do.

Laser burn School logo of Beaver by a tree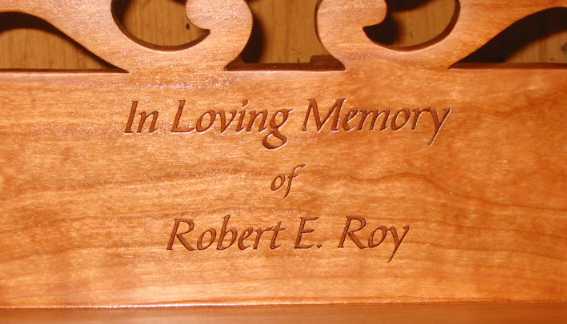 This was a ligher burn versus a blacker darker burn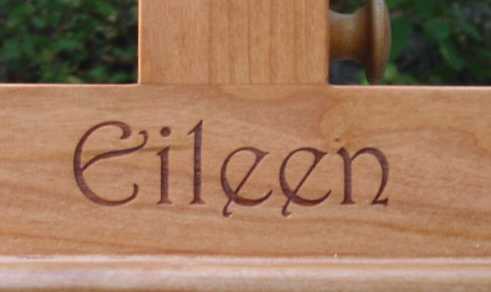 Any Font can be done.. Just let us know which font you like or
we will just pick one..

Other Examples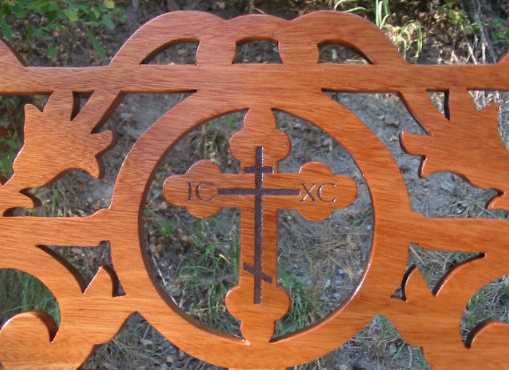 Greek Orthodox cross up close - laser cut in from JPG image below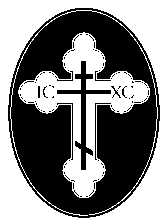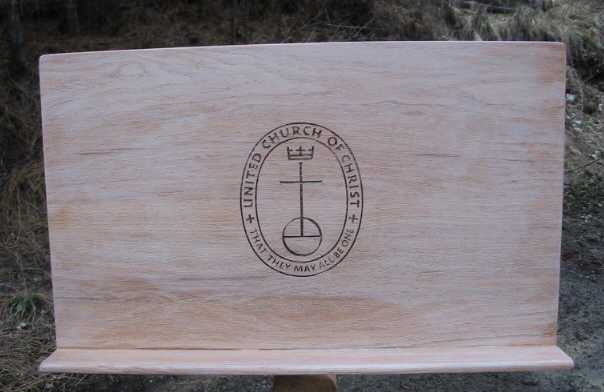 United Church of Christ Logo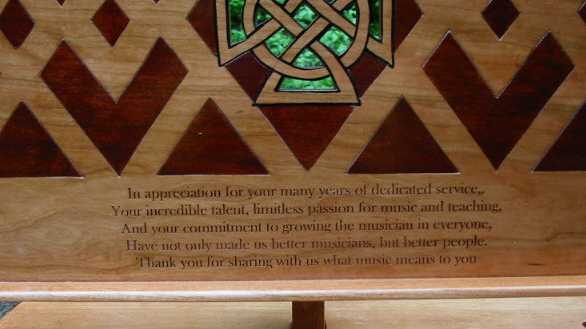 We can do a certain amount of lettering ... this might of been too much !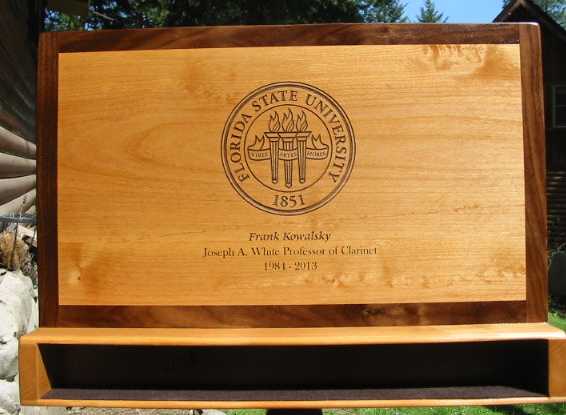 School logo's can be done with permission of course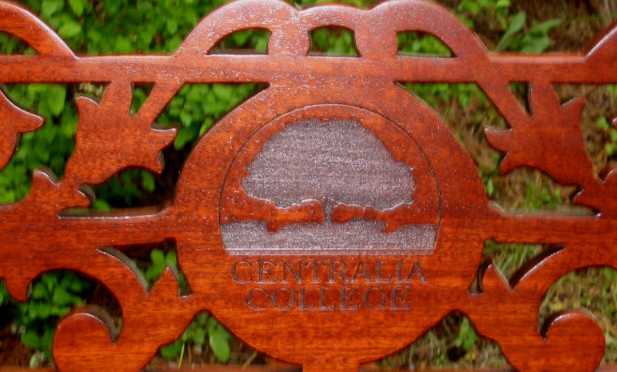 College logo burned into the Tulip Lyre Design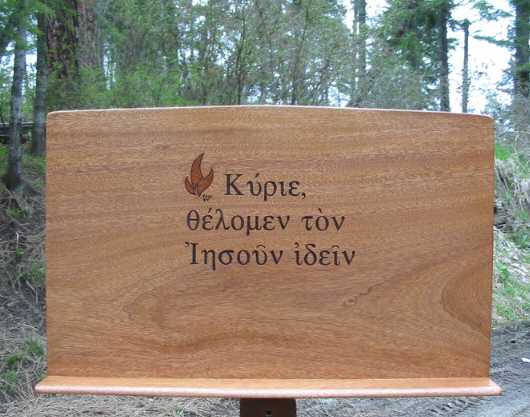 This lettering was laser cut into both from and back then
hand painted the flame red - $ cost $ 65.00 for both sides
Translation - Its in Greek lettering and is from John 12:21
and says - " Sir, we wish to see Jesus "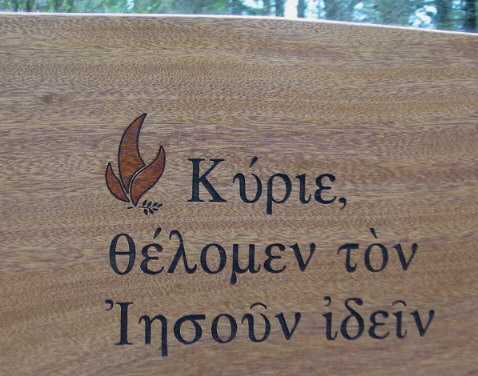 Close up - See how the lettering in this example was
more darker ..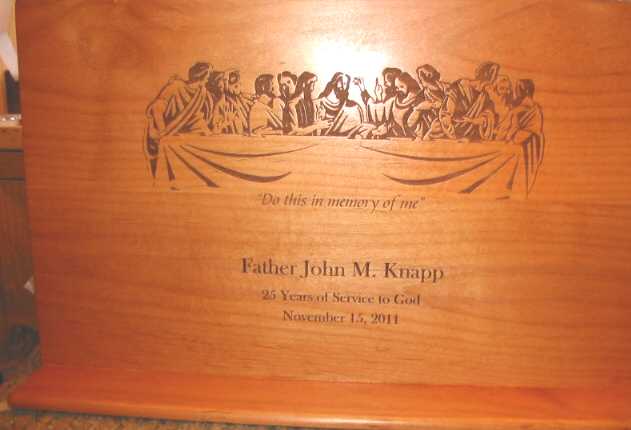 Last Supper Image with lettering on alder wood - $ 55.00
This took a lot more time to laser burn in so its more $
Realize .....you cant do this sort of laser burn thing on
darker walnut or red Mahogany color... It basically wont
show up.. Dark lettering on dark mahogany blends together..
So you have to order LIGHTER wood ...



Again any font can be used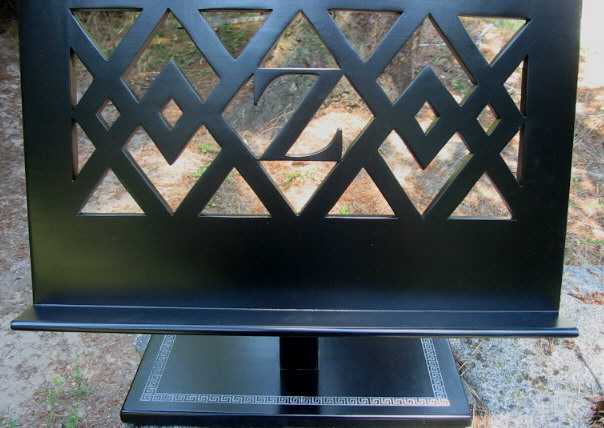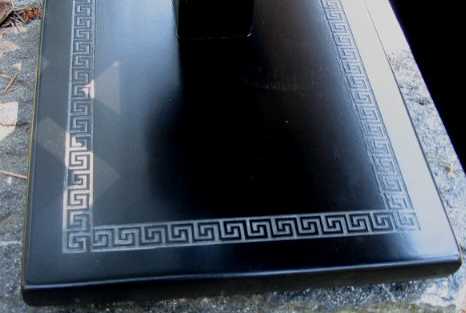 This was a greek key design that you see on fancy plates and bowls,, The laser
engraved the design after I sprayed black lacquer.. A special sticky laser paper was
applied first and burned in the design .. I then sprayed silver paint into the laser
greek key design it burned in and then peeled away the paper and WOW ..
It had a very cool effect on the design with the black lacquer !!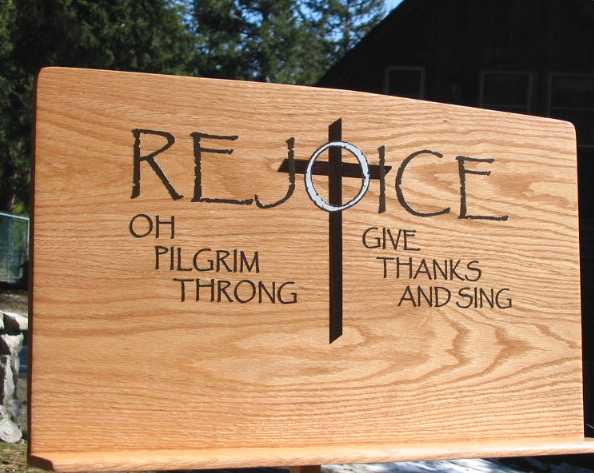 Inlay cross stand -Oak with a dark walnut cross
This was laser burned into the wood and the O I hand painted
with White paint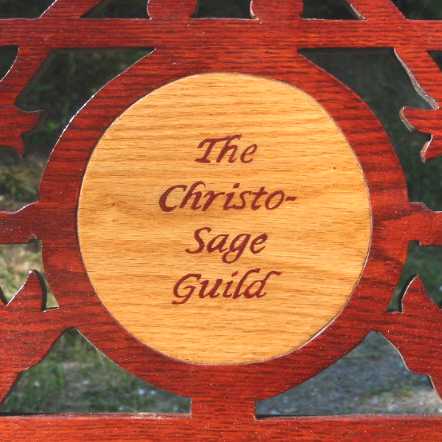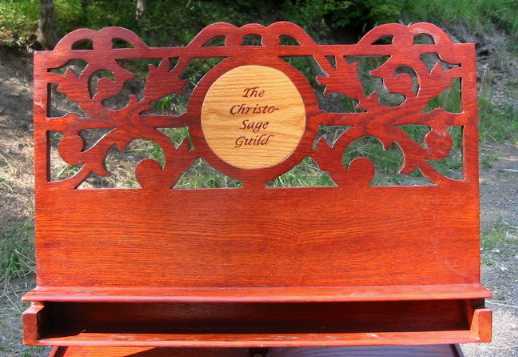 Special lettering - hand painted letters - ask price.. laser burn really cant do colors

We also do brass and black plaques
Brass and Black Plaques also available
Click here for more info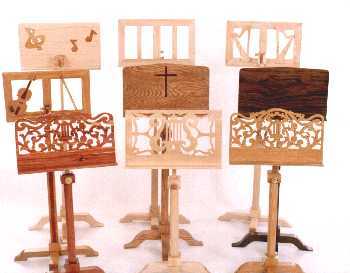 Home Page
Back to See All the Stands
Or
How to Order
Since 1989
Proudly Handcrafted &
Made in Idaho - USA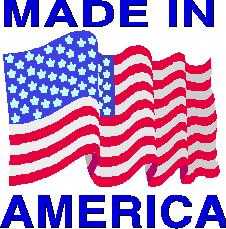 Mister Standman Music Stands
6692 E. French Gulch Rd.
Coeur d' Alene, Idaho 83814
208-664-4321
misterstandman@earthlink.net
For Questions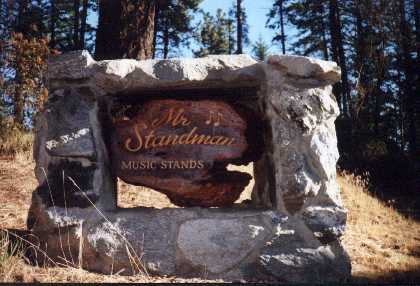 Click Picture for more "How To Contact" Information
Need a color Brochure ??
Click here to print a online brochure
You can also just press " print " on your web
browser to print out this web page your looking at ......
Glossary
Or Click here for index of Mister Standman's products and information
About Mister Standman The Stands
Wood Colors Order Form Questions & Answers
Tilt Adjustment Height Adjustment Brass Highlights
Brass Plaques Music Lights Page Holders
Extra Storage Tray Customer Comments How to Order
Color Brochure Gift Certificates Contact Info:
All Laser Work done by Tammy at
The Laser Engravers
109 W. Kathleen
Coeur d Alene, Idaho 83815
208-765-1887