Mister Standman Music Stands
Since 1989
Proudly Handcrafted &
Made in Idaho - USA
Inlay Cross Stand Page
Bible Stand, Church Choir director stand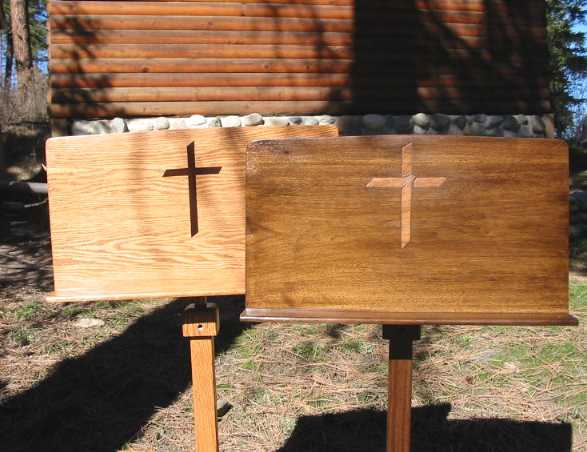 Natural Oak with dark walnut cross Dark Walnut with light walnut cross
The Inlay Cross music / bible stand is simple and graceful in appearance.
The inlays are done with a solid inlay that is seen from both the
front and back of the stand. Popular with churches, the Inlay Cross
stand is usually made to match the Pulpit or the pews in the Church.
Mister Standman often produces this stand with an extra tall
center post for use by the choir director, vocalist, or as a small
lectern. The Inlay Cross music stand is often made of oak
for durability with the inlay cross done in Walnut or
in Paduk wood from Africa ( a reddish color pictured above )
To see wood color and stain choices click here.......
Mister Standman's stands can be produced in several different
Frame dimensions. The most common that churches order is
the conductor size frame of 14" x 24". The conductor version
of the music stand is made more heavy duty' than the normal music stand
Click here to find out more information on conductor stands
The inlay stand and all of Mister Standman stands can be stained to match
your church furniture or left in the natural oak color as the picture above.
Inlay Cross Music Director Stand
Music Director Size 14" x 24" - $ 375.00
Regular Size 12" x 22" - $ 365.00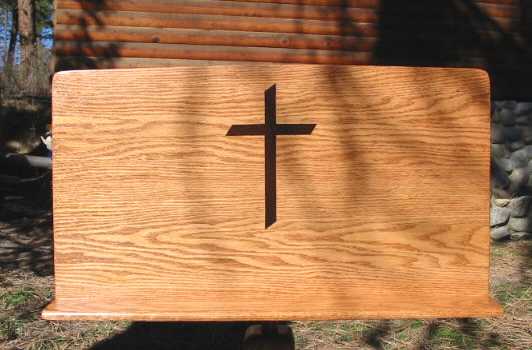 Natural Oak with dark walnut cross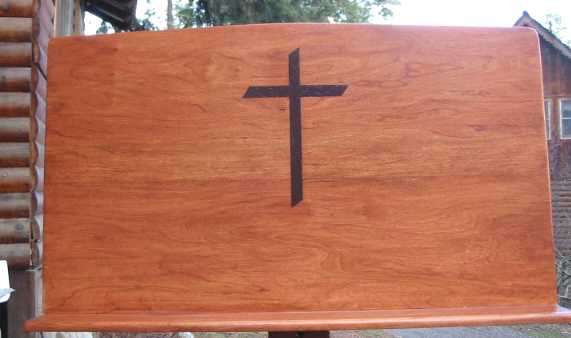 Alder with Cherry Stain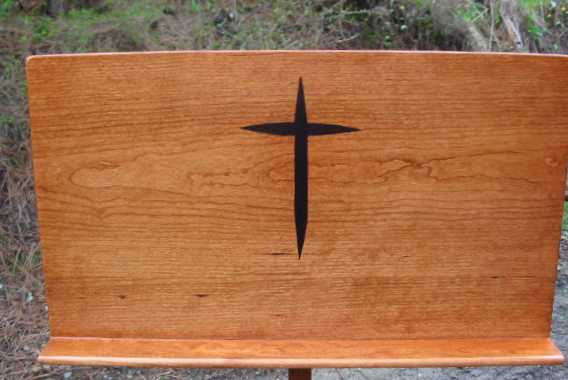 This cross was made more of a taper ends sort of design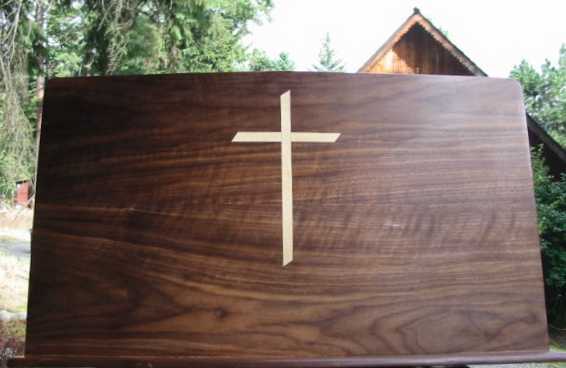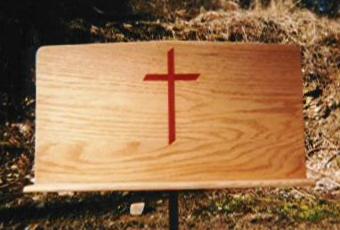 Natural Walnut with Maple Inlay Cross Oak with red paduk cross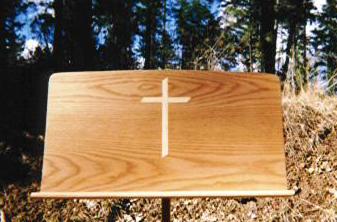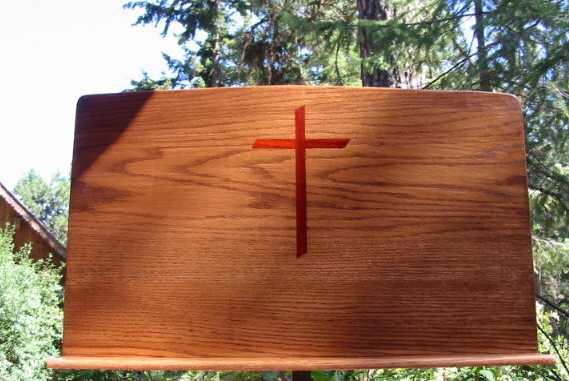 Oak with a maple cross Oak with a Paduk red cross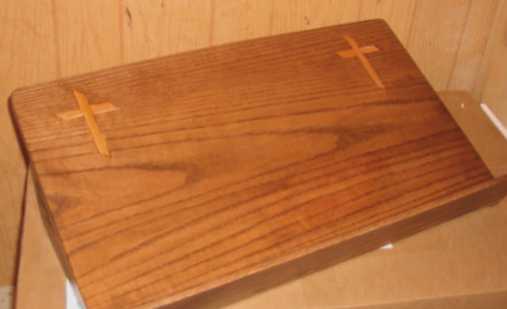 We put 2 crosses one in each corner in this desk bible stand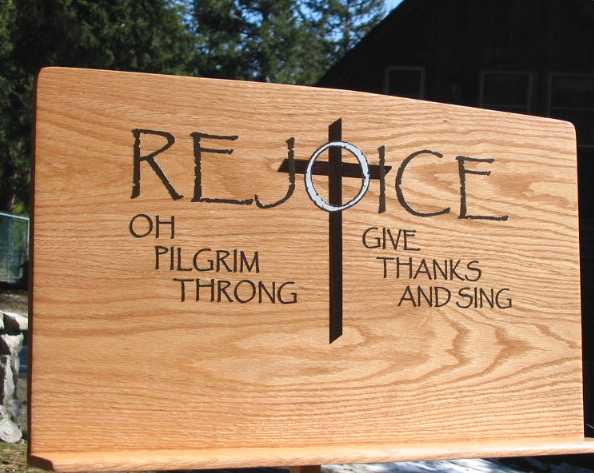 Mister Standman Music Stands working with Coeur d' Alene artist Maxine Marcy is now offering special lettering with his music stands. This design which was done for Rejoice Lutheran Church is the first. You can do just about any wording or church versus, logo, or proverbs. The lettering is put on the front or back side. Let us know what design you had in mind so we can give you a price. This lettering above was $ 125.00 extra.....
Click above picture to find out more about the lettering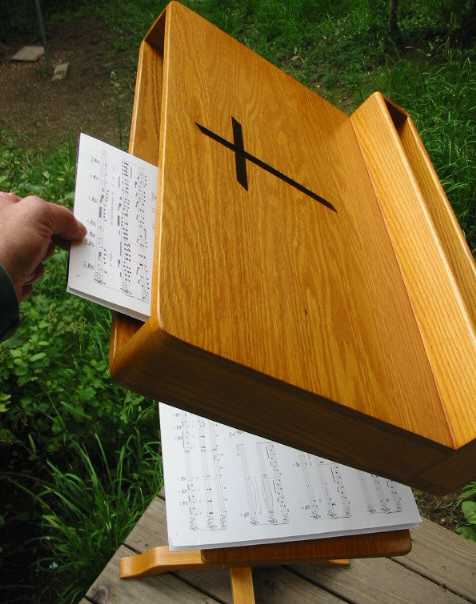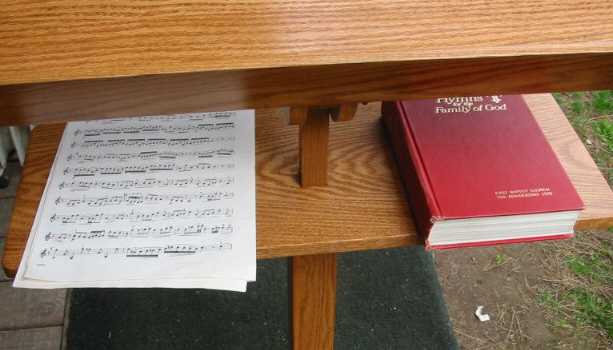 Double back cross inlay allows you to store sheet
music in between the two frames...Shown here with
Extra sheet music storage tray and extra shelf....
This is the deluxe model .................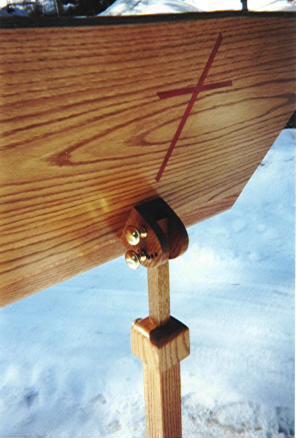 Back side of the Inlay cross shows that the
cross inlay is on both sides of the frame
Oak with Golden Oak stain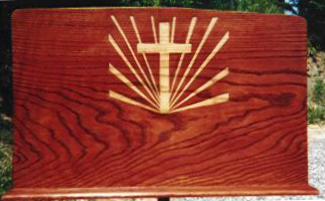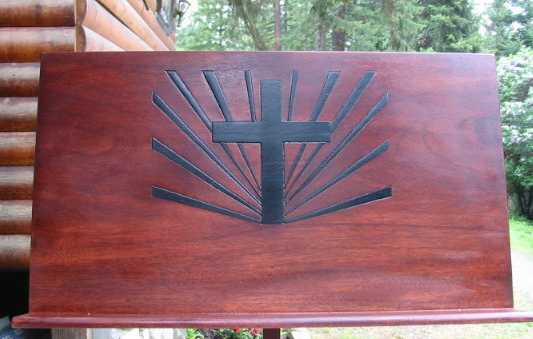 Oak with red Oak stain and Natural oak rays Red Mahogany with Black Lacquer rays
Inlay cross with sun rays $ 375.00 - regular size frame 12 x 22"
Almost any Church logo can be done like the logo here. The logo is actually
inlaid in the wood just like all the other designs so you can see the design from
both sides... Please E Mail or Ask Mister Standman if possible before ordering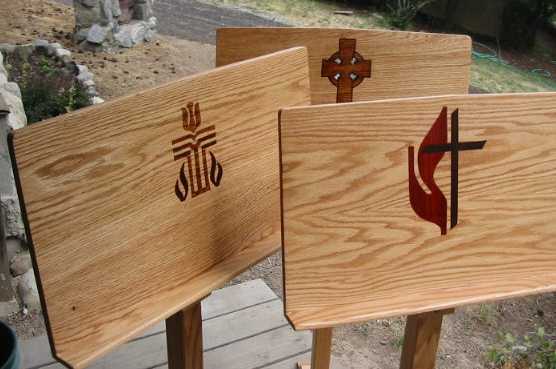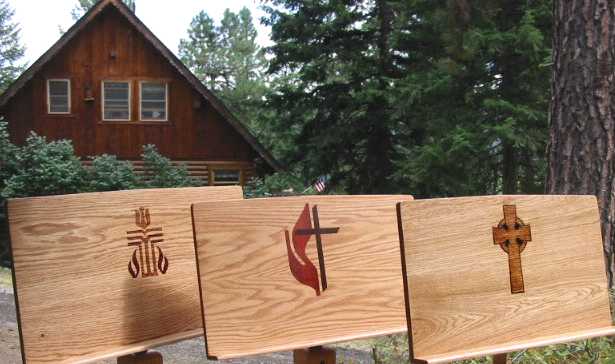 You can also get the stand with your church logo
Presbyterian, United Methodist, Celtic Cross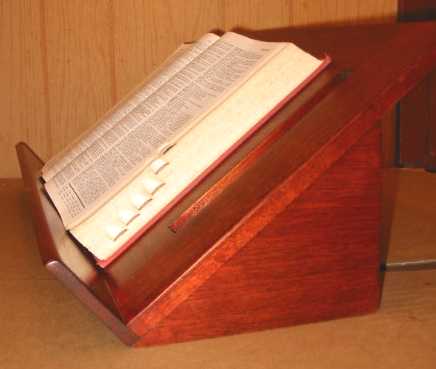 You can get any of these designs in a book bible stand

Other Cross Designs............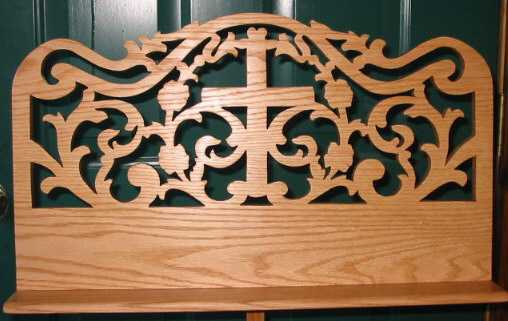 Victorian Lyre with Cross in Oak - $ 355.00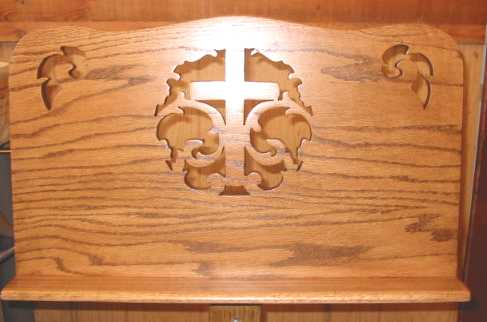 Half Victorian Lyre with cross with cutouts in upper corners
oak with aged cherry stain
Half Victorian Lyre with Cross - $ 325.00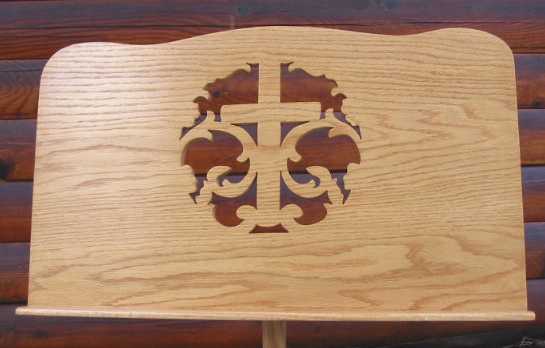 Half Victorian Lyre with Cross - no cutouts on the side....
I like this better than the cutout on the upper side version....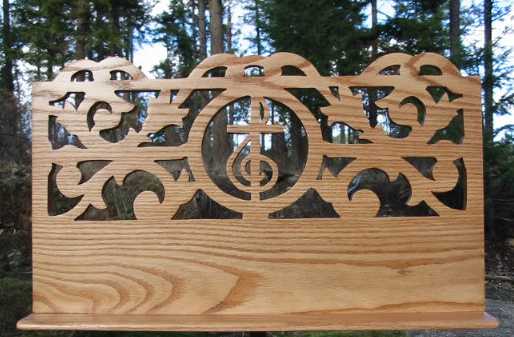 Tulip lyre with G clef Cross in natural Oak - $ 355.00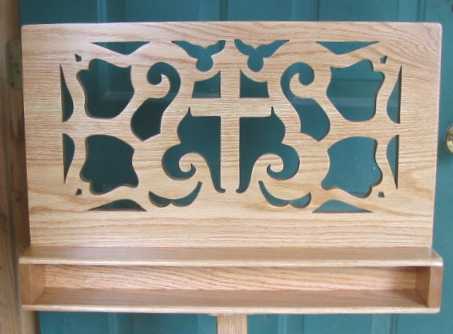 Classical lyre with Cross - Oak - $ 350.00
Click pictures below to see more Church logo stands....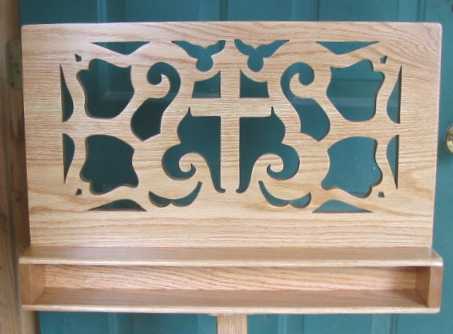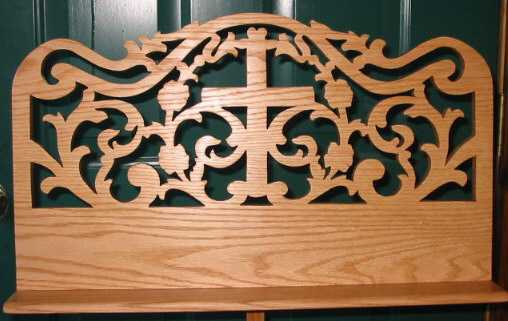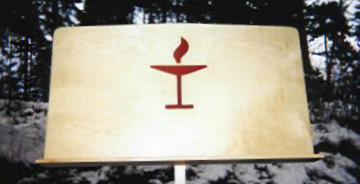 Classical lyre w/cross Victorian Lyre w/cross Chalice and flame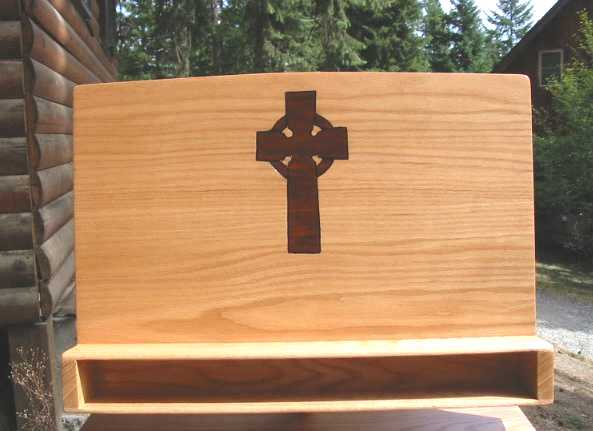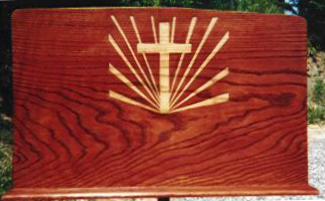 Tulip lyre with Cross Celtic Cross Inlay cross with sun rays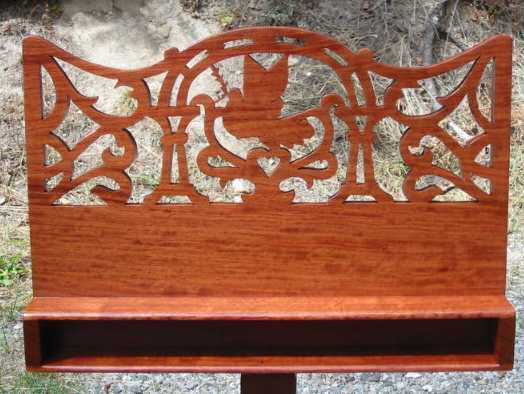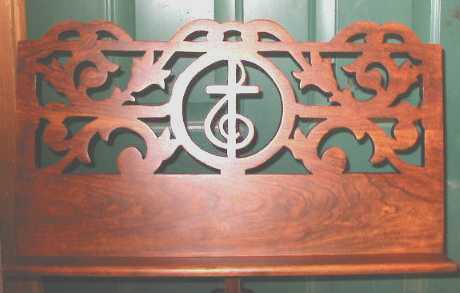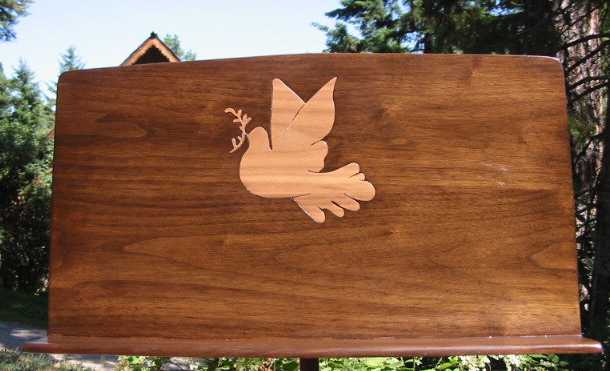 Bird of dove stand Tulip lyre with g clef cross Peace Dove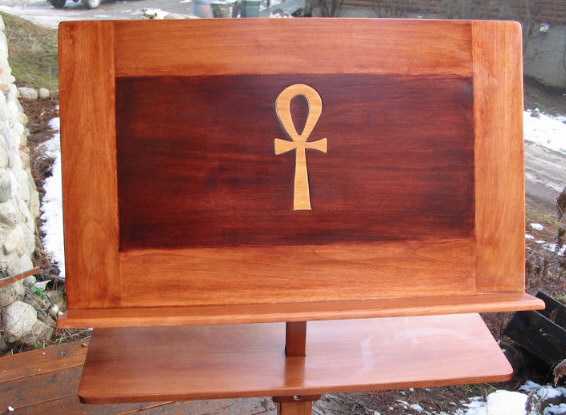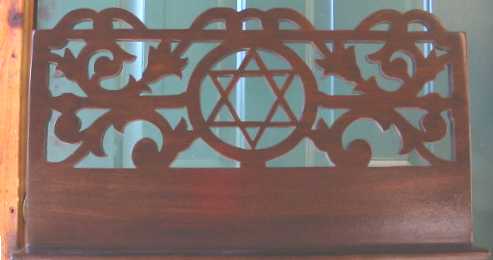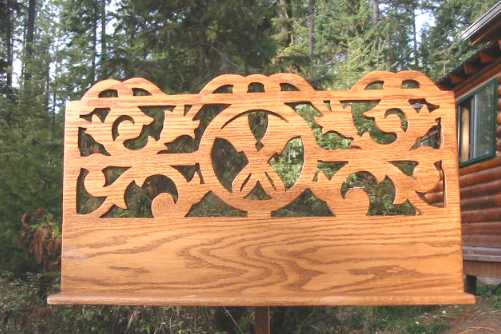 Ankh design Tulip lyre w Star of David Tulip Lyre with hand bells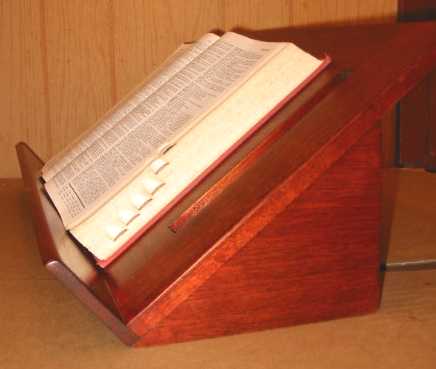 Any of Mister Standman designs can be made into a bible stand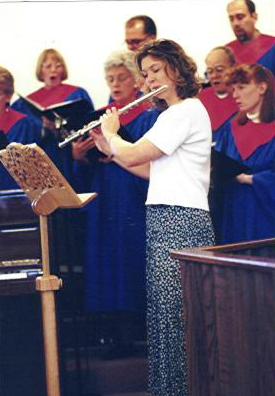 Do you have a special height requirement for your stand
Click picture to find out more.....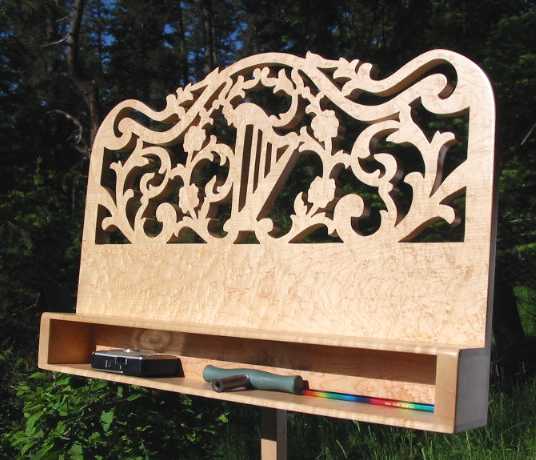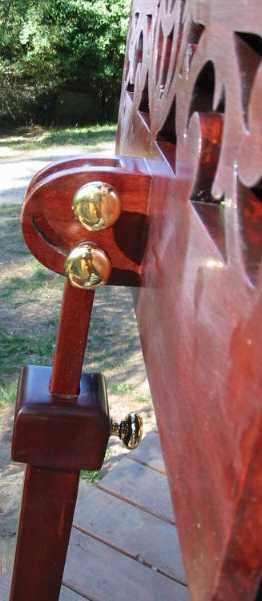 The Extra Storage shelf is a great idea Brass Accents
for storing tuners, metronomes, business cards,
pencils, rosin, bows and other items. The extra
shelf can be added to any of the designs of Mister Standman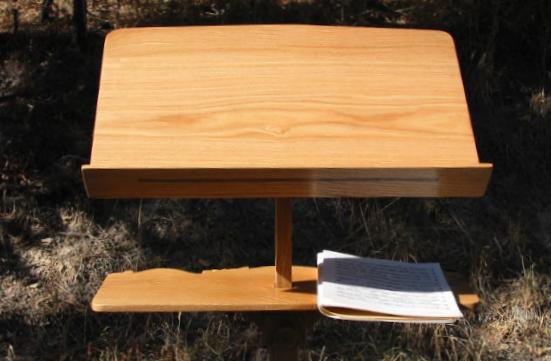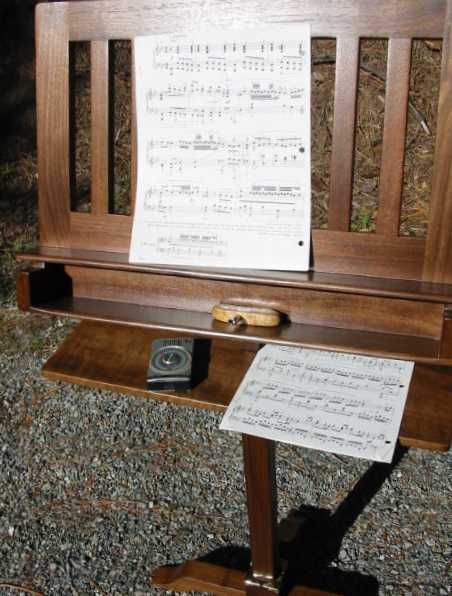 Extra Sheet Music Storage or Extra Shelf
can hold a bible, other book, cup of coffee
or in some churches a doughnut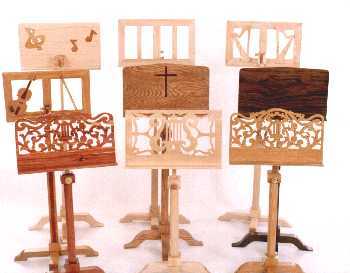 Home Page
Back to See All the music & book Stands
Or
How to Order
Since 1989
Proudly Handcrafted &
Made in Idaho - USA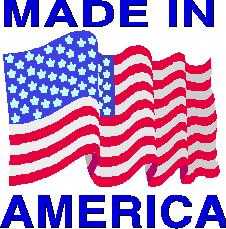 Mister Standman Music Stands
6692 E. French Gulch Rd.
Coeur d' Alene, Idaho 83814
208-664-4321
For Questions
misterstandman@earthlink.net
For Questions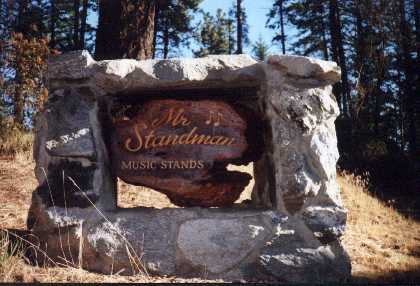 Click Picture for More How To Contact Information
Need a color Brochure ??
Click here to print a online brochure
You can also just press " print " on your web
browser to print out this web page your looking at ......
Glossary
Or Click here for index of Mister Standman's products and information
About Mister Standman The Stands
Wood Colors Order Form Questions & Answers
Tilt Adjustment Height Adjustment Brass Highlights
Brass Plaques Music Lights Page Holders
Extra Storage Tray Customer Comments How to Order
Color Brochure Gift Certificates Contact Info:
Mister Standman Music Stands manufactures
fine handmade music stand, handcrafted wooden music stand
wood music stand, conductor stands, music stands,
Dictionary stands, dictionary holder stand, book stand
book stands, desk stands, sheet music storage stands
choir conductor stand, music director stand, church stands,
Bible stands, book stands, bible holders, book stand holders
dictionary stands & bible stand, desk top book stand,
harp music stand, guitar music stands and benches, harp benches
music furniture, book holder stand, sheet music holders
harp stand, library book stand, piano desk, piano music stand,
piano rack, sheet music rack, Display stands and
restaurant menu holder stands.......