Inlay Cross UMC Design Presbyterian Design


Classical lyre w/cross Victorian Lyre w/cross Chalice and flame


Half VicLyre with G clef Cross Half Vic full Cross Gclef only


Tulip lyre with Cross Celtic Cross Inlay cross with sun rays


Victorian Lyre with Celtic Cross


2 Crosses More Sun rays and Cross


Bird of dove stand Peace Dove

Half Victorian Lyre with Dove Modern Classic with Dove


Tulip Lyre with G clef cross Victorian Lyre with G Clef Cross


Black Lacquer G Clef Cross Victorian Lyre Tulip Lyre GClef Cross with Inlay Oak


Ankh design Tulip lyre w Star of David Tulip Lyre with hand bells


Chalice and Cross Episcopal church design Solid back with oak leaves


UMC stand with hand bells United Methodist Stand Half Victorian Lyre w/cross



Lutheran Logo - Art Deco Design in Oak

We can match a existing image like this one on a pulpit
and put it into the stand


CLose up of image pulpit cross we matched


Victorian lyre with special design


Mason Cross and Crown Cross and Shield


Buddhist Dharma Wheel




Last Supper Image - laser burned $ 55.00 extra


We can do a laser burn in a image or lettering as pictued above
versus a brass plaque .
Ask for price - Usually about $ 30 for lettering


Victorian Lyre with Heart & Cross With Heart inlay around heart stained red


Chalice cup and flame Modern Classic half frame with cross


Jerusalem Cross Chalice in column design stand


Column Stand with Cross Inlay Regular column stand with no cross


Chalice with flame and circles


The Masonic Temple Logo


St Francis design - submitted by a church




Special Design Sheet music storage shelf


Inlay cross stand with your own customized lettering or church logo


Special Lettering can be done by laser burning


Yes...the stands do tilt to almost flat......
Thats the number one question most often asked

But, look also at smaller shelf ............

Many times conductors want small lips on the music frames so that is more
easy to turn pages..... We can do that.....this one is only 3/4 "
The Inlay Cross stand is simple and graceful in appearance.
The inlays are done with a solid inlay that is seen from both the
front and back of the stand. Popular with churches, the
Inlay Cross music stand is usually made to match the Pulpit or
the pews in the Church. Mister Standman produces
this music director stand with an extra tall center post for use
by the choir director, vocalist, or as a small lectern. The Inlay
Cross music stand is often made of oak for durability with the inlay
cross done in Paduk wood from Africa ( a reddish color )
or a dark walnut (a dark brown). Mister Standman's stands can
be produced in several different dimensions. For instance,
a wider music frame is possible ( 24 " length x 14 " width
Click here to find out more information on conductor stands
The inlay stand and all of Mister Standman music stands can be
stained to match your church furniture. Just request a
stain sample chart from Mister Standman when requesting information.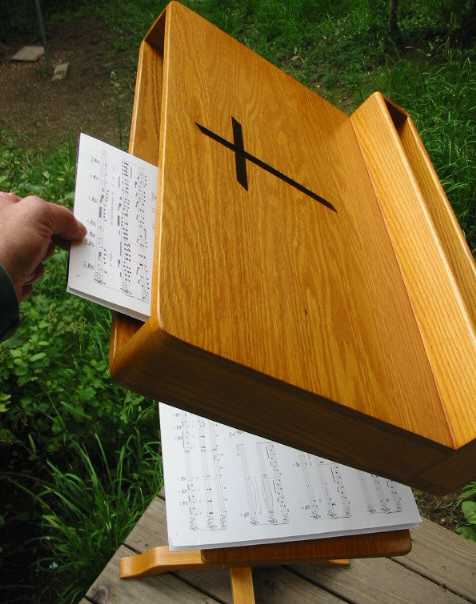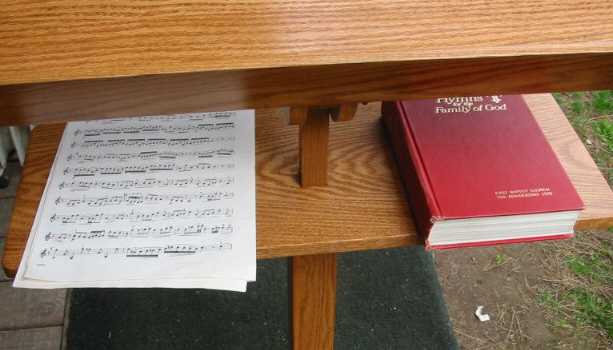 Double back cross inlay allows you to store sheet
music in between the two frames...Shown here with
Extra sheet music storage tray and extra shelf....
This is the deluxe model .................
Other Examples and designs.......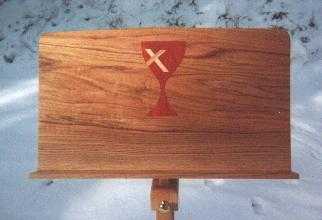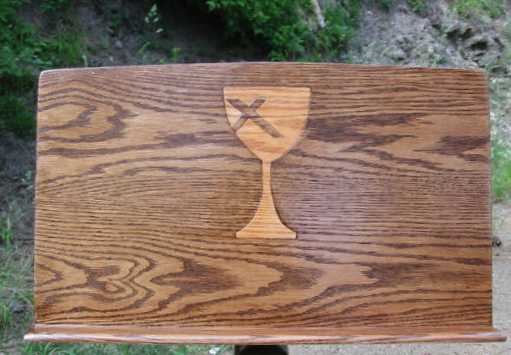 Inlay Chalice Design - Golden Oak
14 x 24 " - $ 375.00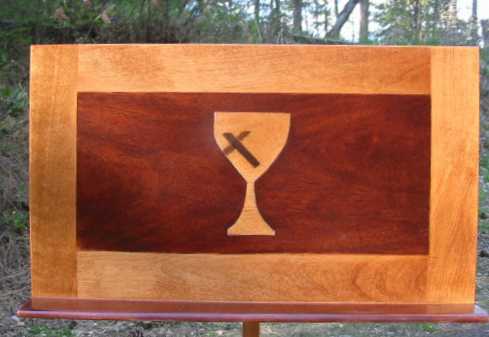 Modern Classic with Chalice and Cross
Red Mahogany Center with cherry outside
$ 395.000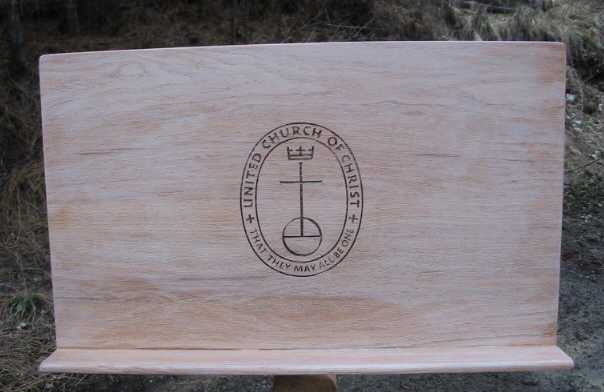 United Church of Christ Logo -
Laser burned Image adds $ 55.00
Oak with White Wash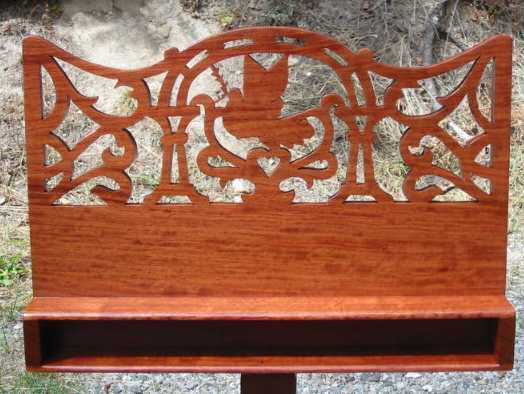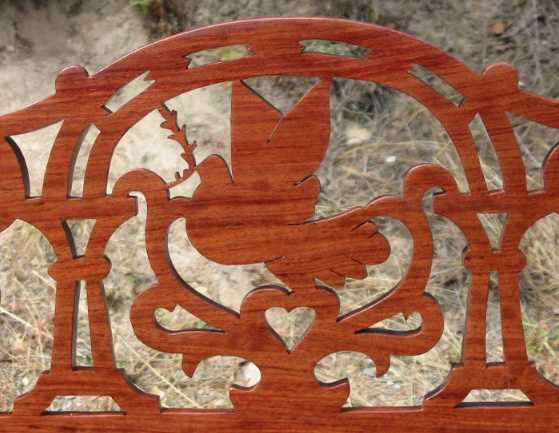 Birds of Paradise with Peace Dove - $ 395.00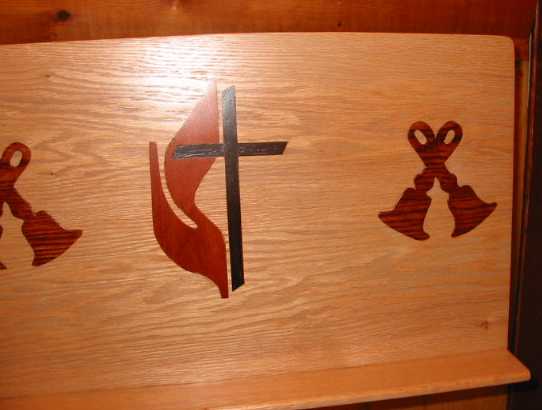 You can get this stand with handbells
with the Presbyterian logo or just the cross
if your not Methodist......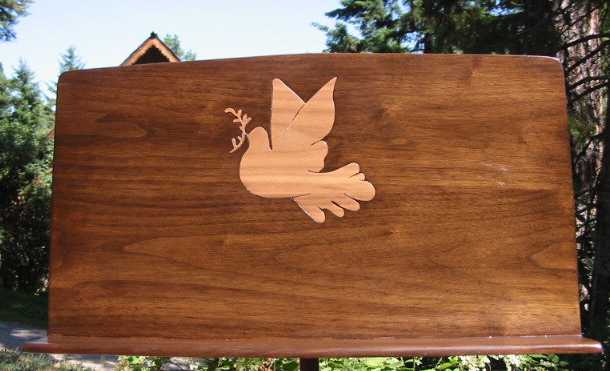 Peace dove as inlay - $ 365.00
Dark Walnut with natural walnut inlay
We can do some church logos as a inlay
just ask .......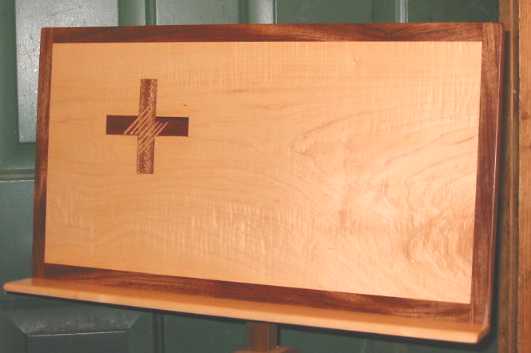 Modern Classic design - mahogany border with maple burl center
cross inserted in upper left corner - this one went ot a hospital
for there chapel.
Brass Plaques
We can also make up a brass plaque as a memorial remembrance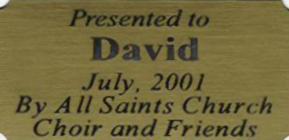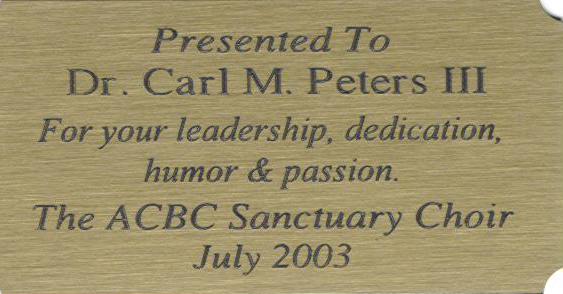 1" x 3 " or 2 x 4 " 2 - 3 Lines - $ 15.00
Click for more info on brass plaque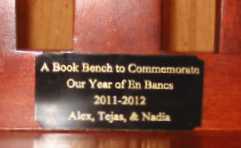 Black Plaques aviable also
Laser Burn in the Lettering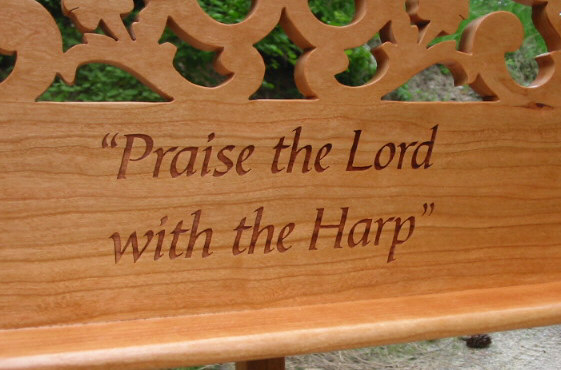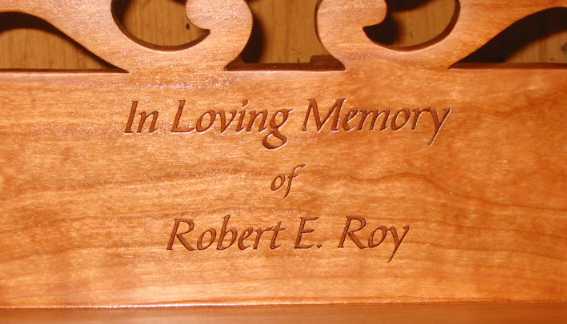 Or laser cutting words in
Other Church Stand Examples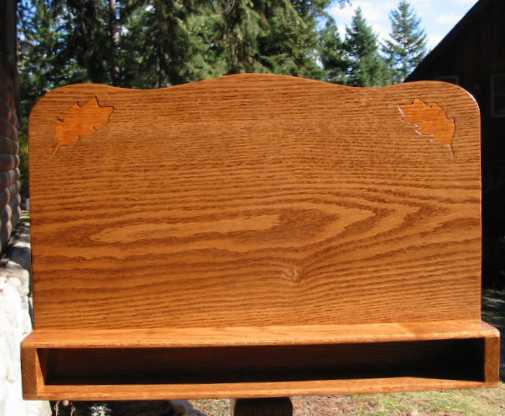 Half Victorian lyre with oak leaves in corners
This stand went to Oak Grove Church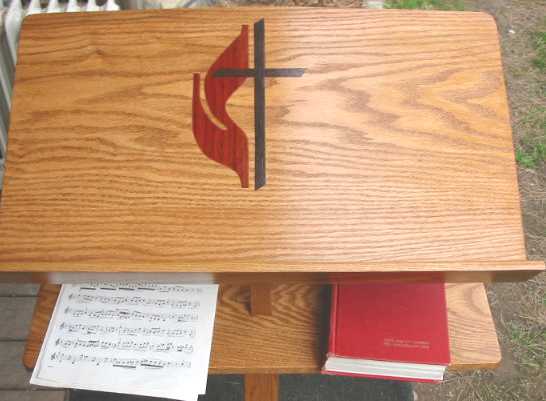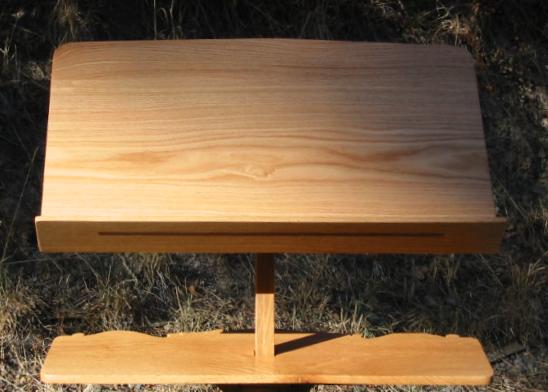 Extra sheet music storage tray - $ 85.00
Sits below the music frame and holds sheet music,
bible, choir song book, cup of coffee and
if needed a cookie or doughnut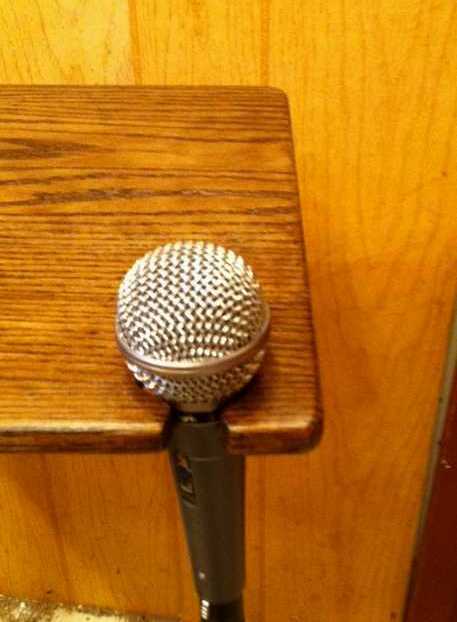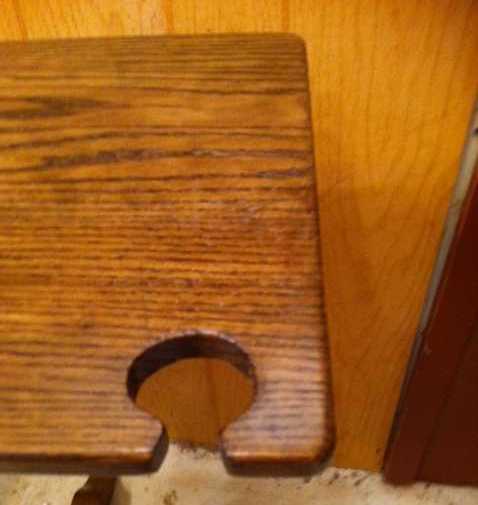 Yes We Can !!!! we can knotch a hole on the end of the
sheet music shelf for a microphone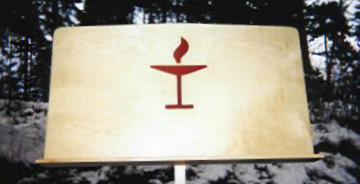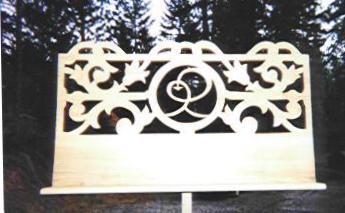 Special design with Chalice with flame Tulip Lyre with Special Design Joy Symbol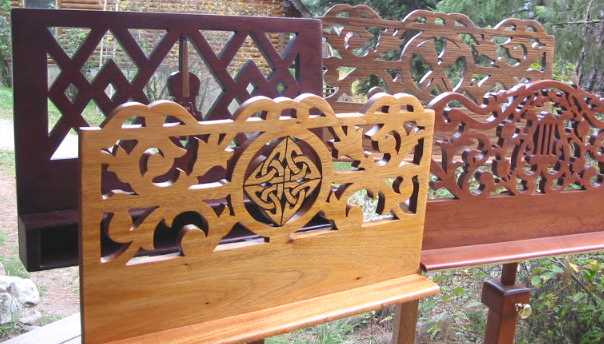 You can order any stand in
over 30 different woods and color choices -click
picture to see wood and stain color choices........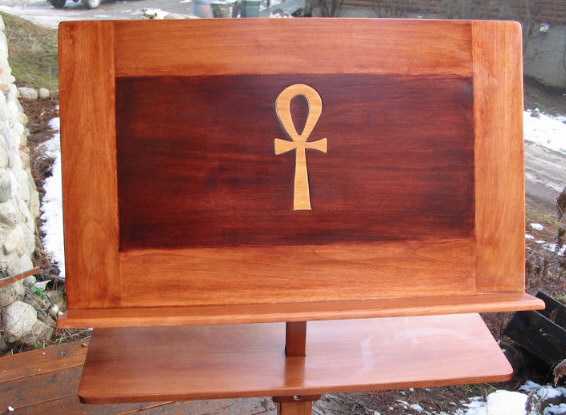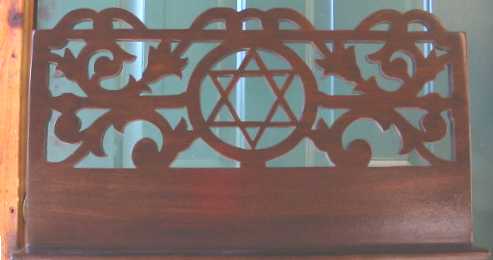 Modern Classic with ankh symbol Tulip Lyre with Jewish Star of David

New Items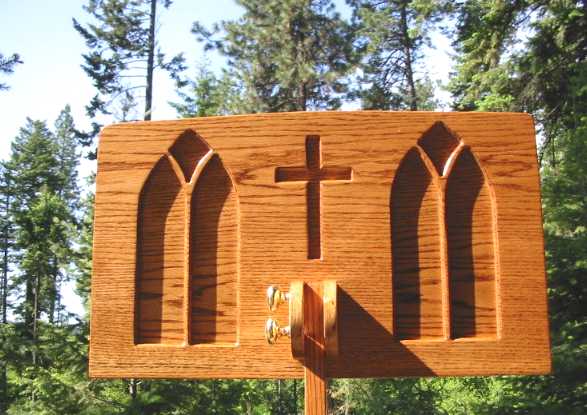 Arches with Cross
Do you have a design in mind you would like
to have ?? Let us know. The above arches
we designed to go with arches in the alter
of a church that submitted a picture for
us to design something to go with their existing
arch theme......see photo below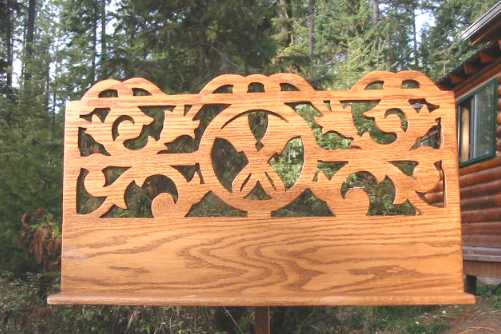 Tulip Lyre with Hand bells.........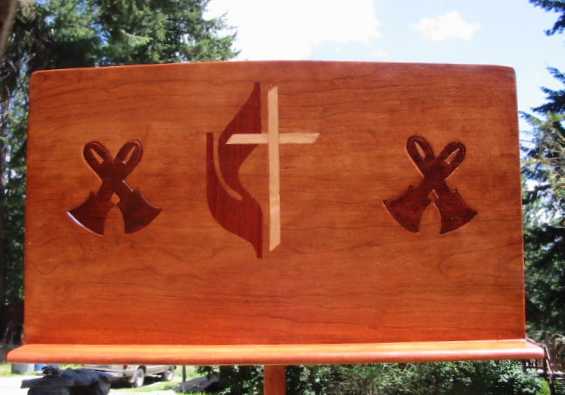 UMC cross and flame with hand bells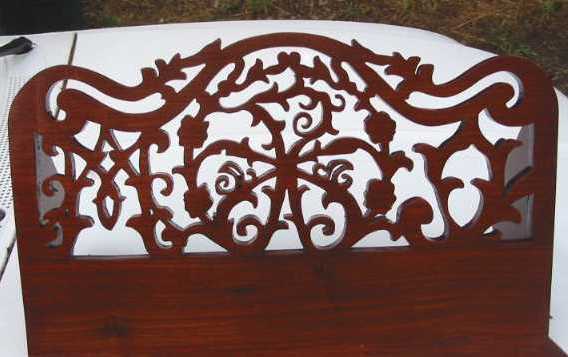 Catholic Symbols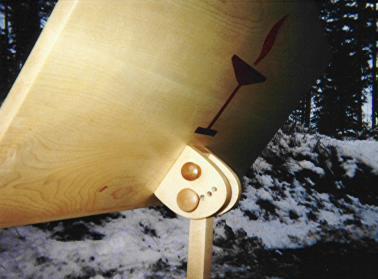 Tilt Adjustment on Conductor frame has
individual holes drilled for locking tilt
Brass Knobs are also available and
recommended for the conductor frames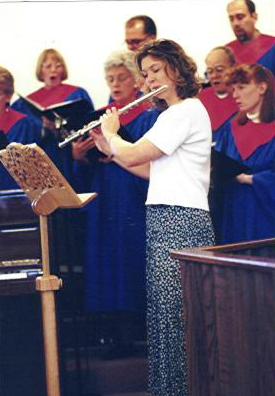 Height is Adjustable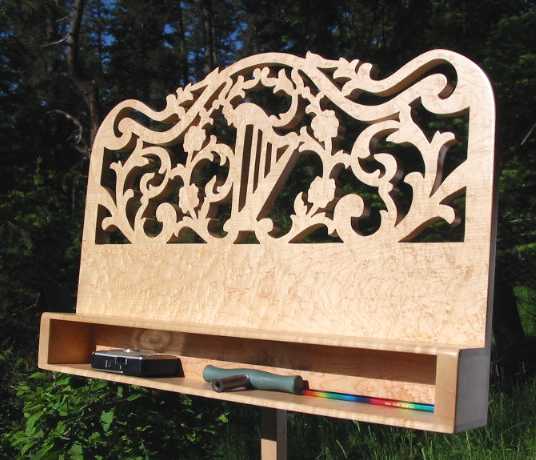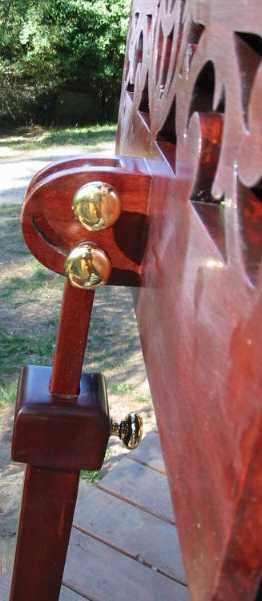 The Extra Storage shelf is a great idea Brass Accents
for storing tuners, metronomes, business cards,
pencils, rosin, bows and other items. The extra
shelf can be added to any of the designs of Mister Standman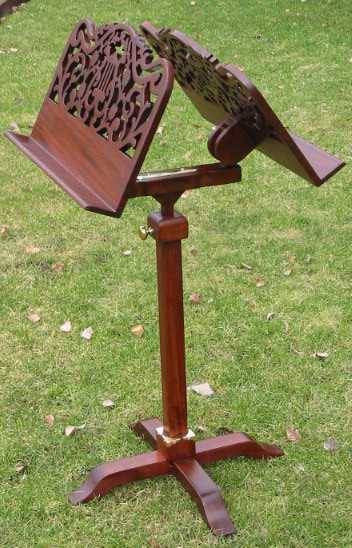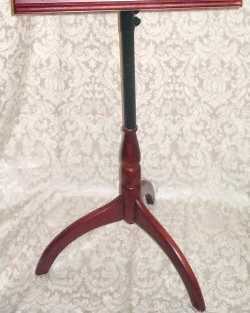 Mister Standman Music stands uses the Four feet Pattern as shown on all
of his music stands. The four feet which are almost 2 inches wide is the
main reason his stands are so stable. Almost all other Music stands from other
companies use those tiny skinny three feet pattern which are about 1/2" wide
No wonder those other wooden stands are so rocky and unstable...........
See Picture on the right........
----------------------------------------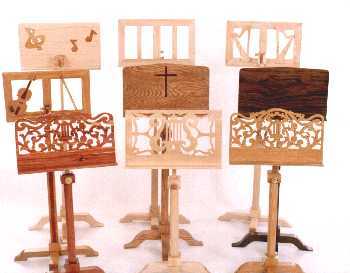 Home Page
Back to See All the Stands
Or
How to Order
or
Wood and stain colors
Since 1989
Proudly Handcrafted &
Made in Idaho - USA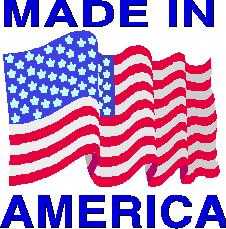 Mister Standman Music Stands
6692 E. French Gulch Rd.
Coeur d' Alene, Idaho 83814
208-664-4321
For Questions
misterstandman@earthlink.net
For Questions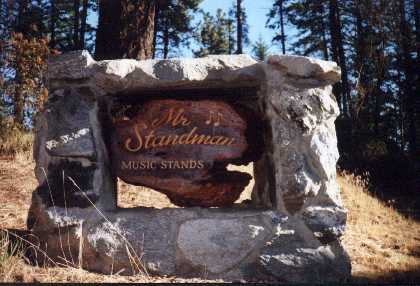 Click Picture for more "How To Contact" Information
Need a color Brochure ??
Click here to print a online brochure
You can also just press " print " on your web
browser to print out this web page your looking at ......
About Mister Standman The Stands
Wood Colors Order Form Questions & Answers
Tilt Adjustment Height Adjustment Brass Highlights
Brass Plaques Music Lights Page Holders
Extra Storage Tray Customer Comments How to Order
Color Brochure Gift Certificates Contact Info:
Mister Standman Music Stands manufactures
fine handmade music stands, handcrafted wooden music stands
wood music stands, music conductor stands, music stands,
bookstand, desk bookstands, sheet music stands, table top book stand
church stand, church bible holder stand, church music director stand
choir conductor stands, music director music stands,
pulpit church music stands, bible stands, bible stand, bible holders
dictionary stands & bible stand, desk top book stands, wood music stands
harp music stands, guitar stands and guitar benches, harp benches
harp stands, library book stands, piano music desk, piano music stand,
dictionary bookstand, dictionary holder, bookstand, bookstands, book stand
piano rack, sheet music rack, Display stands and cantor stands