About '
or A Boat
For Canadian Customers
Mister Standman Music Stands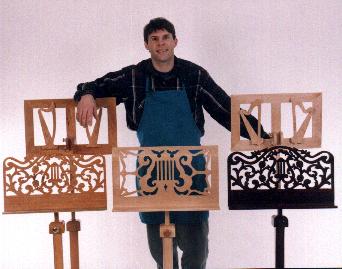 " Mister Standman.... Make me a stand....Make it the Best, The Best that you can...."
Mister Standman has been producing fine handmade custom wooden
music stands for over 20 years. Both a artist and a craftsman,
Mister Standman brings that artistic approach to his designs which is
not often seen in woodworking and furniture manufacturing.
Being a musician himself also helped in designing the perfect music stand.
"Designed by a musician for a musician"
is what makes his stands so different from other stand manufactures.
Since 1989 Mister Standman has made stands for professional
and student musicians, churches, chamber ensembles,
and music schools throughout the world.
Mister Standman Music Stands have been designed for musicians
by musicians. Each stand has four feet, making a solid, stable bass. The
center pole is adjustable for height, and the music tray is adjustable
for desired angle. The music tray itself is a full 2 1/2 inches wide to
accommodate lots of music. Mister Standman prides himself in creating
stands to match your needs - both in wood type and stain color. Extra tall
and extra large music stand frames are available per your specifications.
Best of all, Mister Standman Music Stands are all one of
a kind works of art. Mister Standman still handcrafts each
stand here in Idaho and personally signs each stand he makes.
He still designs all the frame patterns and tries to bring out several
new designs every year..... He and his 'assistant', Leroy, work in a
small shop behind his log home in the forest high above
Lake Coeur d'Alene in Idaho.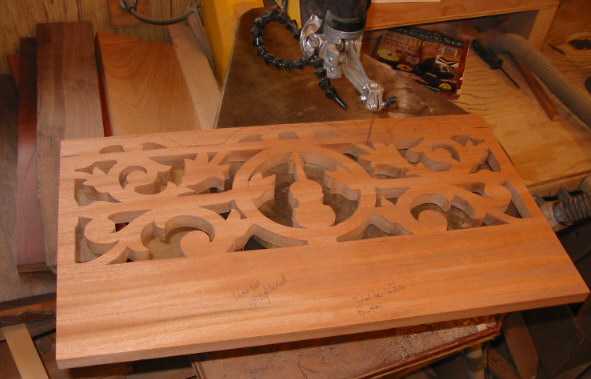 Click picture to find out more about the production
of the stands...
Mister Standman also designs and maintains the web site..
The web site is designed to be more of a information site
rather than the current web sites that give you a shopping cart
and asks for your credit card number before you can place
anything in the cart... Mister Standman does take all
the pictures for the web site using a cannon digital
camera. Most of the pictures are done right out side the
shop on the deck like the picture below. If you have any
suggestions for a better web site let me know...I'll make
the change that minute....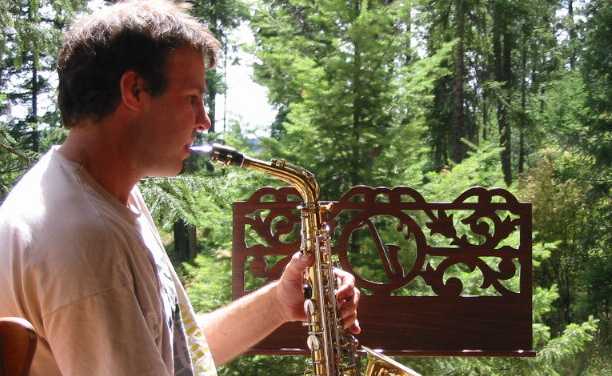 That's me playing the sax for this picture on the deck outside the
shop. I really don't play the sax but the person I borrowed
the sax from for the picture was too camera shy to
be in the picture...........so...here I am......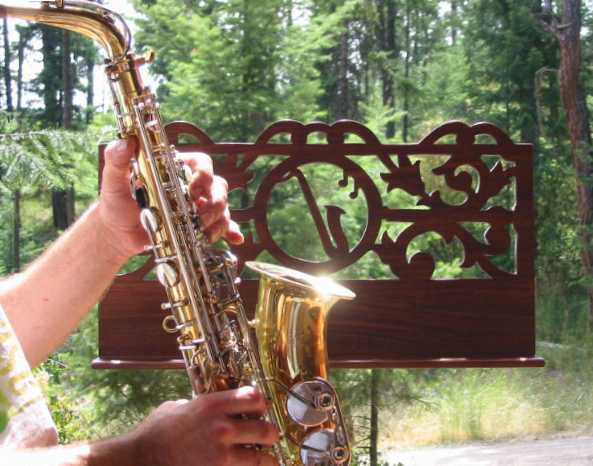 This picture by the way was one of the best shots
ever taken for the web site. The sun was
hitting the sax and shining out just perfect...
What a shot........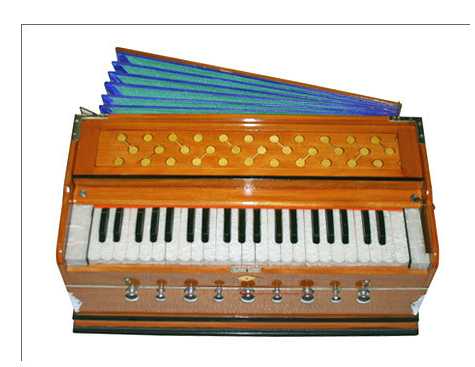 Mister Standman does play however the Harmonium
and Guitar
-----------------------------
Mister Standman is also a avid hiker and a incredible dancer.
After 15 years of practicing Yoga, he is still in very good shape !!
He is often away hiking or dancing somewhere on the weekends.
He is also a avid photographer as seen below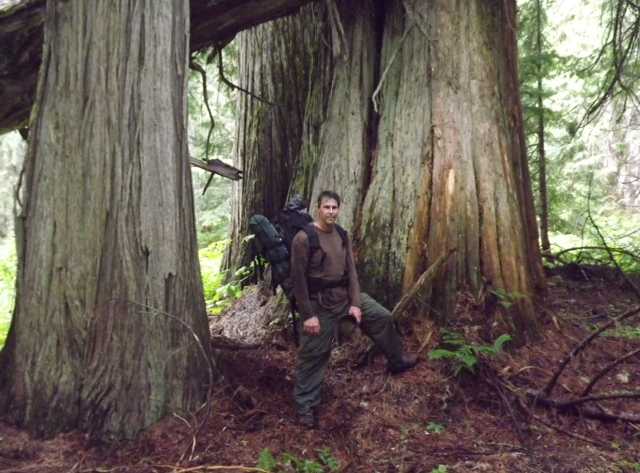 That's me in the old growth Cedar forest high up in the Grizzly Bear Habit area
above Salmo/Priest Wilderness Area above Priest Lake , Lake Idaho ..
Although it rained the whole 25 mile trip, this hike with 3 other members
of the Idaho Conversation League was a fun hike. We stayed overnight
at the top of the mountain after 12 miles and all of us were pretty worn
out. We got up the next morning and while un tying our bear Food bag
hung high in a tree ,, it came loose and rolled about a 1/2 mile
down this cliff !! We still are laughing about that.. We did get the
food bag back out of that spot ..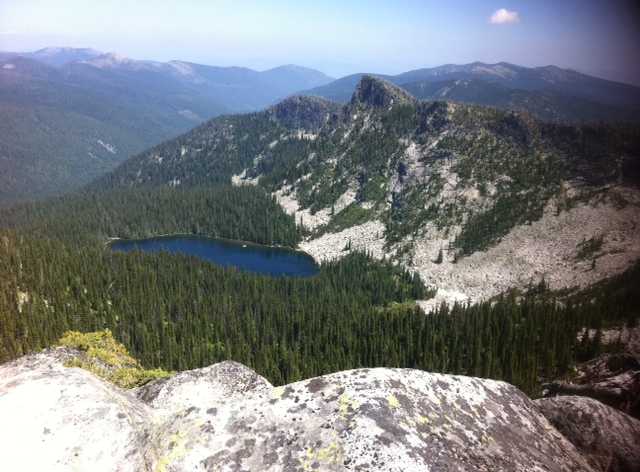 Only 7 miles straight up in the Selkirk Mountains in Bonners Ferry Idaho
sits this old burned out fire tower which had this incredible view of Myrtle Lake
below.. On the other side of this lake a few miles is Canada . I did hike the
2 miles down to that lake and it was beautiful but it about killed me coming back out !
I already climbed 3000 ft in elevation in 5 miles to get to this view.. Coming back'
out of that lake was 2 miles straight up the rock cliff .. not really a trail.. These
hikes in The Bonners Ferry Nature Preserve area are classified as very
difficult and extremely hard hikes.. But the reward is worth it !!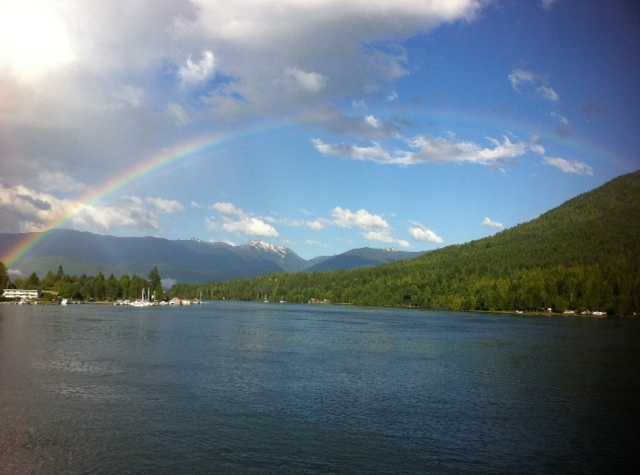 I had just got on the Ferry outside of Nelson BC heading across Kootenai Lake
after hiking to the old growth Cedar forest outside of Nelson B.C.
Canada , when this rainbow appeared.. Probably one of the best shots I've ever taken..
I took it looking outside the window sitting in my truck on the ferry..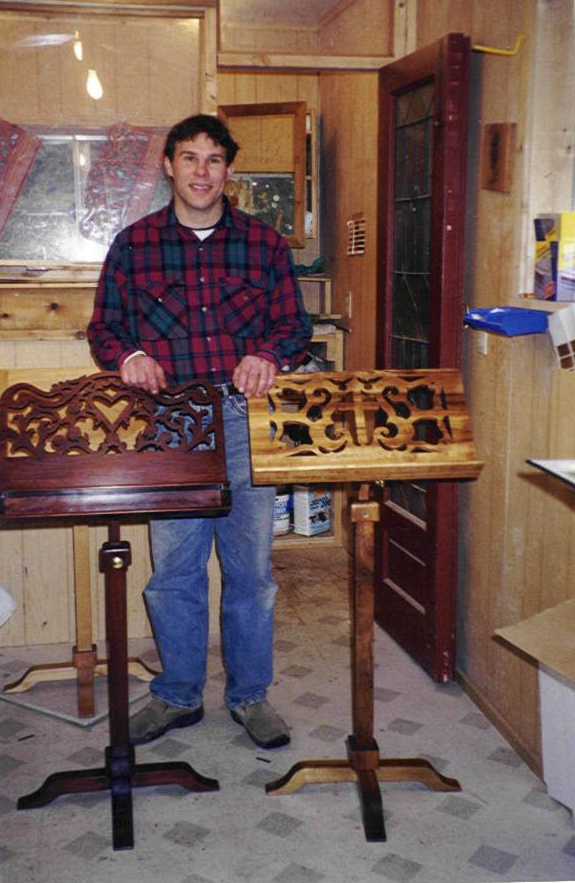 That's me again in the shipping department


The shop and shipping department (to the left)
Mister Standman still works in a small shop back behind
his log house high in the mountains above
Lake Coeur d' Alene in Northern Idaho.
Each music stand is still handmade one at a time
like a fine violin, guitar or other instrument.
The shop is open for visits if your ever out this way......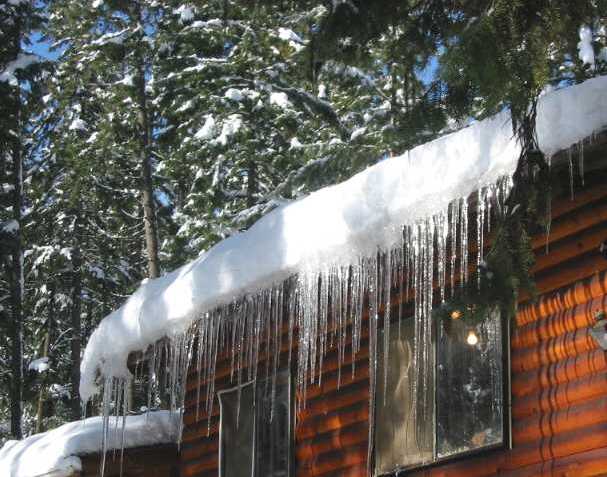 Oh...by the way.... Chains are required for our driveway in the winter...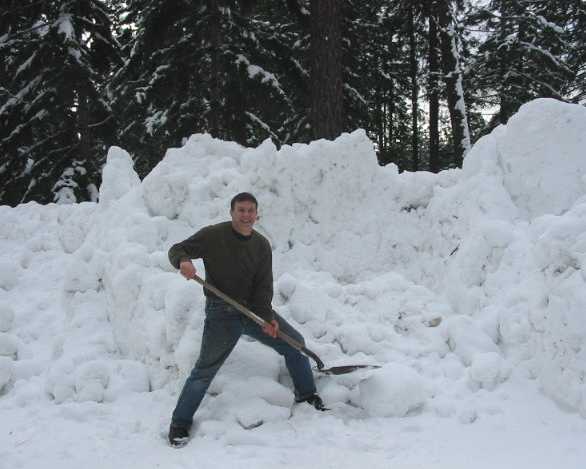 Mr. Standman outside his shop in the winter trying to figure
out where to put all this stuff...
" Hey Al Gore.... what was that you said about global warming...

Mister Standman Music Stands
6692 E. French Gulch Rd.
Coeur d' Alene, Id. 83814
208-664-4321
misterstandman@earthlink.net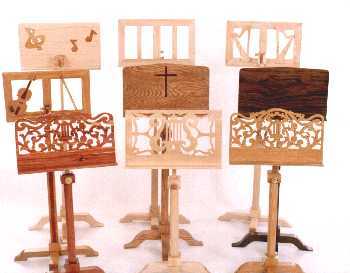 Click picture to see music stand selection
About Mister Standman The Stands
Wood Colors Order Form Questions & Answers
Tilt Adjustment Height Adjustment Brass Highlights
Brass Plaques Music Lights Page Holders
Extra Storage Tray Customer Comments How to Order
Color Brochure
Mister Standman produces fine
Wood music stand, conductor stands, music stands,
book stands, desk stands, sheet music storage stands
choir conductor stands, church stands, dictionary & bible stands
Harp music stand, guitar stands and benches, harp benches
Display stands and restaurant menu holder stands.......
Original Web Page & Design by Mister Standman - Coeur d' Alene, Idaho - March - 1996
Update - 2005,2006,2007, 2015 and beyond........
---