Piano Music Stands
& Rack Replacements Racks
from
Mister Standman Music Stands
& Book Stands


Since 1989
Proudly Handcrafted &
Made in Idaho - USA
in over 75 different designs
and Yes....still made in America...........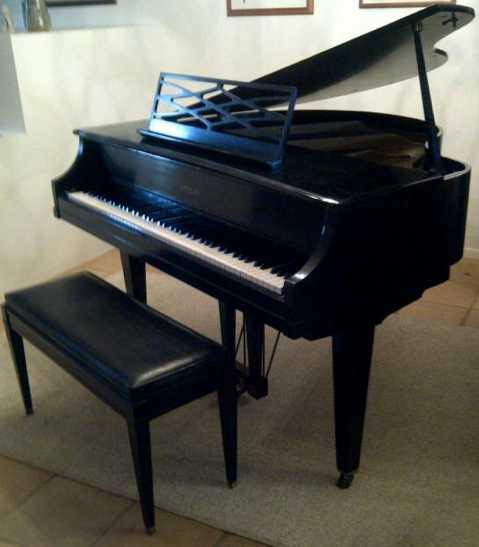 We make piano desk stands like this one show on this baby grand
See below Piano Rack replacement info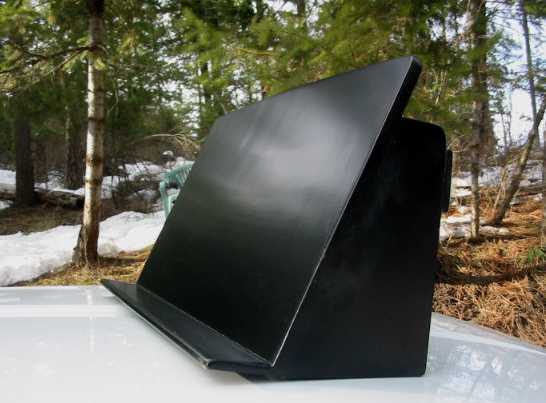 Black Lacquer Piano Desk stand is made to sit on top of
a Grand Piano or other piano or organ when lid is closed ..
see below for more information

Piano Rack Replacement Information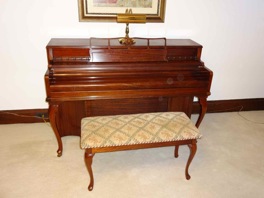 Looking to have a Piano rack replaced because it was
missing or broken in moving the piano ??
Yes, we can usually make a new one up to 34 " length
Its best if you have the original one that you can send
to me to use as a pattern so I can match the design and stain.
If the rack is missing in a move , then sometimes I can
hand draw the pattern from old pictures you have of the piano
and come up with something close.. the racks are priced
on how hard they are to do but a average price is around $ 145.00
for a simple one and up to $ 250 for a fancy 32 " older
Steinway beautiful hand carved rack..
The racks are made from hardwood cherry ,, not a cheap
laminate .. if your looking for something in the $ 50.00
range,, then you need to look for a plain jane unfinished
cheap laminate rack from some of the piano parts suppliers ,,
If you want something that is close to the original and want something
that will match your piano as close to the original one so it keeps its value ..
then I'm the one that can do it I 'm really just about the only person left
that hand makes racks from scratch to match your old one..
You can email me a picture of the rack and I can give you a price quote ..
one of the best ways to find a picture of your older piano
is to go to Craigs list and look at pianos for sale or search on Goggle
under your piano name and model..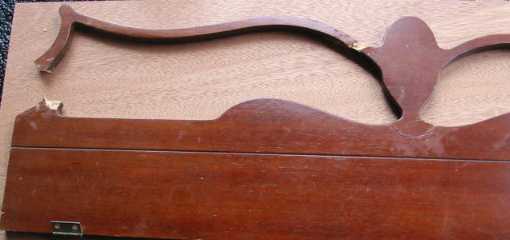 Broken Rack In shipping or missing one ??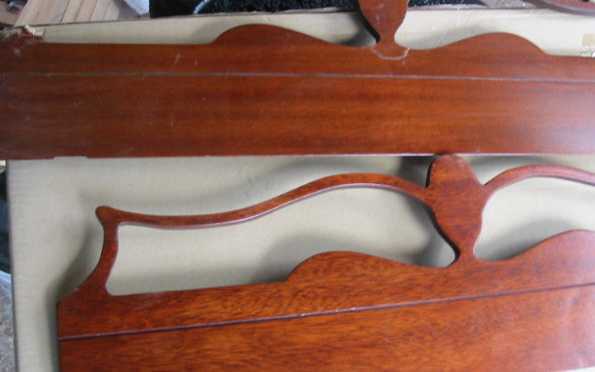 Broken One above and Replacement one I made below
Matched the color pretty close I would say !!



Piano rack I've done in the Past



Piano rack I've done in the Past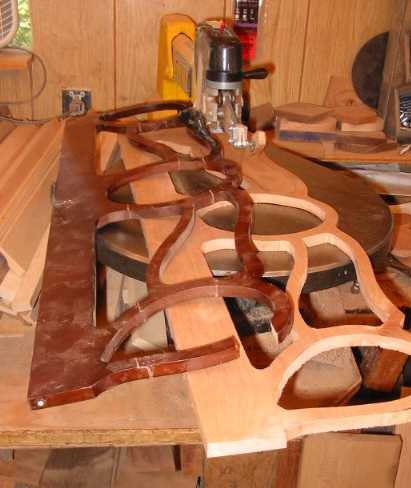 The racks are still cut out by hand by me on the
scroll saw ..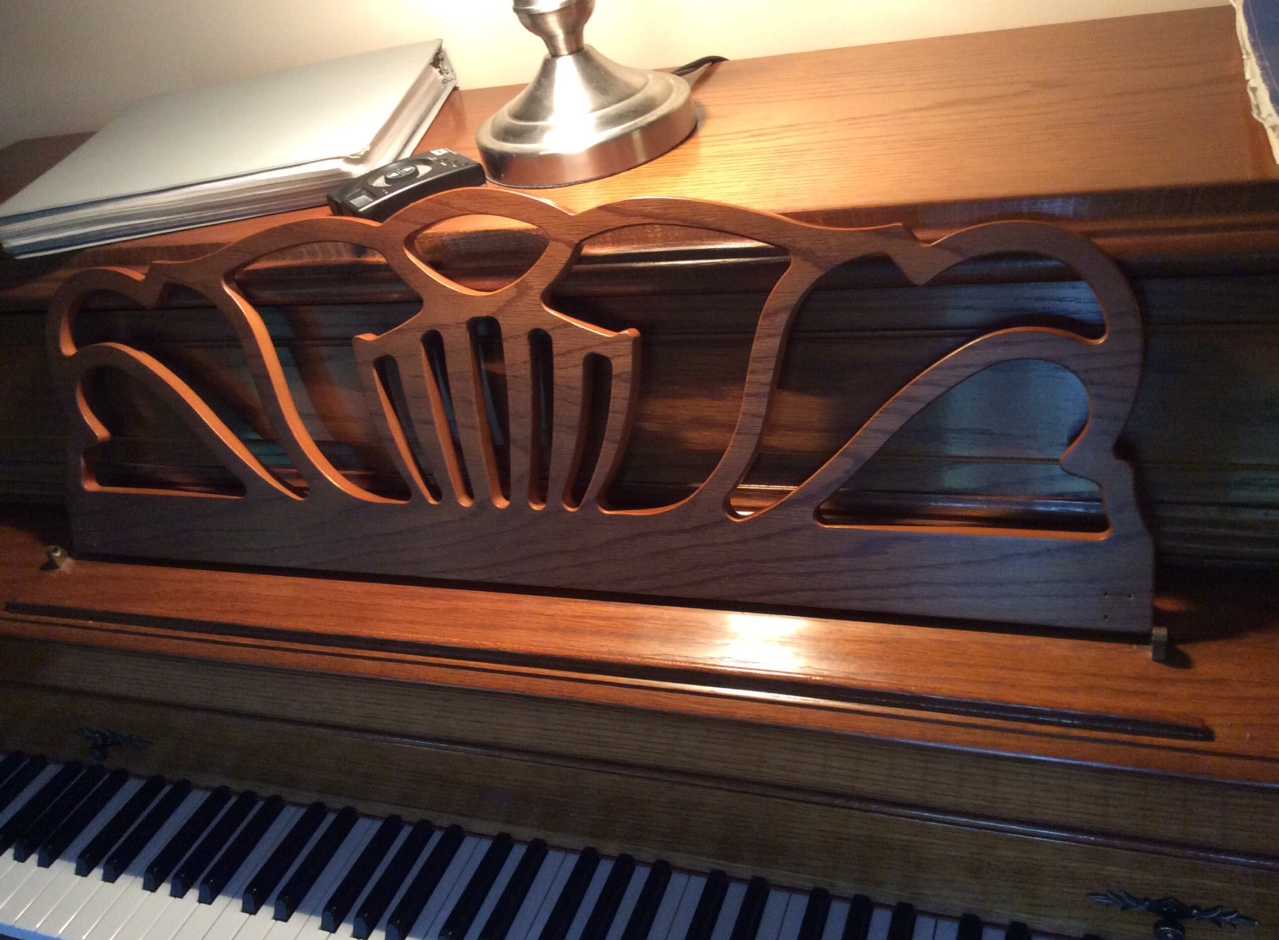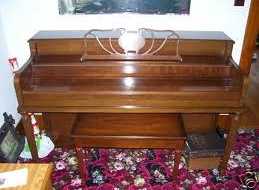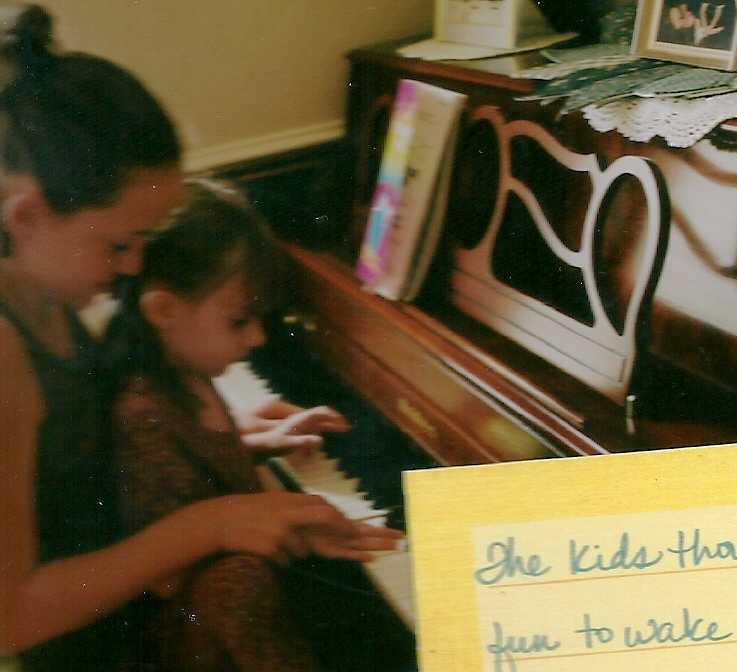 If its a easy design like these I can sometimes hand draw a
rack from a picture like these submitted from customers
and make something from scratch that is close,, You will
have to figure out how to attach it once it gets to you !!
There usually attached with pins on the ends that insert into'
your existing brackets or with hinges .. see below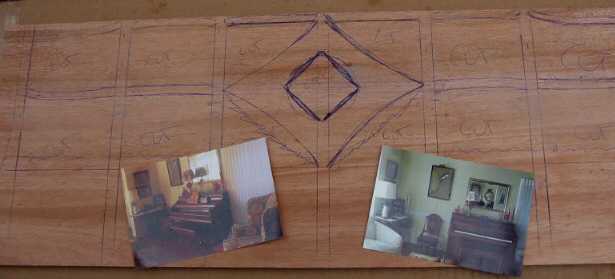 I can also sometimes hand draw a rack from old pictures if its
a basically easy design.. This one was lost by the piano movers
and I had drew it and cut it out on the scroll saw below..
I usually get about $ 155 for something like this ..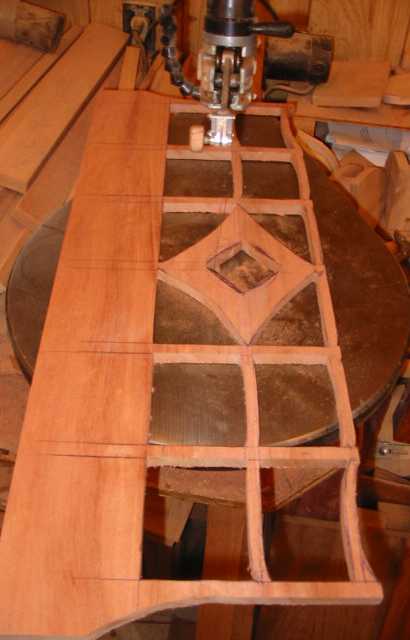 Cutting out a hand draw design on the scroll saw
How The Rack Attaches to the Piano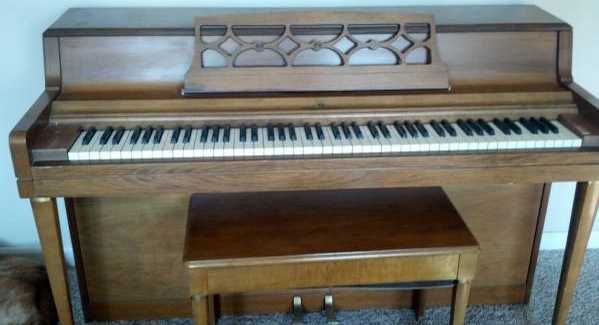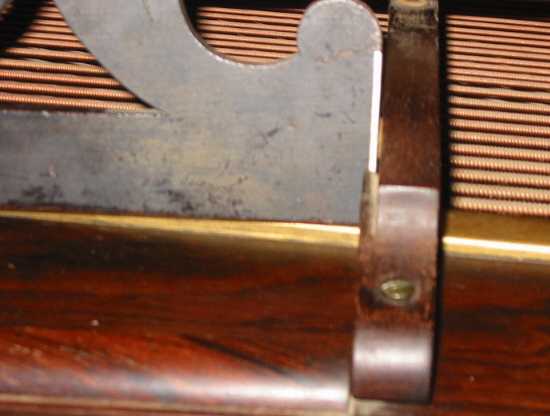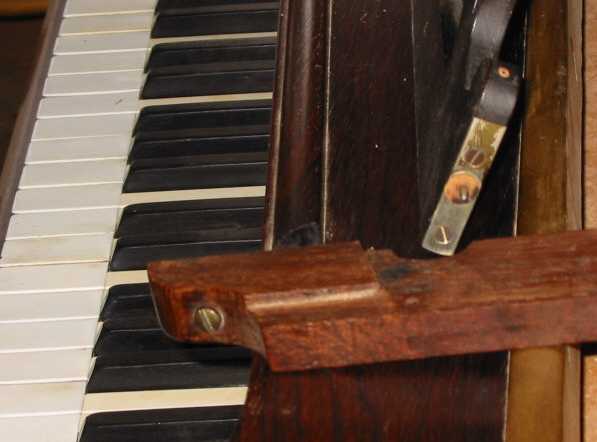 This piano rack attached with two pins on the ends
of the rack as shown above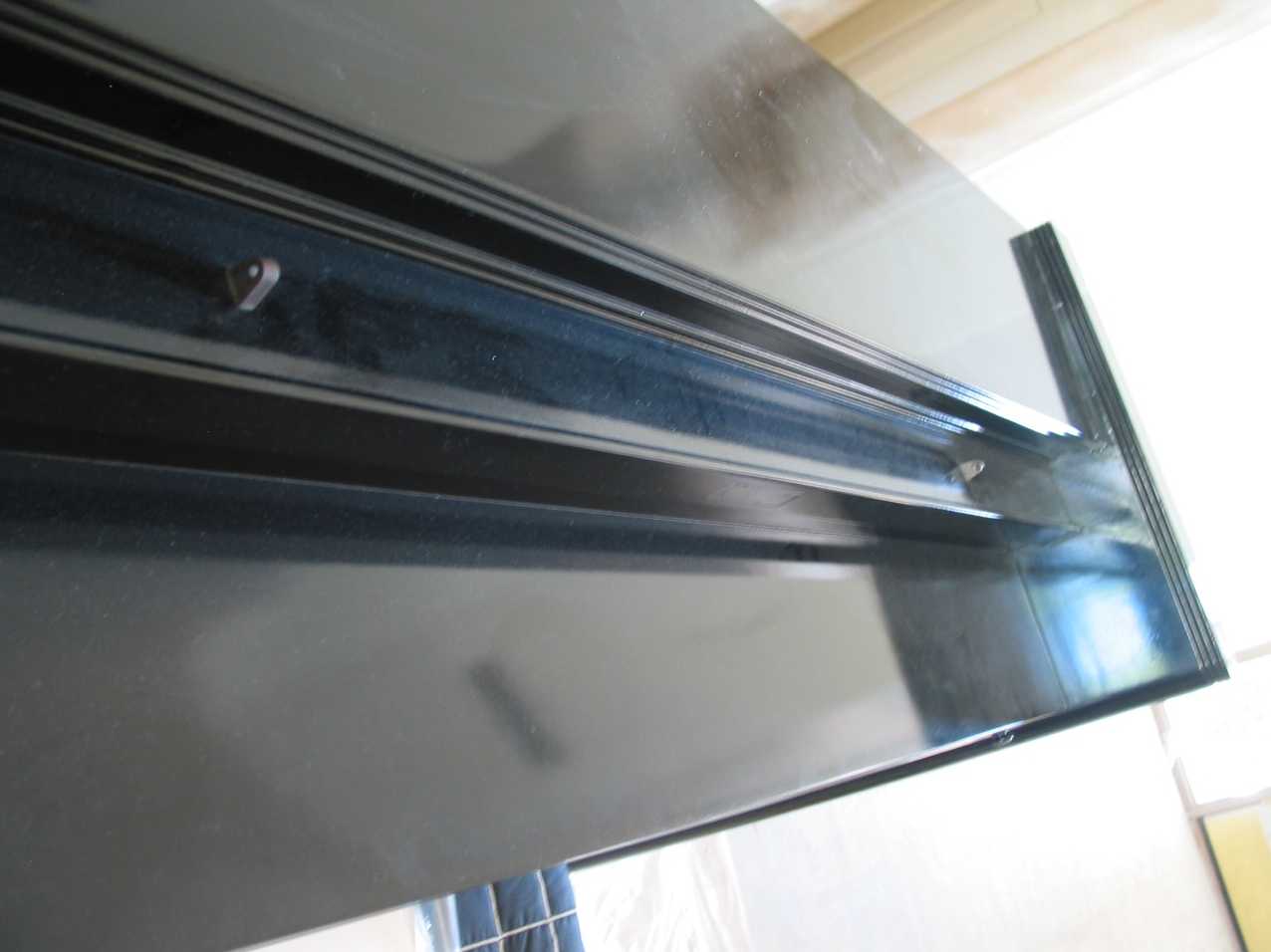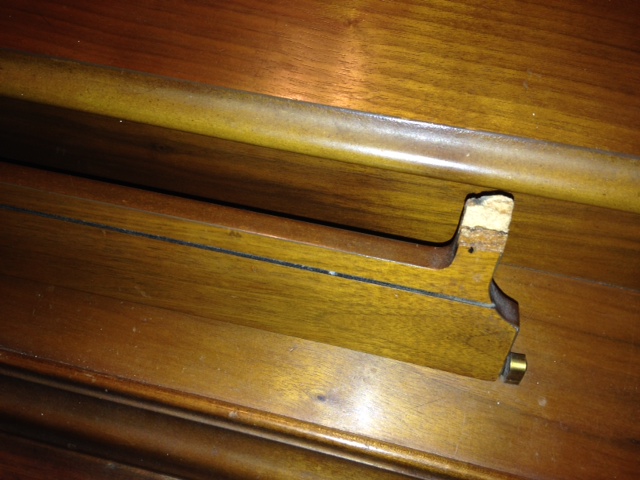 See the bracket on the left & right side where a pin in the music rack
slides into on this piano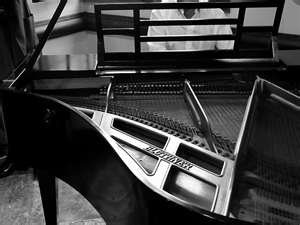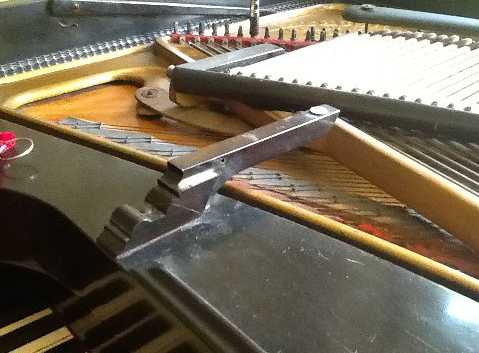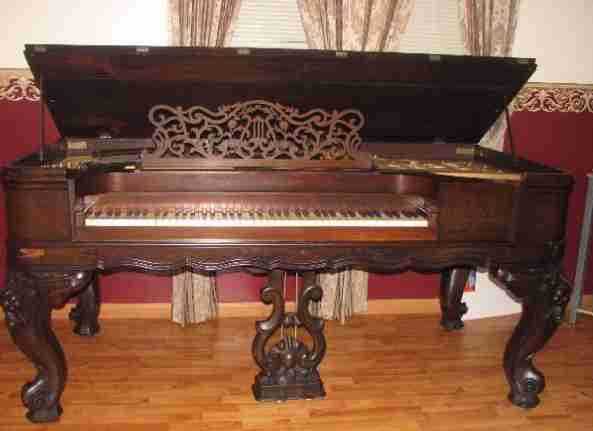 Square Grand bracket attachment attaches the music rack that way


Square Grand older Piano rack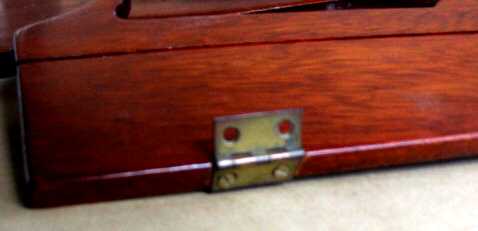 Many other upright pianos attach with hinges like this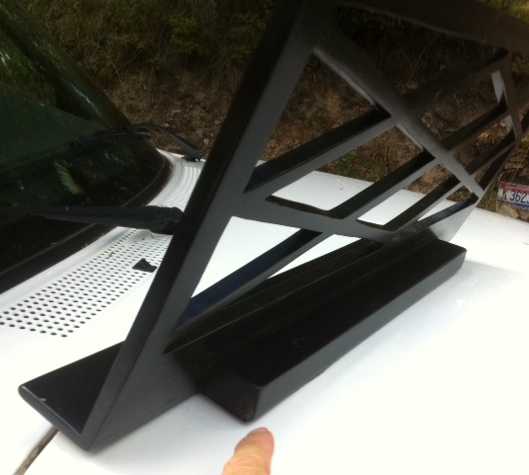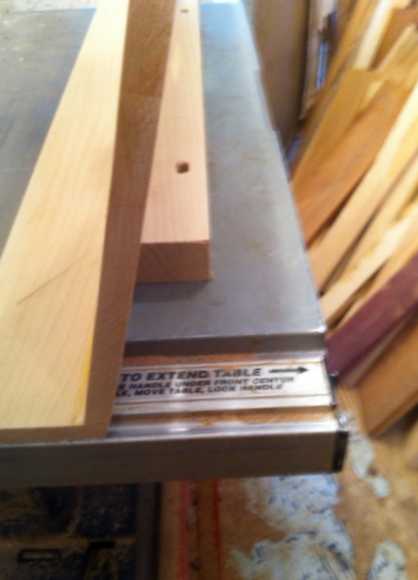 Some racks also have a stop they call it which is basically a piece
of wood glued onto the back end of the rack where two holes are
drilled so that screws or bolts can be inserted into the piano..
You can see this on the left side picture on top of my table saw
the holes are drilled into the stop piece on the back , The right
side picture was the finished black lacquer piece. The final
shot below is the piano with that rack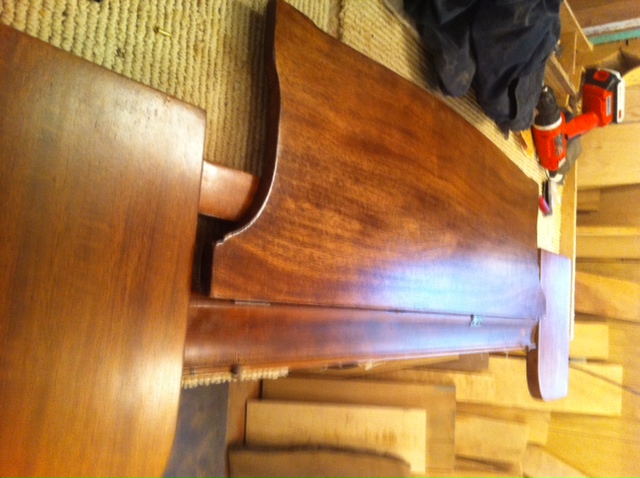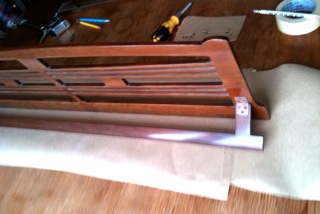 Full grand piano rack assembly Rack assembly with hinged bracket on back side
Other Piano Music Rack Pictures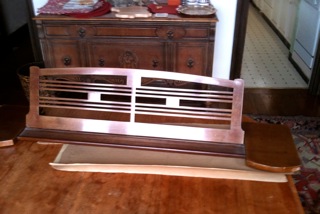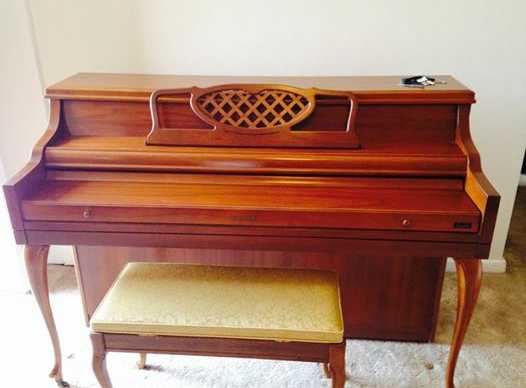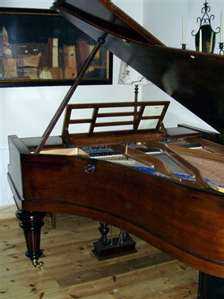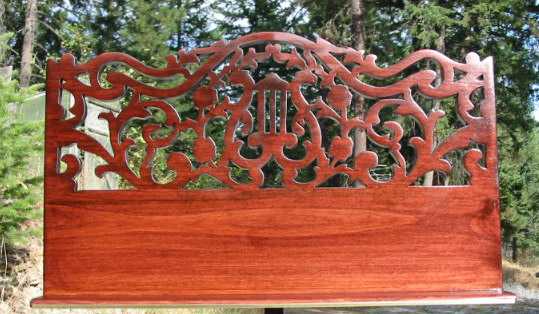 Victorian Lyre design,, can be made from 30" - 36" length
This was from a old Square Grand Piano ..


Piano Desk Stands
made to sit on Top of the Piano


Solid back stationary stand in black lacquer can be made to sit
on top of the piano so you don't have to leave the case open..
This is Mister Standman's piano at home......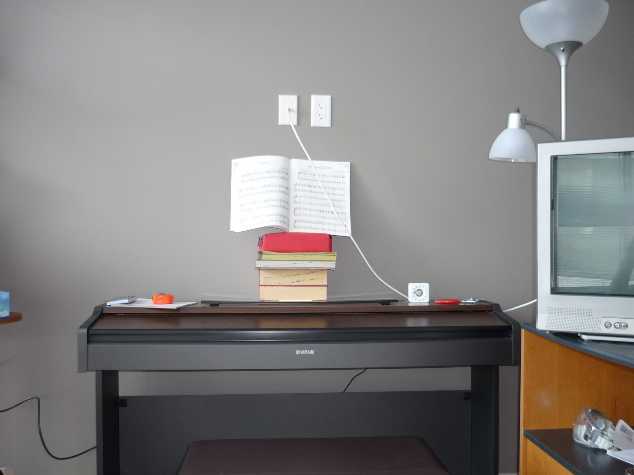 You need one of my desk stands below when it gets this bad !!

There are two ways to get a piano desk stand I make like these below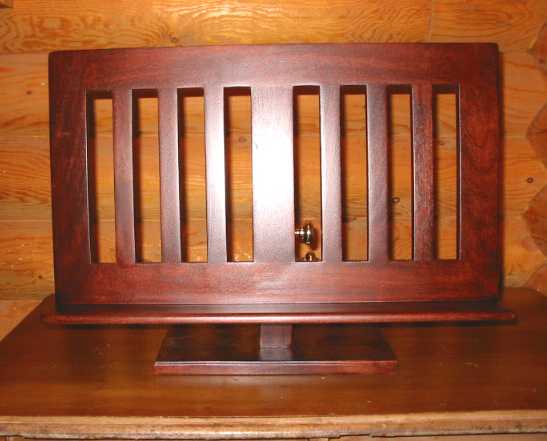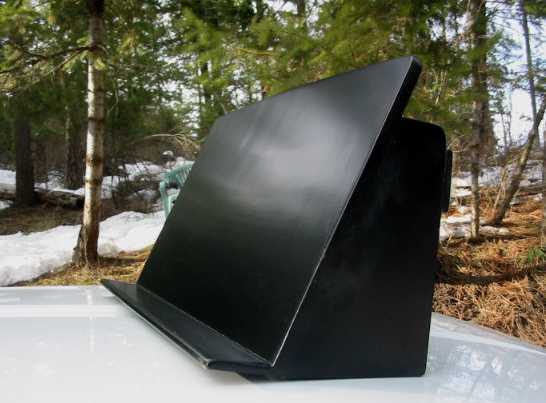 Adjustable desk stand Stationary desk stand


This is one of my stationary desk stand made to sit
on top of the grand piano
The desk top stand was originally designed for a bell choir but
can be easily used as a book or bible stand or for the top of a piano
when you don't want to have the piano opened all the time.
There are two ways to order the desk stand below. A adjustable version
like the picture on the left or a stationary fixed angle version like the
picture on the right. The desk top stand can be ordered in any of the
music frame styles that Mister Standman offers including the
Column stand frame pictured below.
Click here to see all the different designs available with the desk stand
Mister Standman can also match the stain on any of the piano stands
to the stain on your piano. He can also match the existing piano desk
design you have......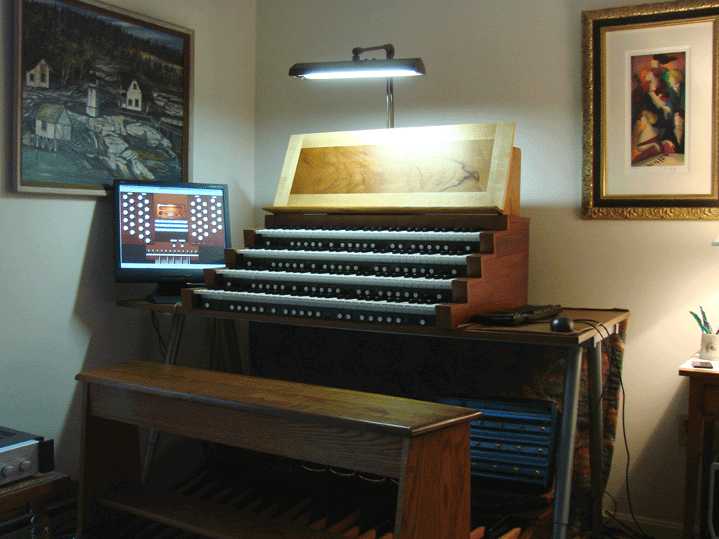 One of my special size piano stand for a organ
from Randi Mullin.. Yes,, I can make the rack
to fit your organ frame rack..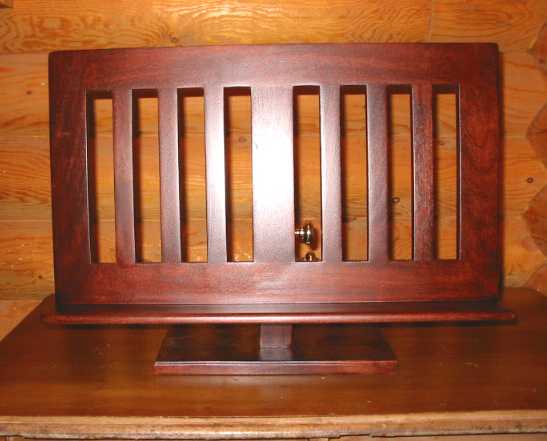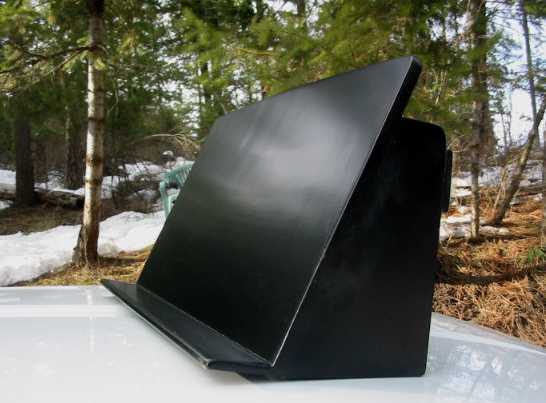 Adjustable book stand -$ 195 - $ 255 Stationary dictionary stand - $165 -$205
Prices reflect on which design you choose...... we have over
75 different designs see below for details or email for price quote.......
The music frame is the usual 12 1/2" height x 22 " length
but Mister Standman can make the frame larger like say 15" x 25"
to accommodate larger books. I can go larger than that if necessary
just ask..... The music/book stand lip where the books rests is 2 1/4 "
but can also be made larger for bigger books up to 3 3/4 ".
The stationary fixed stand is $ 150.00 for the plain solid back design.
Its $ 195.00 if you want a fancy lyre pattern or one of the other designs.
We sell by the way more of the stationary desk stands than the adjustable type......
The adjustable desk stand is $ 195.00 for the solid back design
and $ 225.00 for the fancy lyre pattern or one of the other designs.....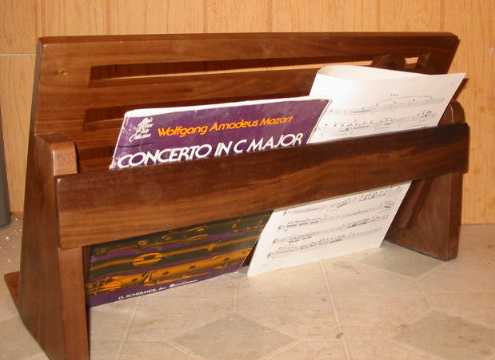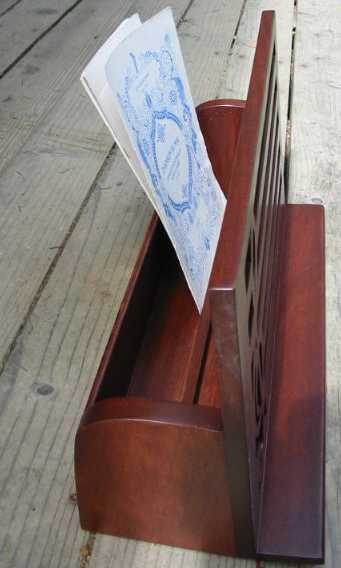 Back of the piano stand has a piece a wood across the back of it so you can
store sheet music behind it see picture on the left ....You can also order it with
the whole back side enclosed like the picture on the left.....That way you can
pick up the whole desk stand and set it off to the side without having all the sheet
music fall out......Both of these design above have a 75 degree tilt to them...It should
be pretty close to the exiting tilt on your piano music rack....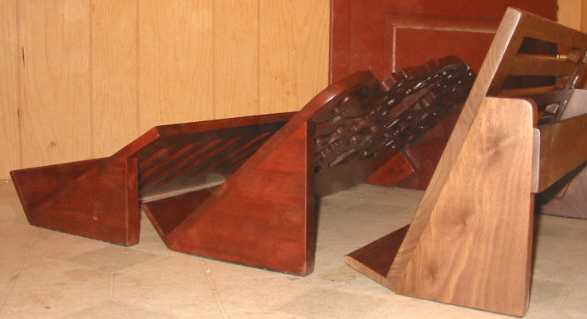 The most popular angle for the piano stand is the one on the far right - a 75 degree angle
which is about the same angle on my piano at home......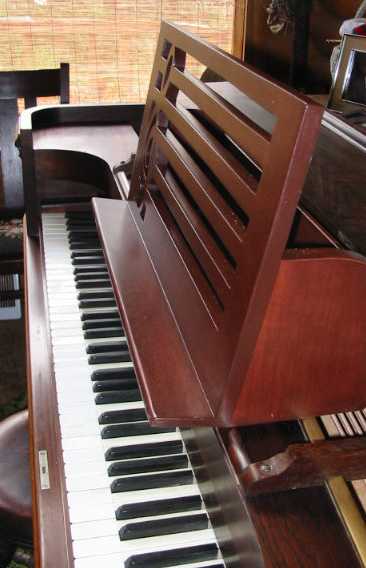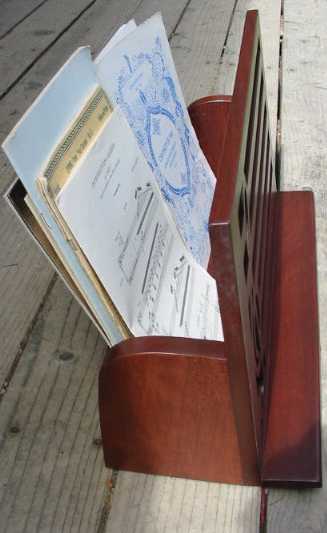 The piano desk extra storage shelf stationary stand allows you to
be able to store sheet music behind the music rack......
Its a piano sheet music storage rack, a piano music rack,
piano music shelf, piano music stand or whatever
you want to call it.......its a great idea......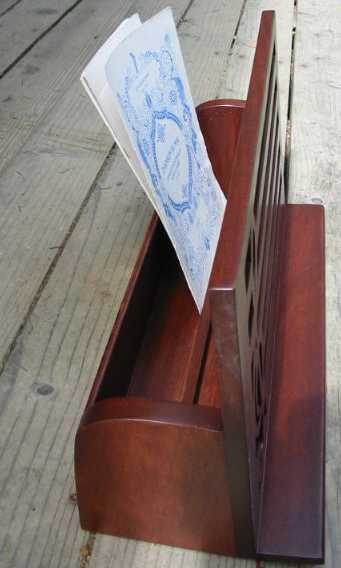 Extra storage stationary stand is $ 275.00

Adjustable Desk Stands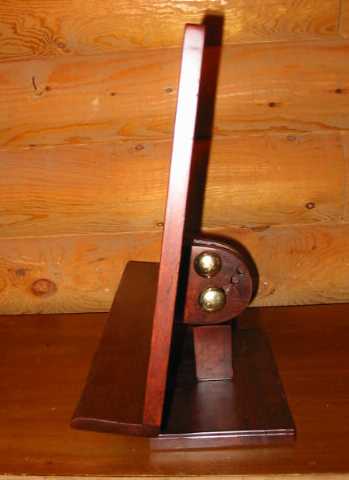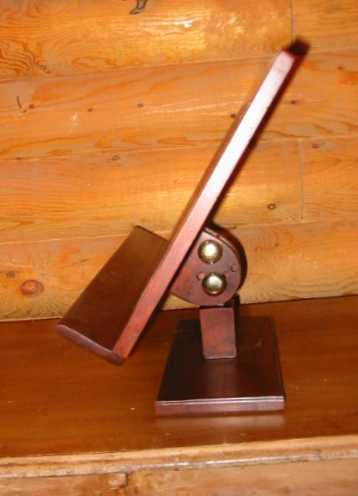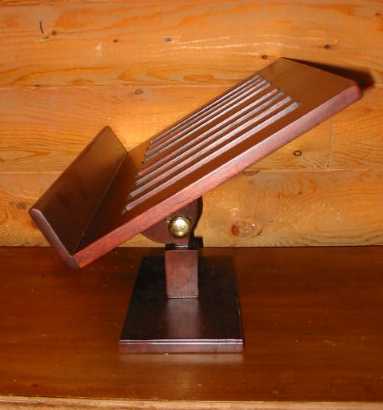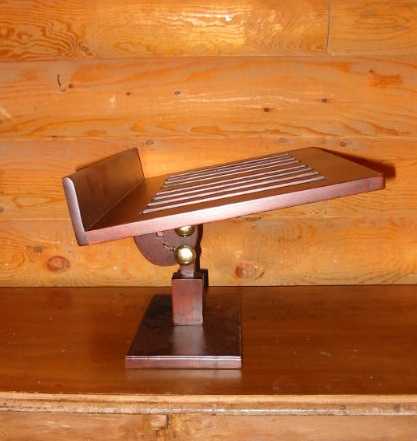 Adjustable desk stand can adjust in 4 different places
The frame sits about 2 1/2 inches from the base which is 14 " x 7 ".
The desk stand like the other stands can be made in any design or
wood of choice or stained to match your furniture. Click here to see
wood stain options.............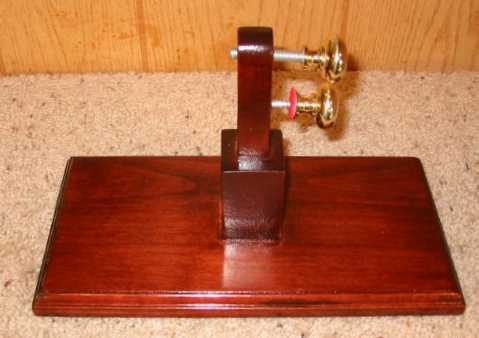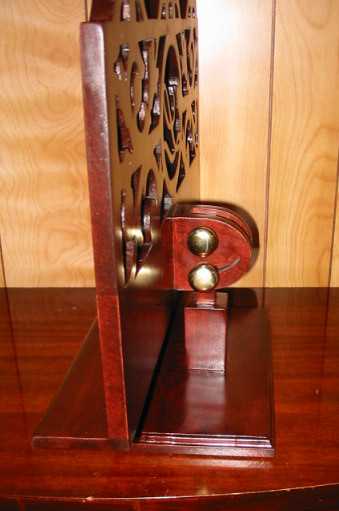 The adjustable desk stands base is 7 1/2 " x 14" - Side view of adjustable desk stand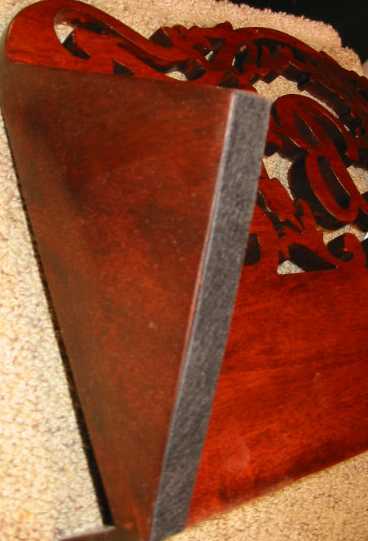 Felt is added to the bottom of the feet on both the stationary
and adjustable desk stands to help from scratching
Stationary Desk Stands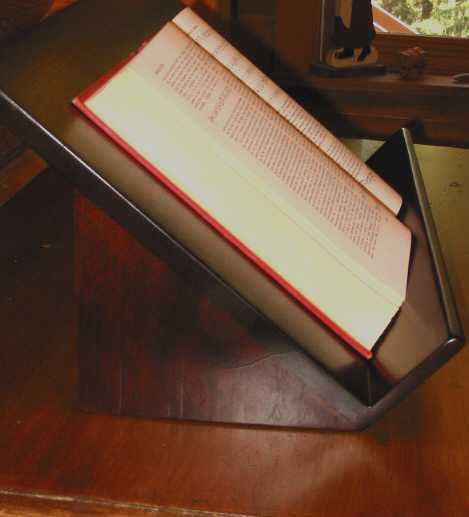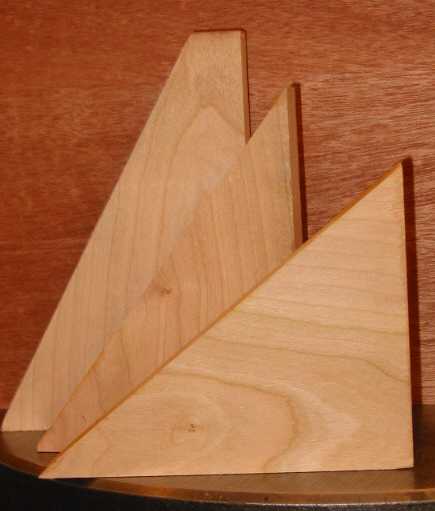 On the stationary desk stand we use wedges cut at angles like the picture
on the left. The first one is at a 75 degree and is commonly use for setting on top
of pianos since the tilt is almost vertical. The second on is 60 degrees and
is usually used for a book stand angel. The third is about 30 degrees and
is also used as book stand only it lies more horizontal. We really cant go much more
horizontal since the desk stand would flop over backward if we did....I could however
put a piece in the middle to stop this if needed......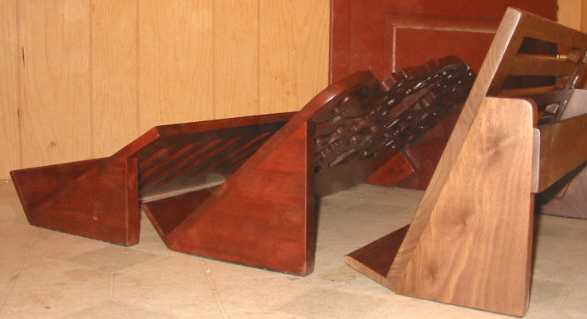 Many different angles to choose from
The first angle on the left is at 30 degrees..the middle angle is 45 degrees
and the far right angle is at 75 degrees - usually done for piano desk stand
More angle sizes below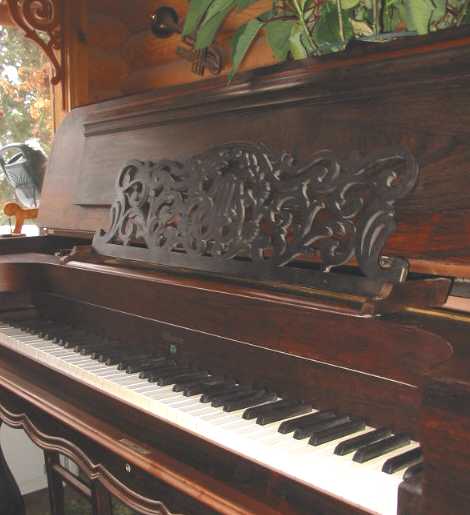 The music rack on this piano was 10" high by 32" length
Yes ,, I can make replacement piano racks
around $ 150.00 - I can copy the one you
have if its broken in half or I can make a new
one if its missing.. The only pattern I have that stretches
to 32 " length is the Victorian Lyre design below.
I can't cut anything longer than 35 " on my scroll saw.. sorry..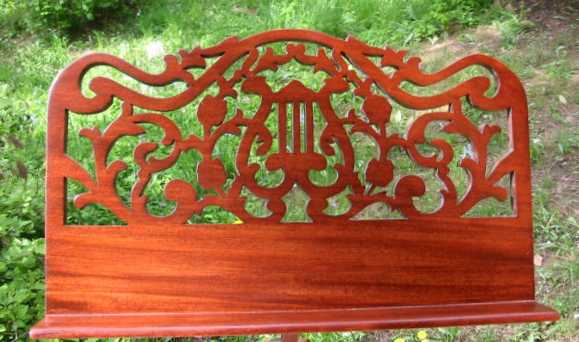 This Victorian Lyre design can be made into a
222 " - 35" inch length in any color to
match the piano - $ 165.00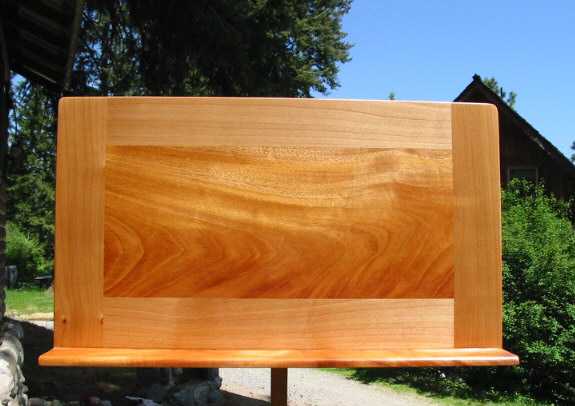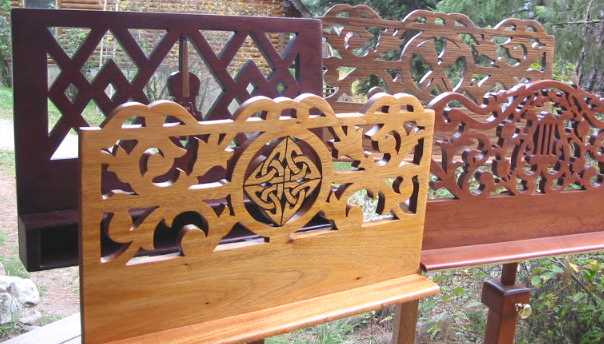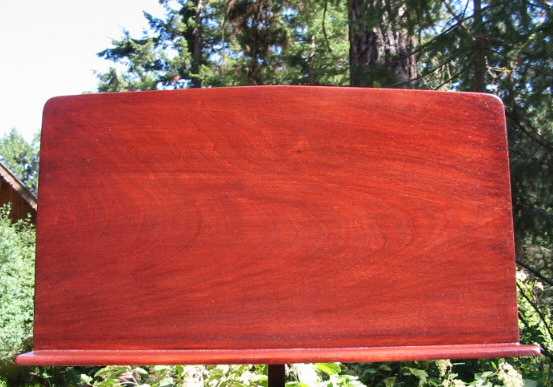 You can order any stand in
over 30 different woods and color choices -click
picture to see wood and stain color choices........

Examples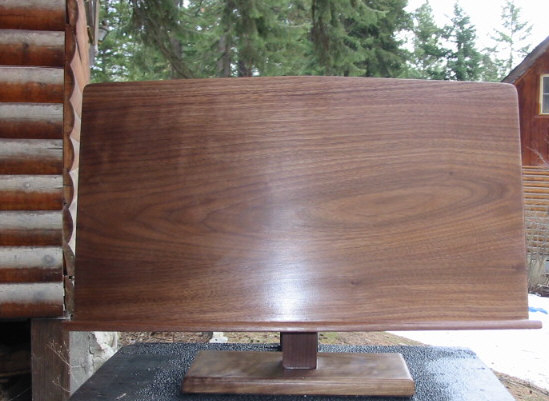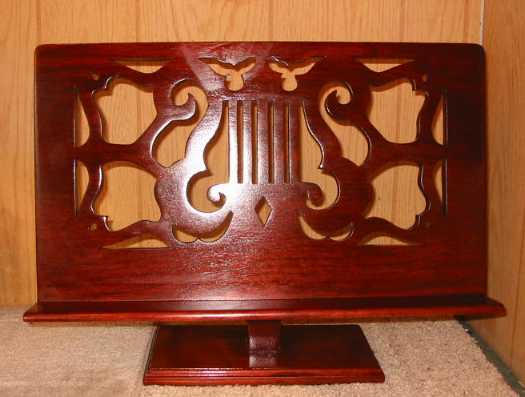 Adjustable desk stand in natural walnut - solid back design $ 195.00 Lyre Pattern is $ 225.00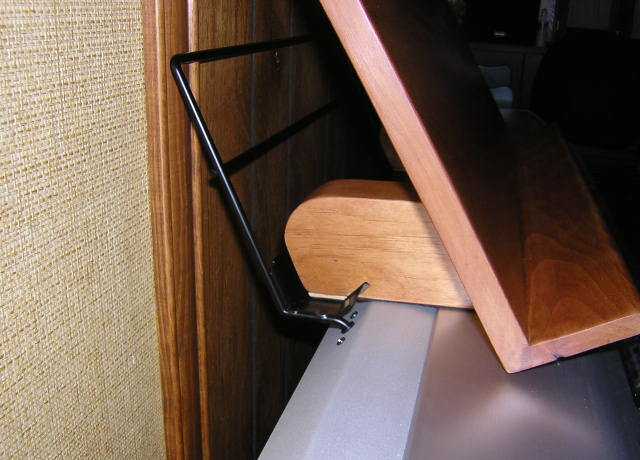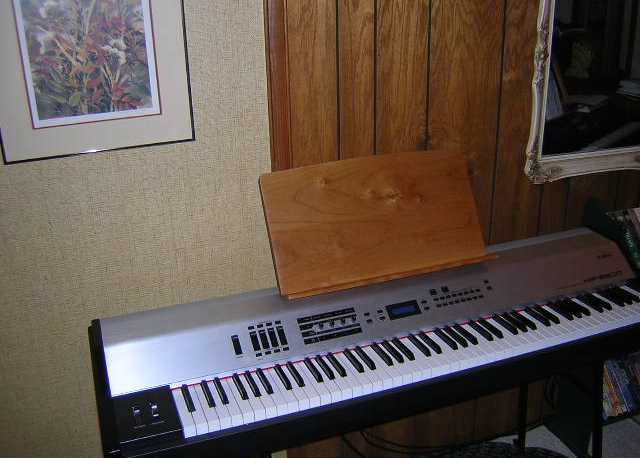 The stationary desk was adapted to fit on this electric piano since the
original wire music racks are so small.......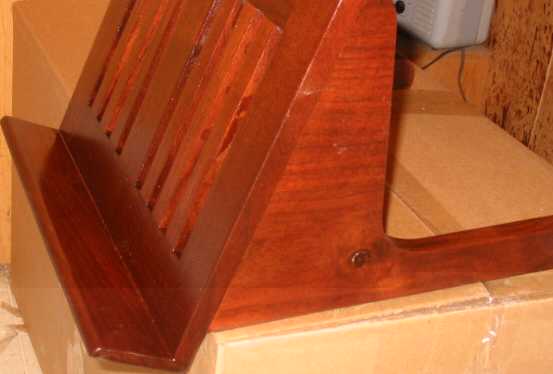 This Piano rack was made to extend past the piano or
organ.. It does require though ,,,, to drill holes into the
piano to hold the thing down.....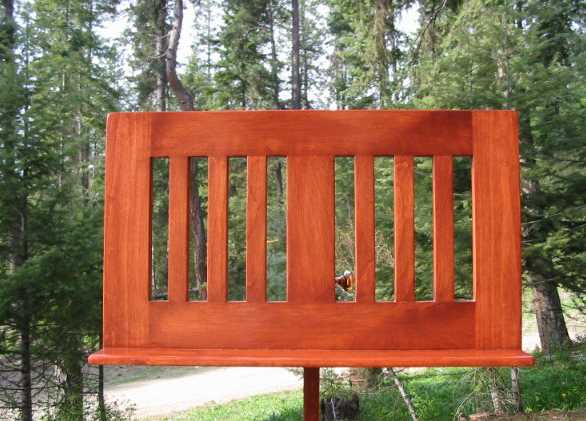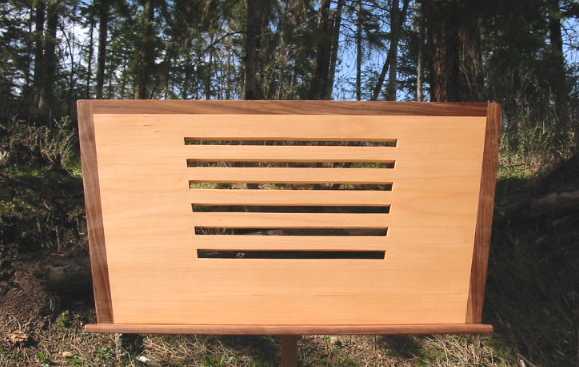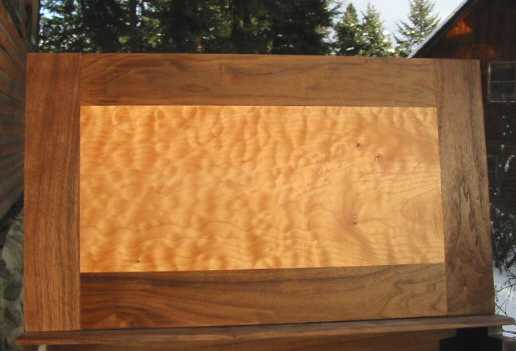 Mister Standman has over 45 different designs available that can be done
with the above desktop book stands
Click any of the pictures above to see all the designs......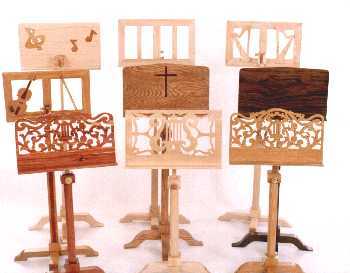 Home Page
Back to See All the Stands
Or
How to Order
or
Wood and stain colors
Since 1989
Proudly Handcrafted &
Made in Idaho - USA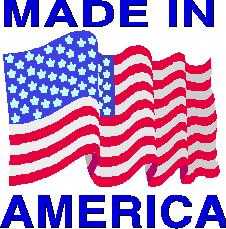 Mister Standman Music Stands
6692 E. French Gulch Rd.
Coeur d' Alene, Idaho 83814
208-664-4321
misterstandman@earthlink.net
For Questions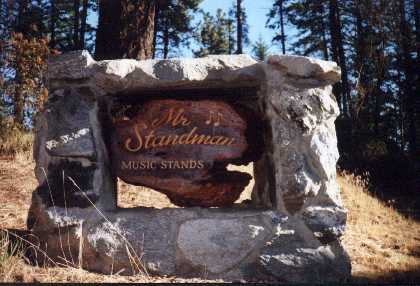 Click Picture for more "How To Contact" Information
Need a color Brochure ??
Click here to print a online brochure
You can also just press " print " on your web
browser to print out this web page your looking at ......
Mister Standman Music Stands manufactures
fine handmade music stand, handcrafted wooden music stand
Piano music rack, piano music stand, piano music stand rack,
musik stand, wood musik stand, book stand, bible stand
wood music stand, conductor stands, music stands,
book stands, desk stands, sheet music storage stands
choir conductor stand, music director stand, church stands,
dictionary stand & bible stands, desk top book stand,
harp music stand, guitar stands and benches, harp benches
harp stand, library book stand, piano desk, piano music stand,
piano rack, sheet music rack, Display stands and
restaurant menu holder stands.......
About Mister Standman The Stands
Wood Colors Order Form Questions & Answers
Tilt Adjustment Height Adjustment Brass Highlights
Brass Plaques Music Lights Page Holders
Extra Storage Tray Customer Comments How to Order
Color Brochure Gift Certificates Contact Info: