Mister Standman Music Stands
& Book Stands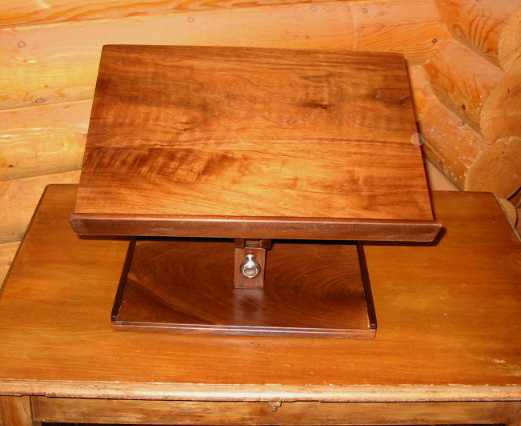 Natural walnut burl adjustable desk stand
Adjustable desk stand information page

There are two ways to order the desktop bookstand.
An adjustable version like the picture above or a
stationary fixed angle version..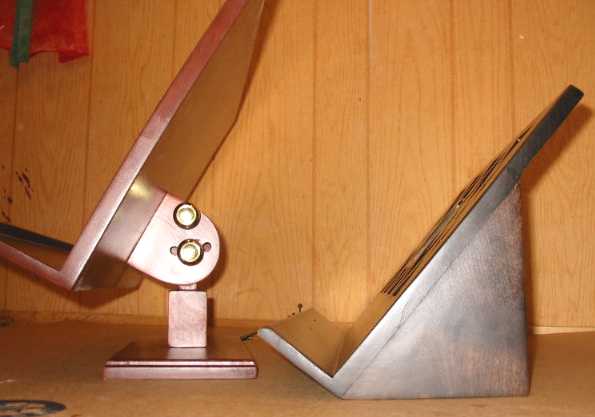 Adjustable Stationary fixed angle
The desk top dictionary or book adjustable stand can be
ordered in any of the book frame styles that Mister Standman
offers including the above Column stand frame pictured below
or click picture below to see all the selections.....
The adjustable book stand in the regular size frame of 12 1/2 " x 22"
length is $ 225.00 for the plain solid back design.
You can also order the stand in a smaller size to fit your book
10" height by 17"lengtth ?? or 11" height by 15" length ??
Just let me know the size of the book....everything Mister Standman
makes is handmade so he can change any size or dimension.
Its $ 255.00 and up if you want a fancy lyre pattern or one of the
other designs. Just email for a price quote on any design.,
If you want the larger frame size of 14" x 24" add $ 25.00
We sell by the way more of the stationary book desk stands than
the adjustable type......

If you want the full standing version book stand click here

Adjustable Desk book Stands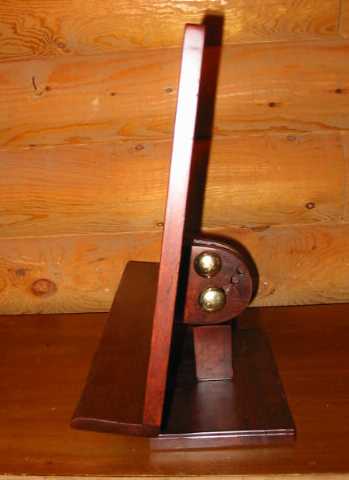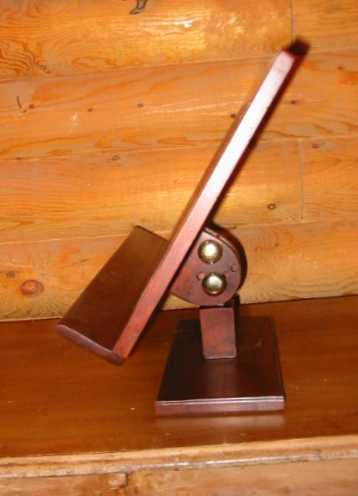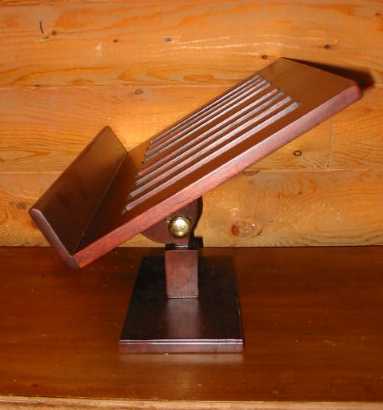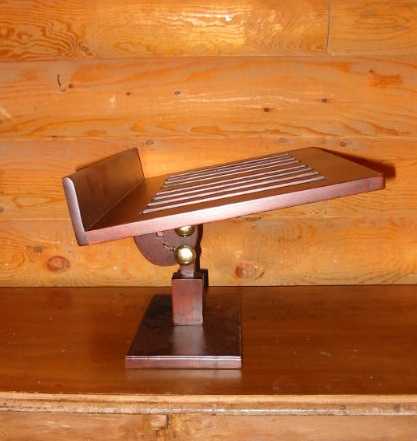 Adjustable book desk stand can adjust in 5 different places
The adjustable desk stand allows you to be able to adjust the frame to a
a angle you want. It is also easy to swivel the the whole stand by just turing
the whole frame and base to where you want.
The frame sits about 2 1/2 inches from the base which is 14 " x 7 ".
It can also be made to go higher.. Just let me know how high you want it from
the desk ot table top to the shelf that holds the book.. It can also be
made to adjust a few inches in height as shown below...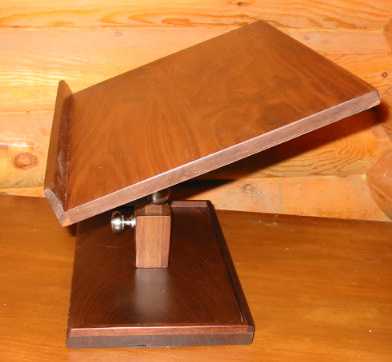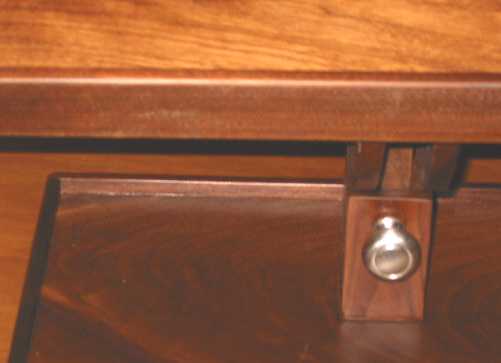 A height adjustment knob will allow about 2 - 3 inches of height adjustment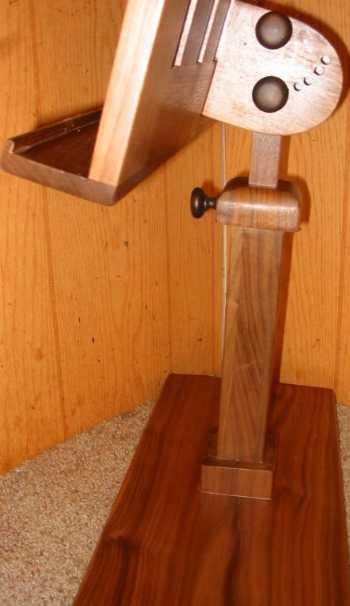 This was done with a longer piece so that the stands could
sit up about 12 inches from the base > Everything is
custom made by Mister Standman so I can change any
size or dimension ..
It is possible to add the extra shelf to the stationary and adjustable desk stand
The extra shelf can hold stuff like eyeglasses, pencils, cell phone , whatever ....
65.00 extra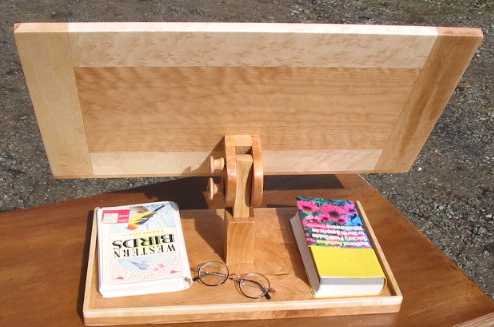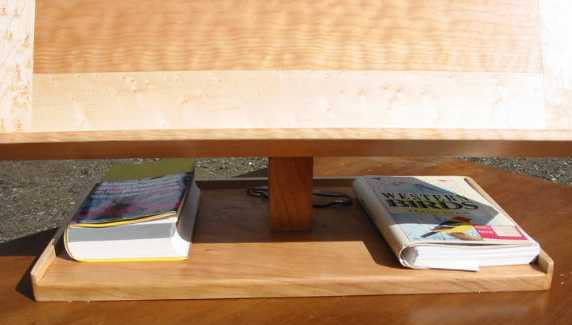 It can also be made with a larger base to store stuff in like pencils, eye glasses and others
see below for more information

The desk book stand like the other stands can be made in any design or
wood of choice or stained to match your furniture.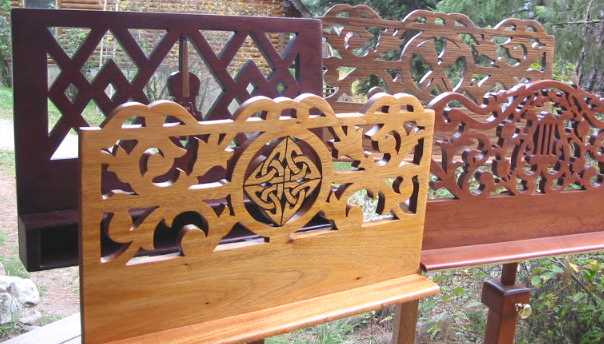 Click here to see wood stain options.............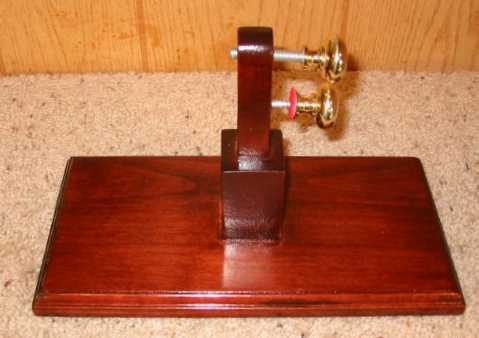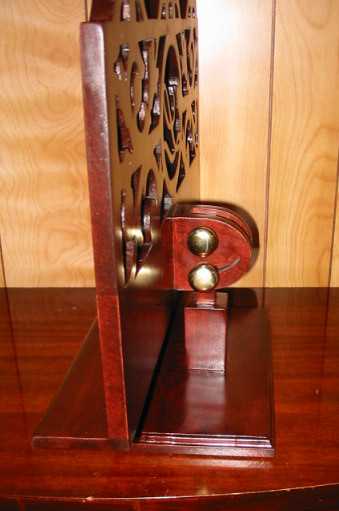 The adjustable desk book stands base is 7 1/2 "x14" Side view of adjustable stand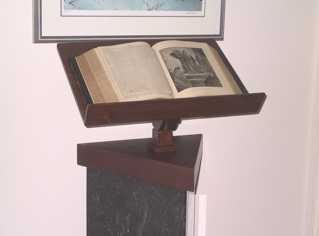 Yeah,, I've done custom stuff. This customer wanted
a triangle base to go over this Triangle tile pedestal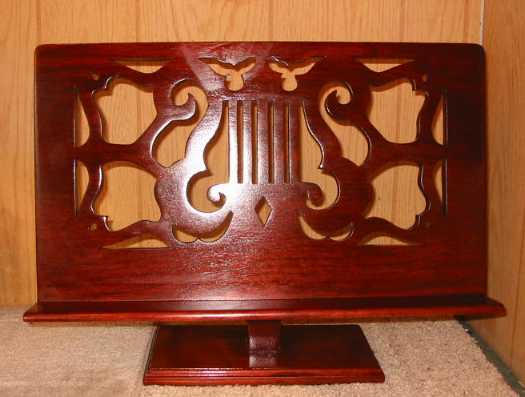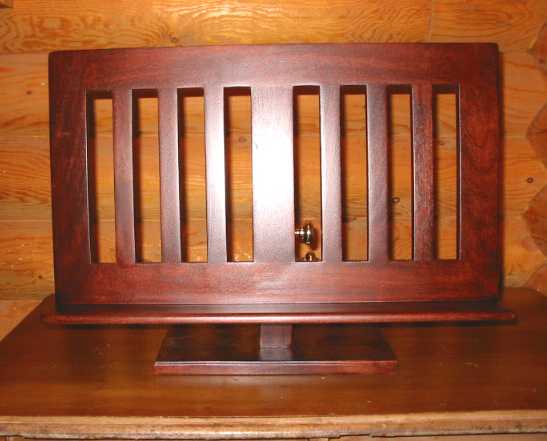 Classical lyre adjustable desk stand Column design adjustable desk stand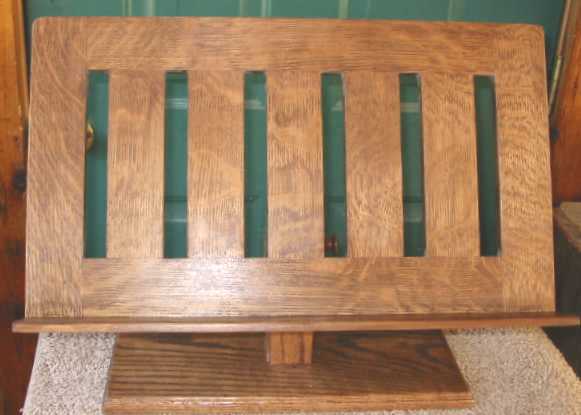 Mission oak style in quarter sewn oak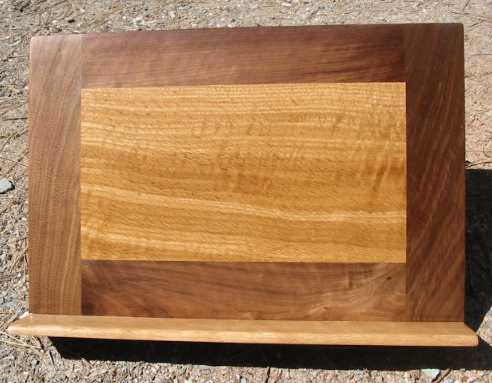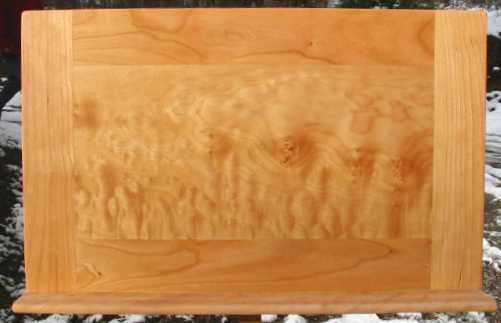 Modern Classic design is a very popular choice for book stands...
Extra Storage Shelf for Adjustable book stand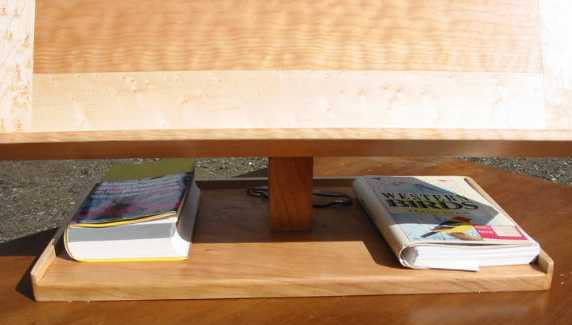 You can get a larger base that can be used as a mini storage area when ordering the
adjustable book stand. The base is 10 " wide by 18" length and leaves about
7.5 " on each side of the middle section that can store smaller books, glasses,
pencils, doughnuts, coffee cup, you name it.........
The extra storage shelf is $ 50.00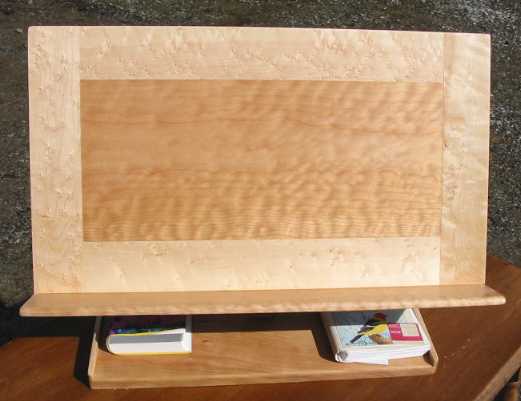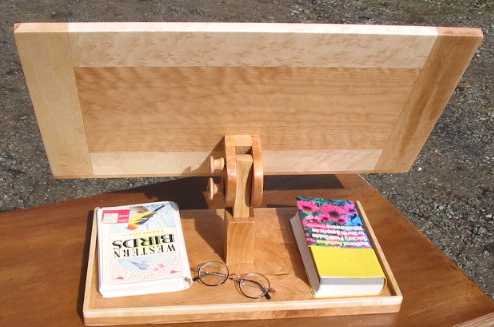 Front view and back side view.........The beautiful design frame by the way is the
Modern Classic design (click to see more examples) - birdseye maple with curly figured cherry.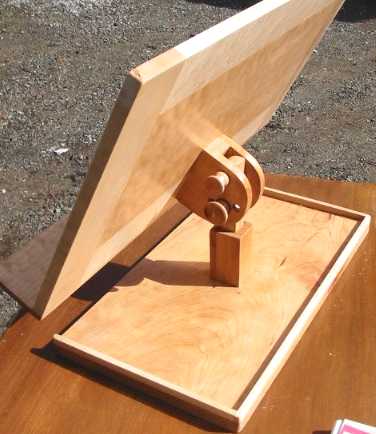 SIde view of extra storage unit for the adjustable desk stand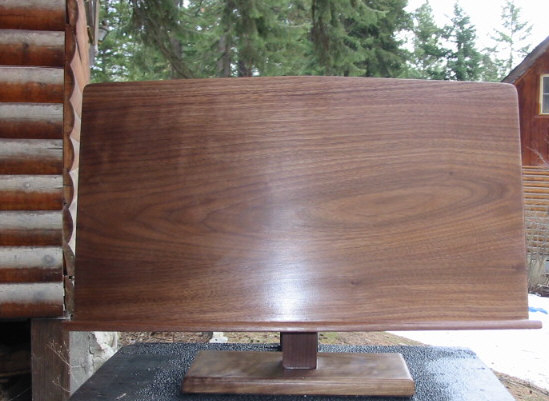 Natural Walnut adjustable desk stand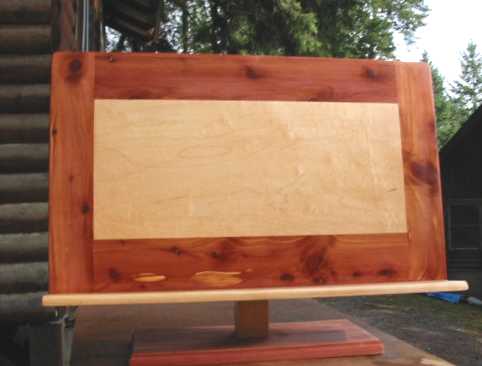 Aromatic cedar and maple center - Modern Classic Adjustable desk stand
$ 225.00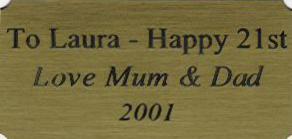 Brass plaques available to put on desk stand
Brass plaques $ 15.00

Book Tray Sizes......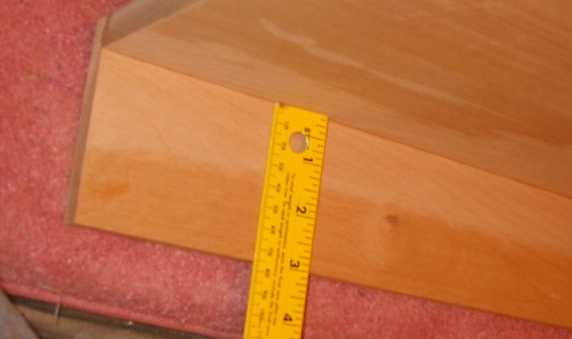 The normal size of music shelf or tray is 2 1/4 ".
Mister Standman can make the tray longer if needed
like the 3 " tray pictured above made for a dictionary book stand
that had a 3 " dictionary book when closed.......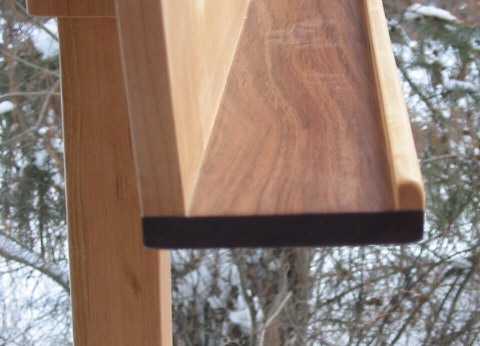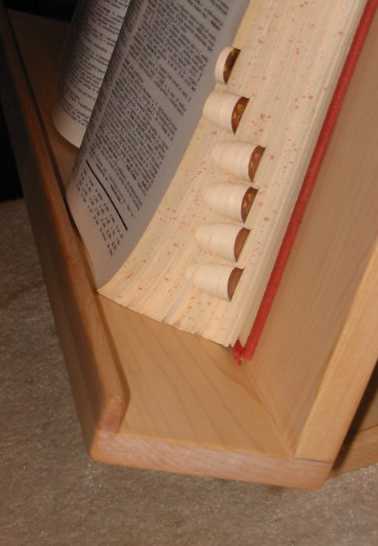 A lip could also be added to help keep the pages of a book from
flopping closed.....The only problem with this is that you would
have to lift the book up to turn the pages since they could
not go past the lip...This is probably fine for a book stand
but not to good for music since pages have to be turned when
you playing and there is no time to lift the book up, turn the page
and set it back down all while your bowing your violin.....
Usually a paper clip will hold the pages back just fine without the lip..
You can order the book stand in any of the styles of
stands Mister Standman has. The full book stand
lets you have the book there for view without having
it sit on a desk like the desk stands above. Desk stands
like the pictures below sit on a desk or table......It also let
you move it around to a spot you like versus just sitting on a table...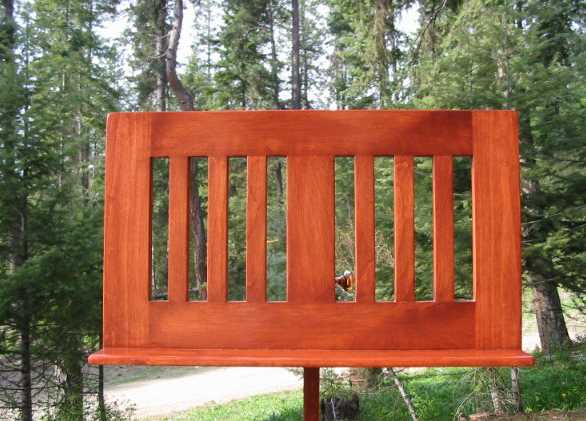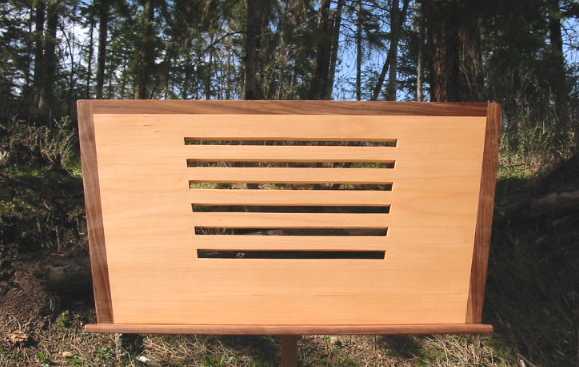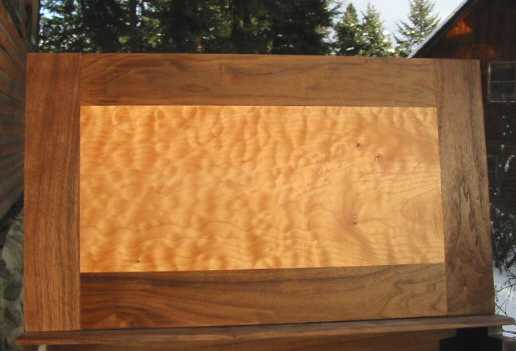 Mister Standman has over 45 different designs available that can be done
with the above desk top book stands
Click any of the pictures above to see all the designs......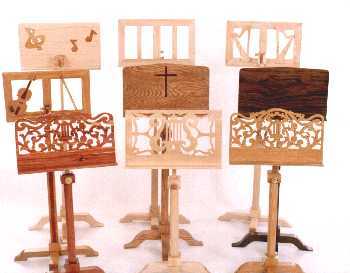 Home Page
Back to See All the Stands
Or
How to Order
or
Wood and stain colors
Since 1989
Proudly Handcrafted &
Made in Idaho - USA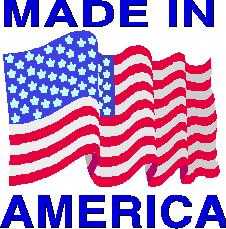 Mister Standman Music Stands
6692 E. French Gulch Rd.
Coeur d' Alene, Idaho 83814
208-664-4321
misterstandman@earthlink.net
For Questions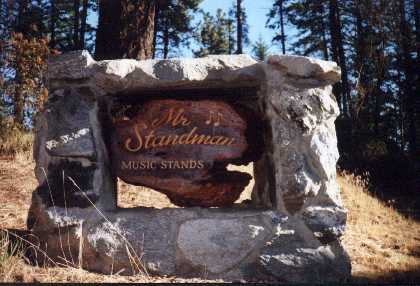 Click Picture for more "How To Contact" Information
Need a color Brochure ??
Click here to print a online brochure
You can also just press " print " on your web
browser to print out this web page your looking at ......
Mister Standman produces fine
book stands, book reading stand, book holder,
dictionary stands, dictionary stand, book stand
adjustable book stands, book rests, dictionary stand holder
Wood music stand, conductor stands, music stands,
book stands, desktop book holder stand holder, desk stands,
bible stands, bible and dictionary holders, bible stand, book holder stand,
sheet music storage stands choir conductor stands, church stands,
dictionary book stands & bible stands, Harp music stand, guitar stands and benches,
harp benches, Display stands and restaurant menu holder stands.......
Mr. Standman Music and Book Stands
About Mister Standman The Stands
Wood Colors Order Form Questions & Answers
Tilt Adjustment Height Adjustment Brass Highlights
Brass Plaques Music Lights Page Holders
Extra Storage Tray Customer Comments How to Order
Color Brochure Gift Certificates Contact Info: