Harp Stands Page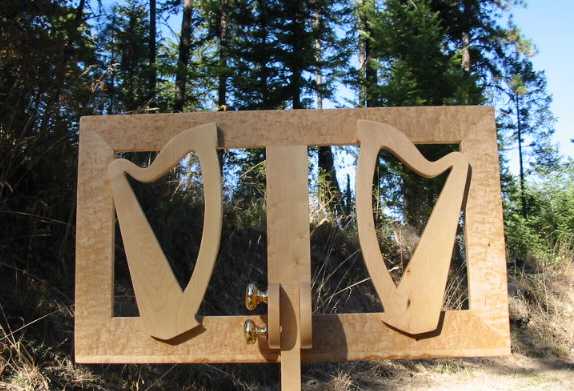 One of Mister Standman's favorite stands is the Harp Stand.
This is the first design that Mister Standman produced for his wife,
a professional harpist and teacher. Since Mister Standman began by
making music stands for harpists, he is very familiar with most
Folk and Pedal harp models. Producing a music stand to match
your harp is Mister Standman's goal. The feet on this stand and
any of the other styles of Mister Standman's stands curve down to
about a 1/2 thickness. This enables the Harper or Harpist to be
able to tuck the music stand as close to the harp as possible.
The three or four feet design helps the performer to move the stand
in a position that is comfortable. ( Since there is only about 1 inch
difference between the distance of the 3 ft. versus 4 ft. design,
Mister Standman does recommend the four foot design for stability )
The harp and all the other stands are available
in walnut, cherry, birdseye maple, birch, oak, maple, mahogany or
stained to best match your harp. You can also mix the wood up
such like Maple & Mahogany, Walnut & Maple or any
other combo. ( click here to see wood choice)
Mister Standman's wife is also a harpist so I have seen just about
every harp and model over the years and can usually get the best
wood and color to match your harp. Let Mister Standman know
what type of harp and model you have when ordering
( such as Lyon Healy 85 E in Natural or Venus Diplomat in
Mahogany, Salvi Sinfonietta in Ebony or Camac Atlantide in Cherry or
Triplette in Cherry or Dusty Strings in Walnut, ...........)
Let Mister Standman know what type of harp and style you have
when ordering. The harp stand is $ 325.00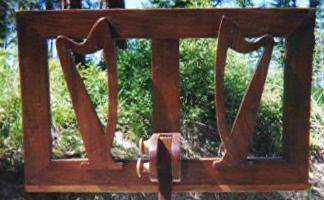 Folk Harp Stand - Walnut $ 285.00
Tulip/Victorian/Classical Lyre with Harp
To match your Pedal or Folk harp
Designed by a Harpist for a Harpist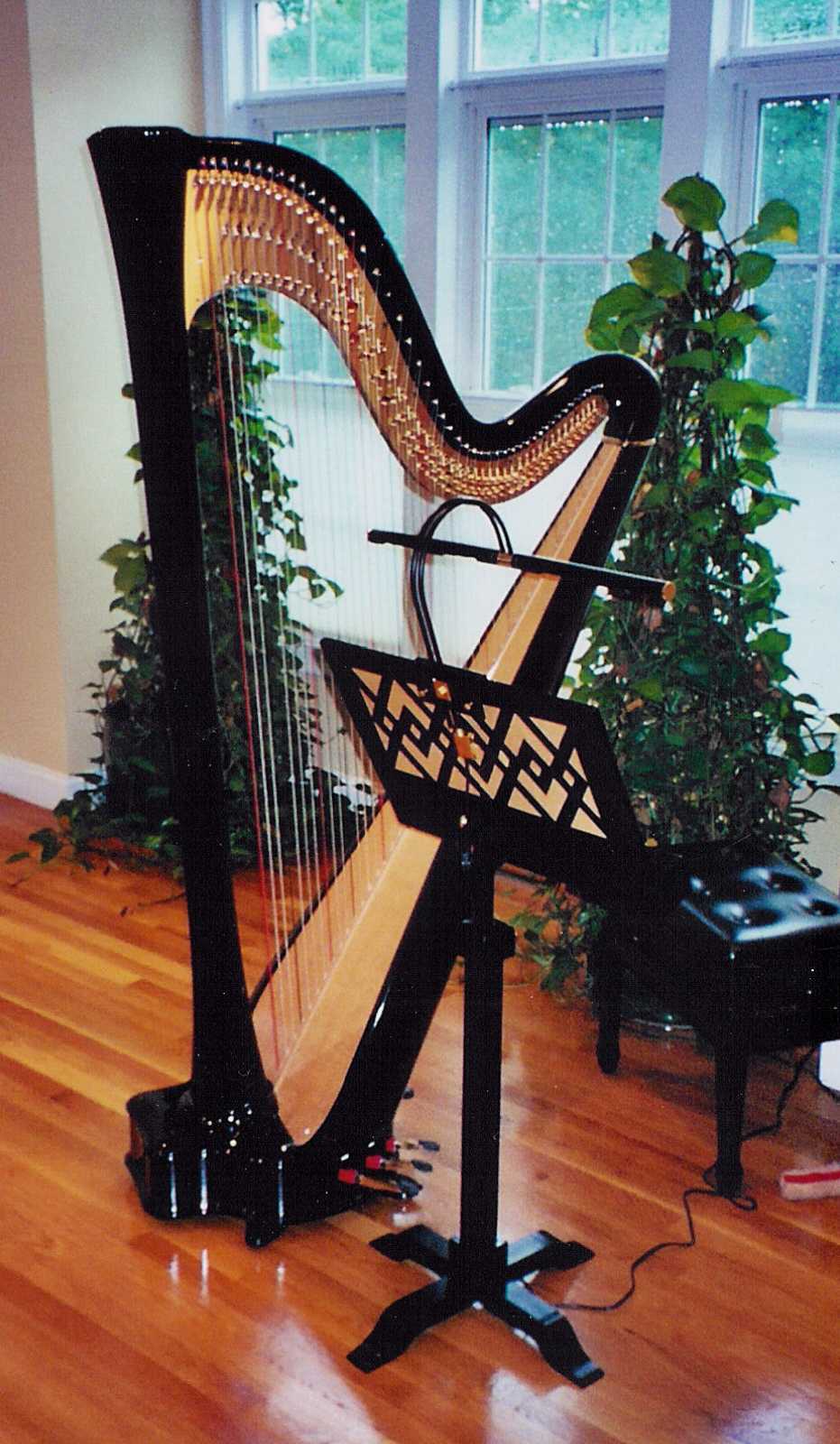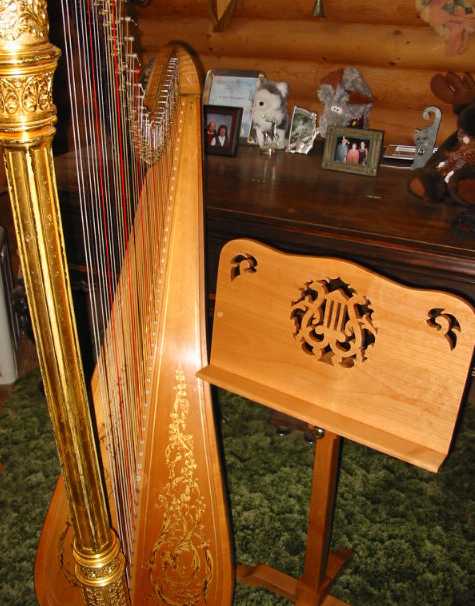 Several different designs to choose from...........
See below for more information and prices......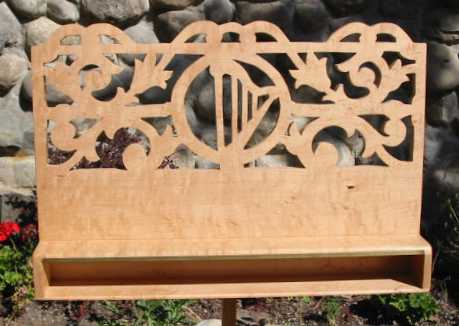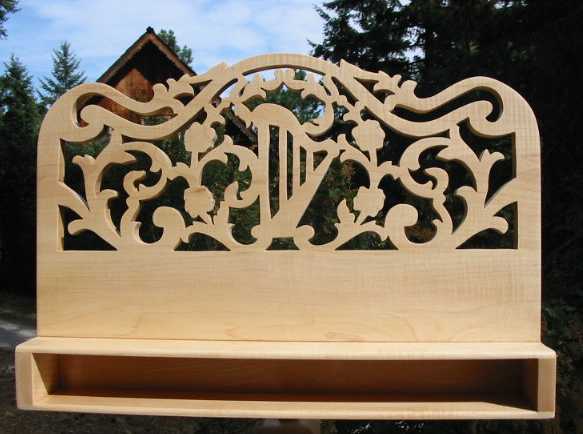 Tulip Lyre with harp Victorian Lyre with Harp with Extra shelf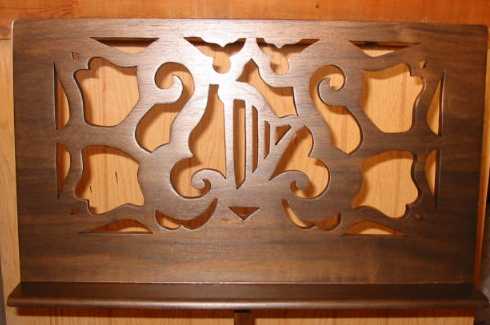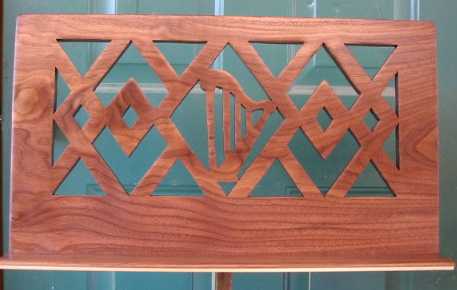 Classical Lyre with Harp Diamond Jim with Harp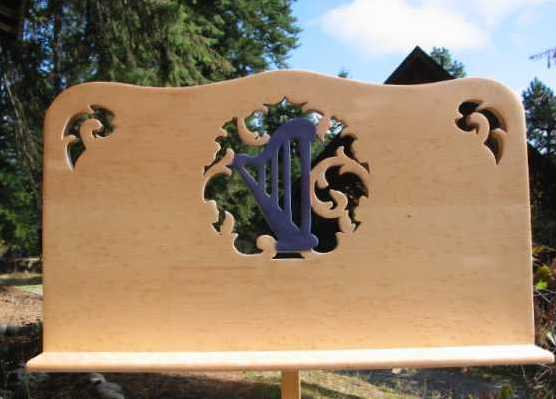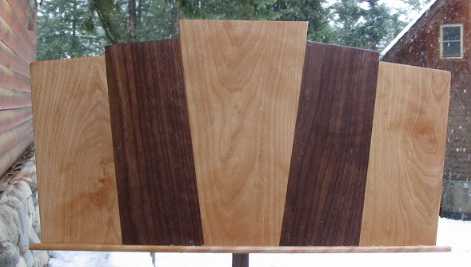 Half Victorian Lyre with Harp Salzadeo Art Deco stand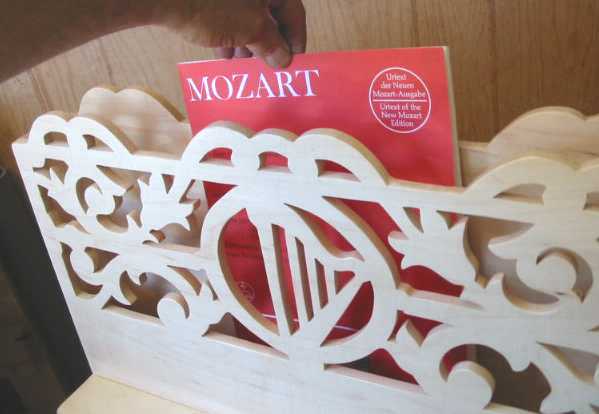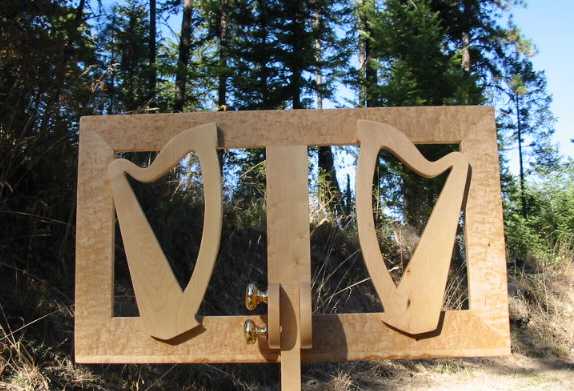 Double Back Sheet music storage Pedal or folk harp stand
More Information starts here......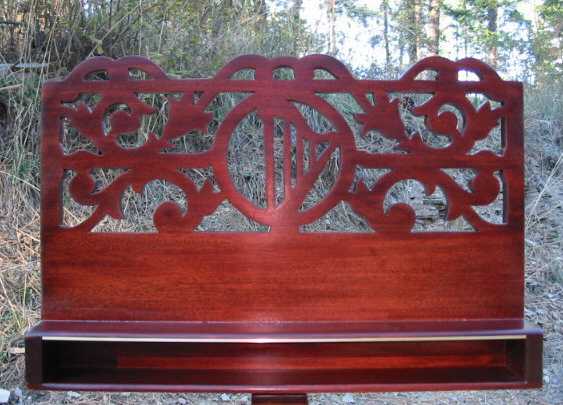 Tulip Lyre with Harp with extra storage shelf - Red Mahogany
Tulip lyre with harp in red mahogany to match Lyon Healy 85E,
Salvi Diana harp and others..........The extra shelf is designed to
hold your tuner, harp tuning key, pencils, business cards, candy,
cell phone?( just kidding I hope....), and other items.....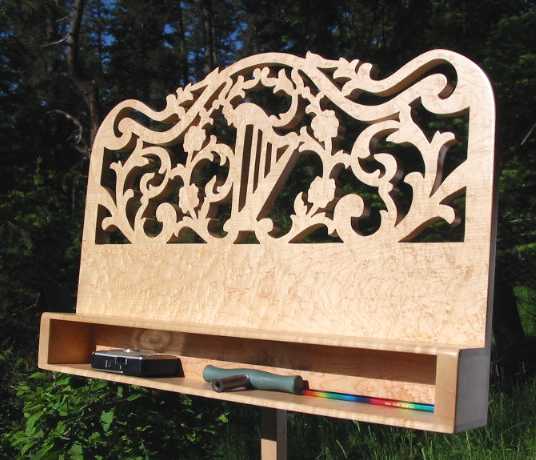 Extra shelf stores tuner, tuning key, business cards
Click here to find out more about matching your harp
The new tulip lyre with Harp music stand motif is now available from
Mister Standman Music Stands. Shown in Red Mahogany above,
you can order the music stand in any wood or stain color of
choice (Click here to see wood choices and colors)
The tulip frame is also available in other instrument inserts
like the Sax above including bass, cello, harp, trumpet,
tuba, ect. ( click here to see other examples) To find out more
or to see other styles of Mister Standman's music stands click
the picture with all the stands below.
The height is adjustable and the tilt is adjustable.
The minimum height is 29" although since Mister Standman
stands are all handmade he can make the height go as low as 22".
There are a lot of stands out there that the height is just to
tall for harpists. Many stands I've seen of the internet
start at a minimum height of 38"..thats to tall for a harpist.....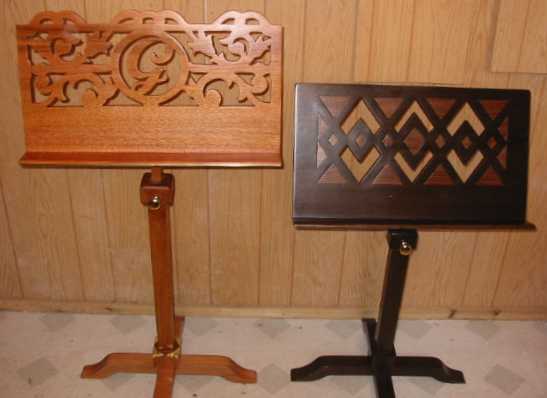 Tulip Lyre with the "G" is at 29" Diamond Jim is at 22"
Most pedal harpists have there stand at 30" Folk harpers is at 27"
The tulip Lyre with harp music stand is $ 355.00. The Victorian Lyre
with Harp is $ 365.00. The Classical Lyre with Harp is $ 345.00
The double back stand with harp is $ 450.00
The Extra shelf is $ 65.00...........

Victorian Lyre with Harp with extra shelf- Red Mahogany to match Lyon Healy 85 E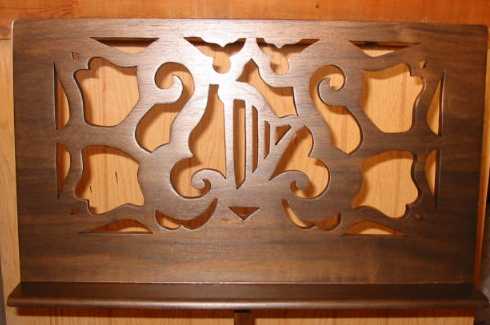 Classical Lyre with Harp - dark walnut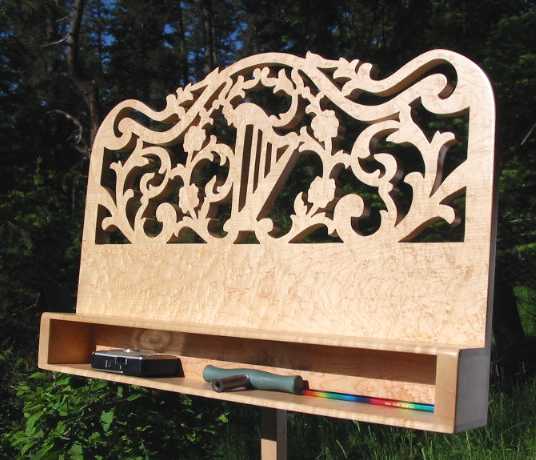 Extra storage shelf........
stores your harp tuning key, electronic tuner, metronome and other goodies....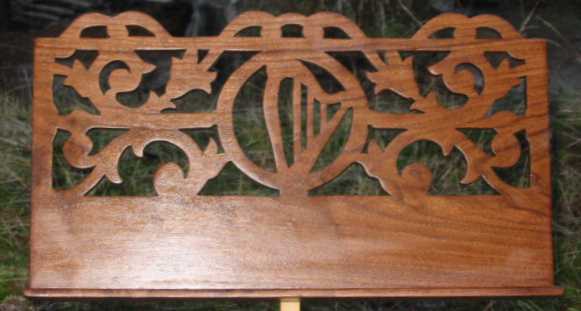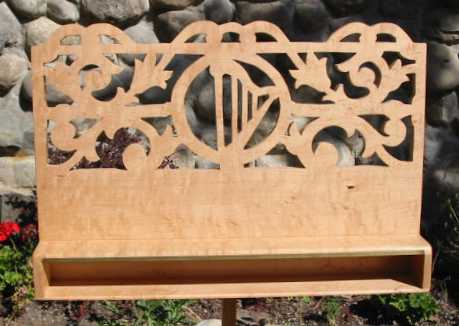 Tulip lyre with folk Harp in Walnut Tulip Lyre with Pedal Harp in Birdseye Maple
The Walnut above will match Dusty Strings and triplet folk harps in walnut......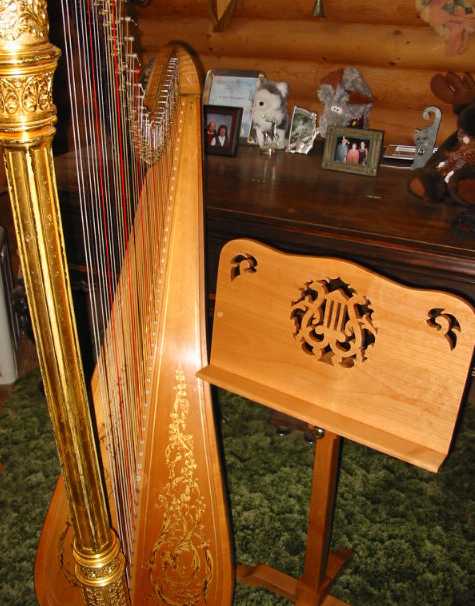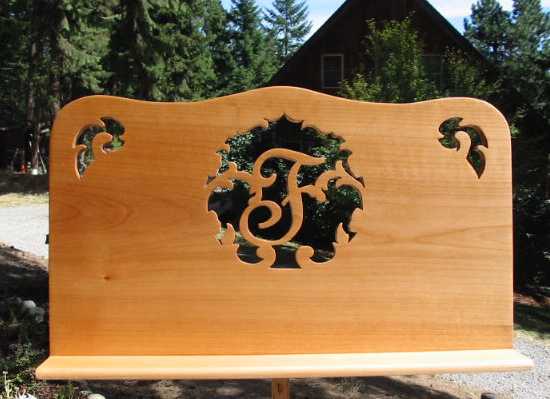 Half Victorian Lyre in Alder wood Half Victorian Lyre with Initial - alder wood
Looking to match the older Lyon Healy harps.....
This is the Half Victorian lyre in alder wood
next to Lyon Healy 23 - made in 1973
order any stand or design in alder to match
the aged older harps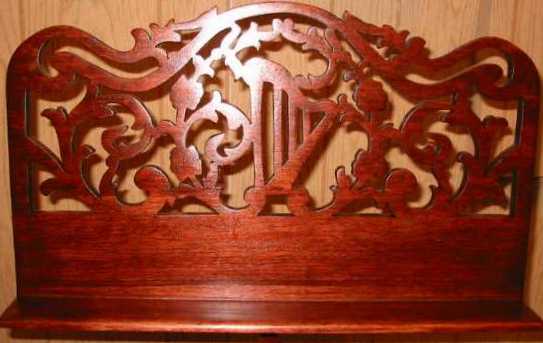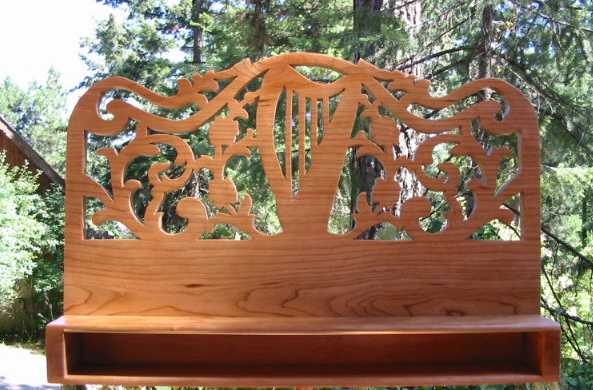 Victorian Lyre with Pedal Harp Victorian Lyre with Folk Harp
Red Mahogany Natural Cherry with Extra Shelf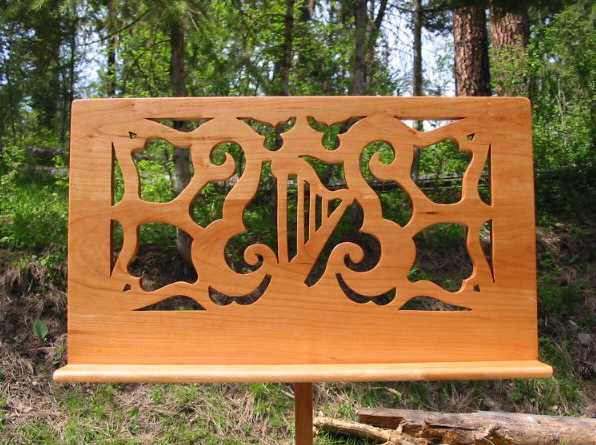 Classical lyre with Harp - natural cherry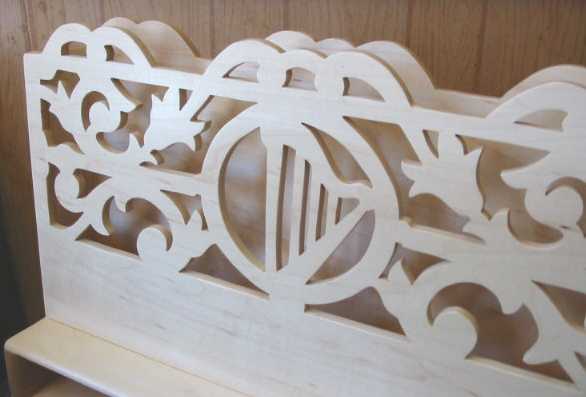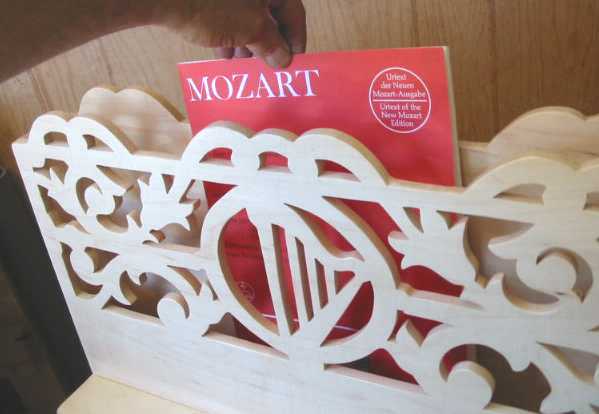 Double Back tulip lyre with pedal harp design allows you to store
all that sheet music you have laying around inside the two frames......
Not available in the Victorian Lyre design.......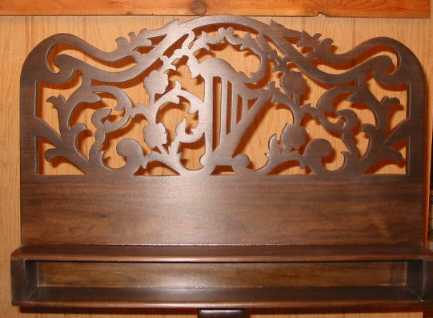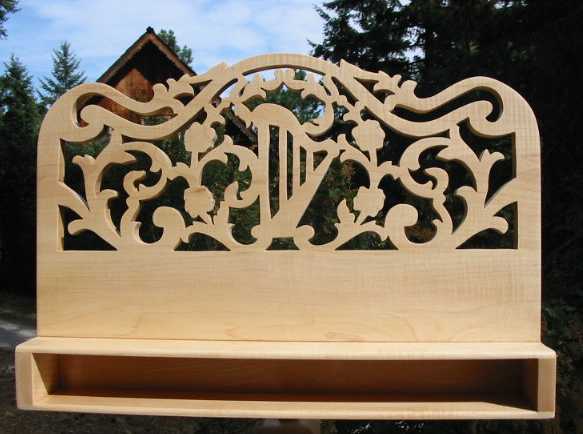 Victorian Lyre with Harp with Extra Shelf - Walnut - same in Maple - $ 365.00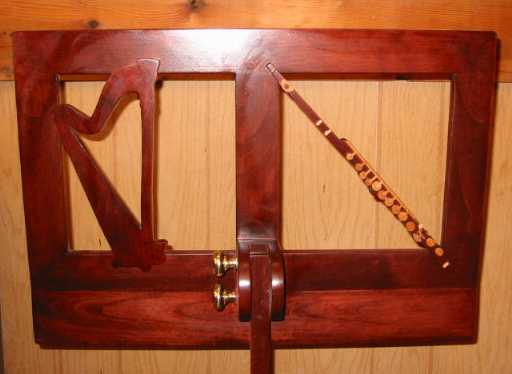 Harp and Flute in Alder with Red cherry stain......Made for a harp/flute duo
We can also do 2 harps on the back of the frame as well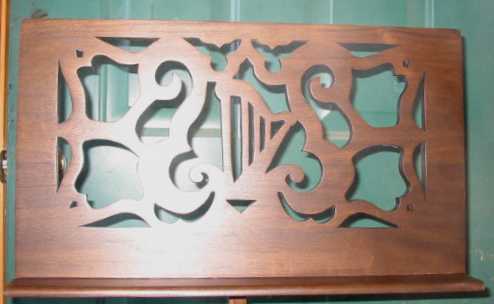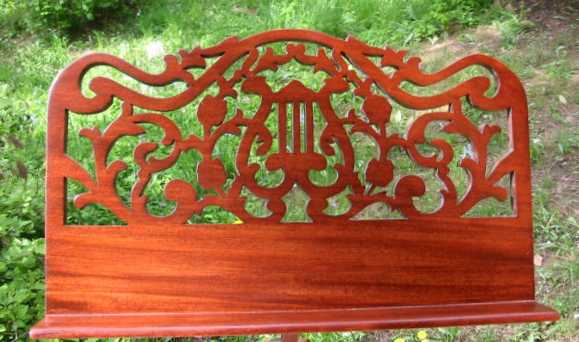 Classical lyre with Harp - dark walnut Victorian Lyre - red mahogany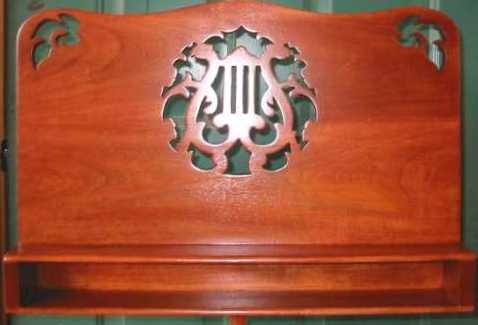 "New Design"
Half Victorian Lyre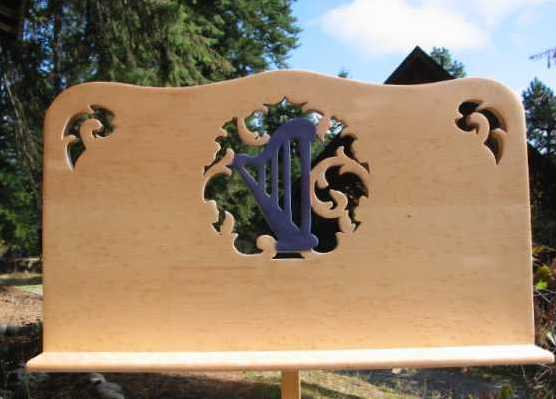 Half Victorian Lyre with Harp - Birdseye Maple
( This example we painted the harp blue to match her Camac Blue Harp )
You can get this stand without painting the harp !!!!
I think it looks better not painting the harp........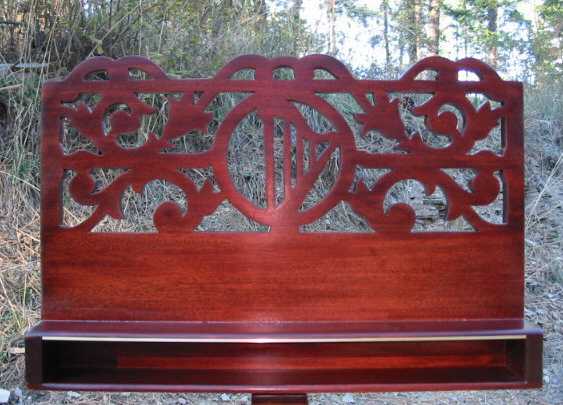 Victorian Lyre with Harp in Red Mahogany
with Extra Shelf
Will Match the Lyon Healy 85 E in Mahogany
Other stands available.......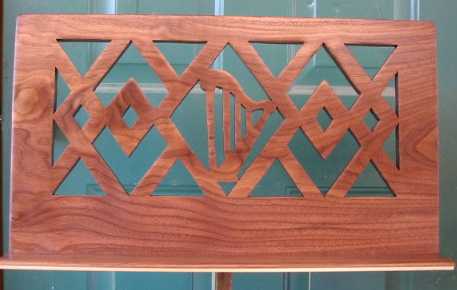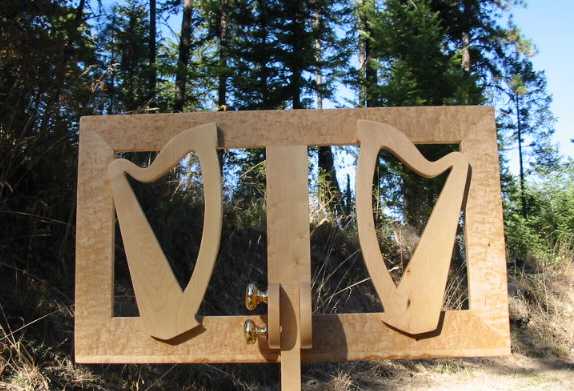 Diamond Jim with Harp Harp Stand - Has harps on back side of frame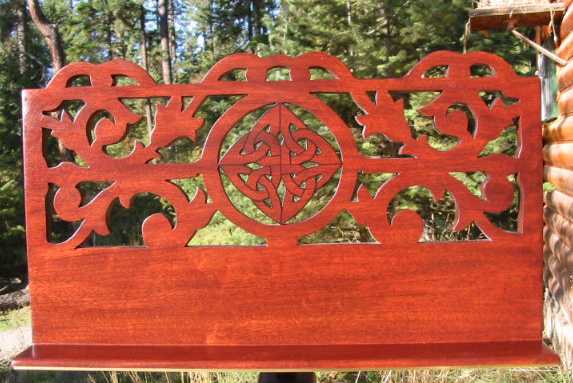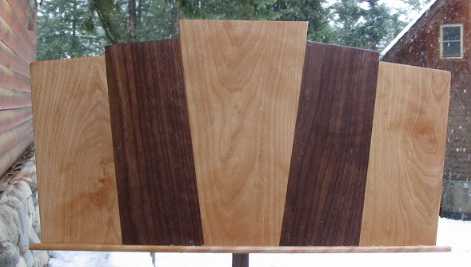 Tulip Lyre with Celtic Knot Art Deco Fan matches L/H Salzedo Harp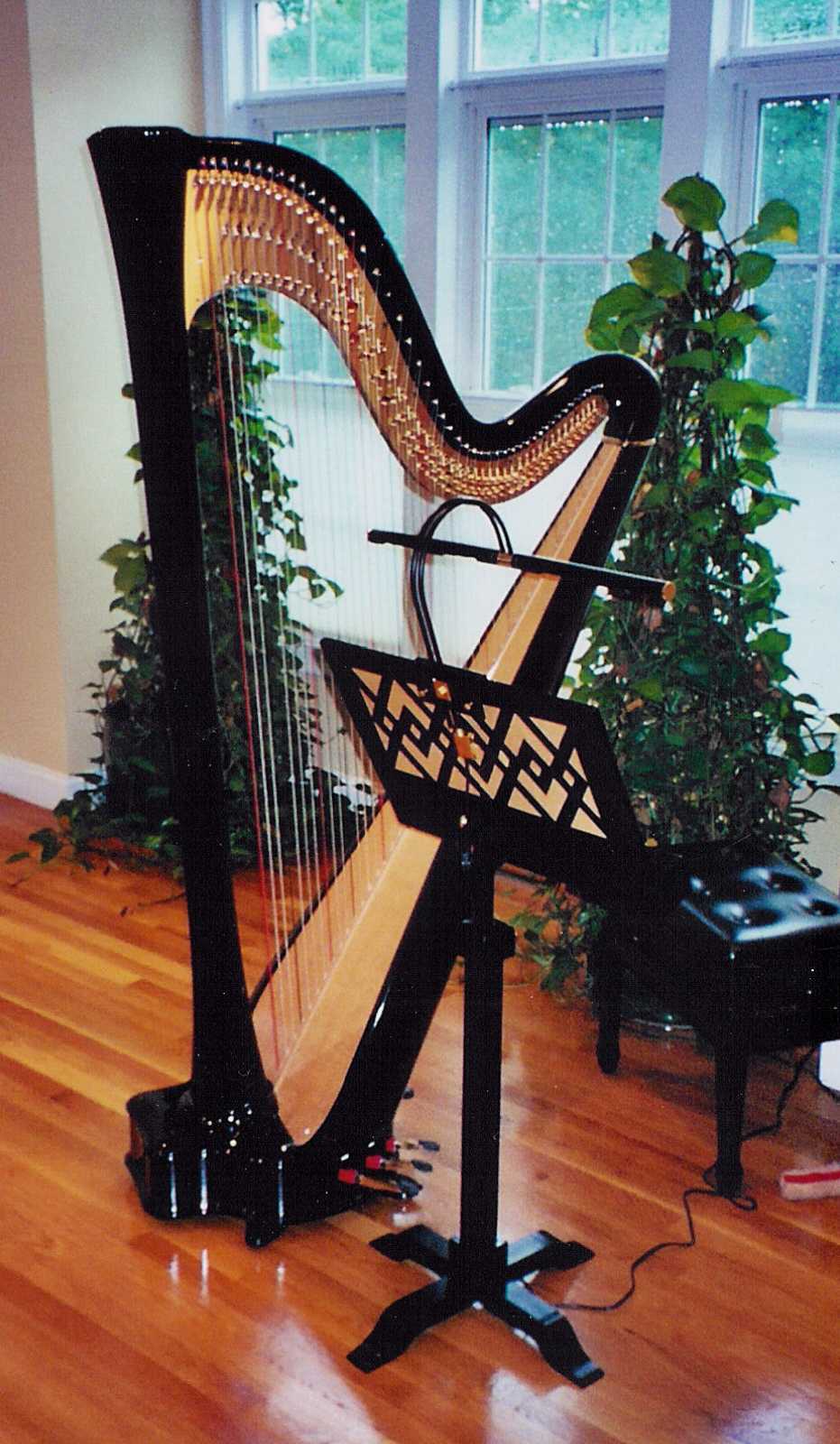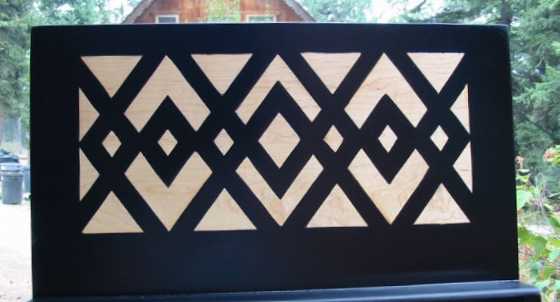 Ebony black lacquer Salvi harp with
with Diamond Jim Black Lacquer
music stand with maple diamonds
Photo courtesy of customer named Todd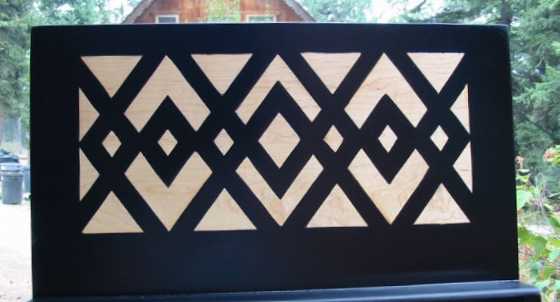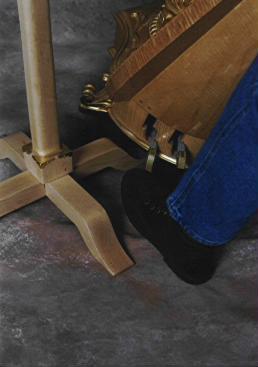 Diamond Jim in above photo Feet can get very close to the pedals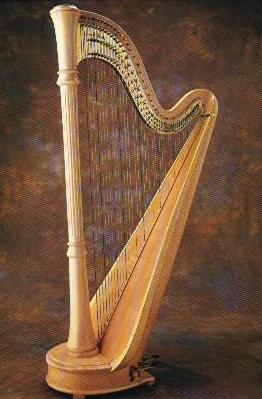 Lyon Healy Style 85 E
in Natural Maple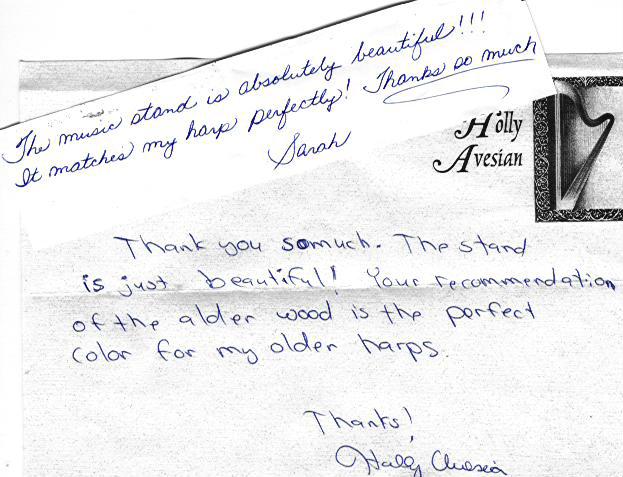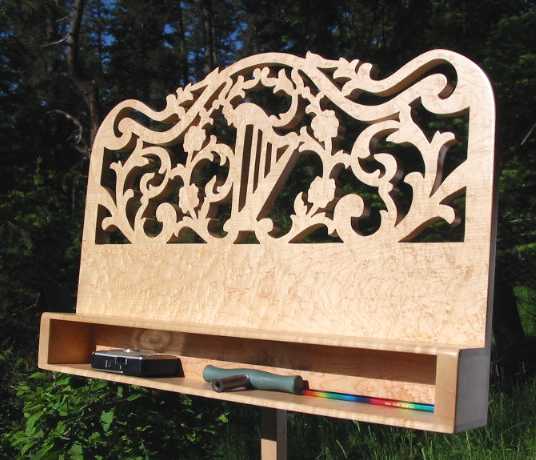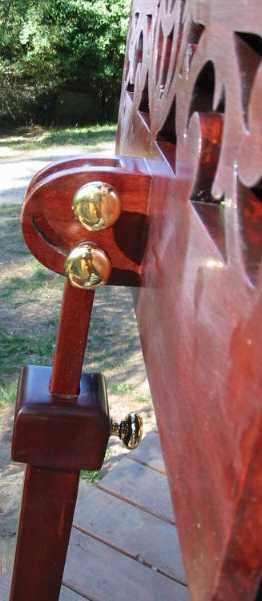 The Extra Storage shelf is a great idea Brass Accents
for storing tuners, metronomes, business cards,
pencils, rosin, bows and other items. The extra
shelf can be added to any of the designs of Mister Standman
Brass Highlights adds a touch of elegance to any of the stands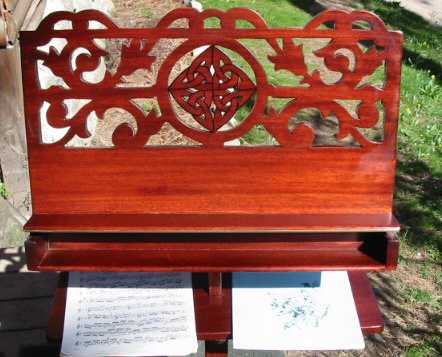 The extra sheet music storage tray helps in
giving you a place to put your extra sheet music
and pieces your currently working on......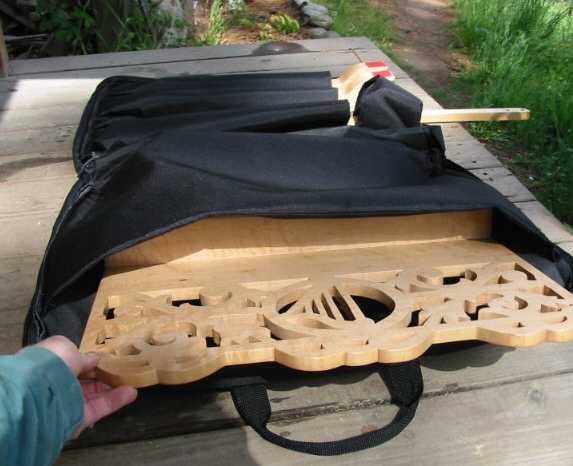 Music Stand Carrying Bag
Click picture for more info....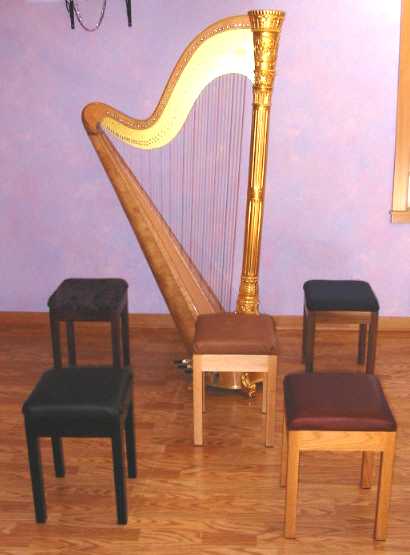 Benches to mach your stand and harp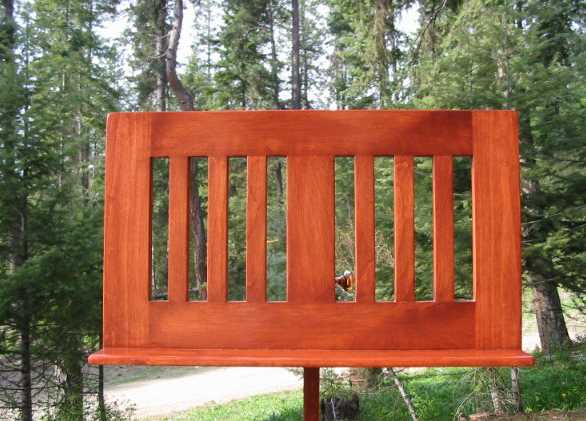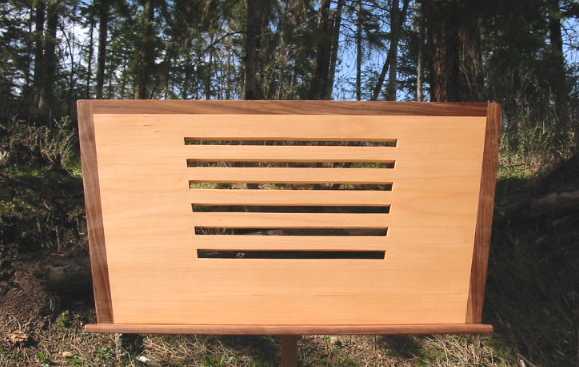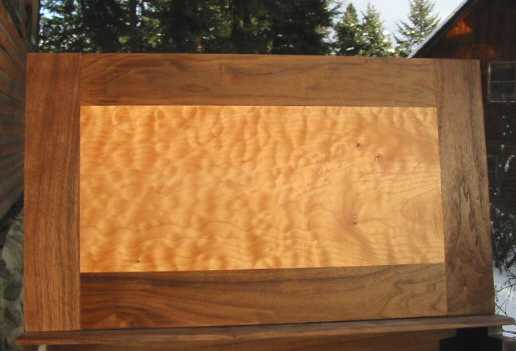 Mister Standman has over 45 different designs available that can be done
with the above desktop book stands
Click any of the pictures above to see all the designs......
Mister Standman produces fine
Wood music stand, conductor stands, music stands,
book stands, desk stands, sheet music storage stands
choir conductor stands, church stands, dictionary & bible stands
Harp music stand, harp stand, guitar stands and benches, harp benches
Display stands and restaurant menu holder stands.......
How to Order
Since 1989
Proudly Handcrafted
And
Made in Idaho
Nee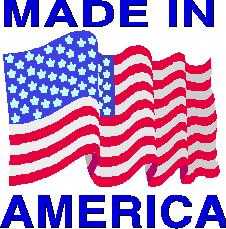 Click here for Online Brochure
Mister Standman Music Stands
6692 E French Gulch Rd.
Coeur d' Alene, Idaho 83814
208-664-4321
misterstandman@earthlink.net
About Mister Standman The Stands
Wood Colors Order Form Questions & Answers
Tilt Adjustment Height Adjustment Brass Highlights
Brass Plaques Music Lights Page Holders
Extra Storage Tray Customer Comments How to Order
Color Brochure Gift Certificates Contact info